Website URL : http://www.ucu.org.uk/1935
|
|
FE pay in England
In England the vast majority of colleges are members of the Association of Colleges (AoC), an employers' organisation which negotiates with UCU and other recognised trade unions (UNISON, ATL, ACM, T&G and GMB) in the National Joint Forum (NJF) to produce recommendations on pay and conditions for individual colleges to adopt.
Ballot for action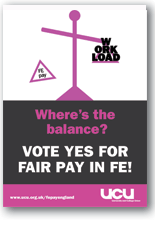 Vote YES poster (.pdf) [21kb]

Vote YES leaflet (.pdf) [41kb]
The UCU ballot of members in further education opens on Friday 28 November and closes Friday 19 December. The union is recommending that members vote YES for action to take a stand on fair pay.

Your pay is falling in value year after year

The Association of Colleges offer of 1% for 2014/15 does nothing to address the dramatic fall in wages in further education colleges over that last five years. The offer is again below inflation and leaves the value of FE staff pay cut by over 17% in the last five years.
This means a lecturer at point 4 in the middle of the pay scale has lost £4,800 in real terms pay over the last five years and a lecturer on point 8 of the scale has lost £6,100.
This is an unprecedented attack on the living standards of those who teach in colleges that communities hit hard by austerity desperately need. Meanwhile school teachers continue to be paid more to teach the same courses.

It's time for a fair deal for FE staff

Our 2014/15 pay claim is for an increase of 3% or £1040 whichever is the greater on all pay points. The claim is fair and reasonable, covering cost of living for the year and a small element of "catch up" for the five years of cuts.

We know colleges have been hit hard by funding cuts but they still make choices about how they spend their income. Colleges are choosing to spend less of their income on staff (from an average of 65% to 62% of total costs)
At the same time they found the money to increase principals' pay by on average 8.3% while increases for staff were less than 2% in the same period.

Defend pay, defend further education

The demands on further education to assist the communities hardest hit by austerity have never been greater. Staff are being asked to work harder while they watch colleagues lose their jobs and see other terms and conditions like sick pay cut and teaching time increase.

Only two years ago Lord Lingfield's report on professionalism unsurprisingly found that further education lecturers' pay lagging behind school teachers' is bad for staff retention. Colleges are already struggling to recruit and retain staff in key curriculum areas like maths and English as they compete with better paying schools and sixth forms.
---