Website URL : http://www.ucu.org.uk/4598
|
|
USS latest
Important developments on the USS pension scheme.
---
---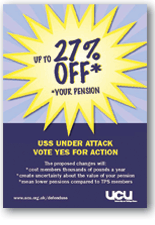 Assessment boycott suspended for talks
The action is currently suspended while talks are ongoing. Read more about the suspension on our campaign site.
---
Members vote for action
UCU members have overwhelmingly backed plans for industrial action in defence of their USS pensions. UCU general secretary, Sally Hunt, said: 'UCU members at universities across the UK have made it quite clear today that they reject the radical changes being proposed for their pensions. We will go into talks on Wednesday hopeful that we can resolve the current impasse.'
See: University staff vote overwhelmingly for industrial action in pensions row
---
Exam and coursework boycott threat
Staff would see tens of thousands of pounds a year wiped off their pensions if proposals made by Universities UK (UUK) were introduced, warns a report released on 29 September.
The report by First Actuarial for UCU warns that some staff would lose over £200,000 from their pensions if the radical proposals were implemented. See:
---
USS ballot
UCU general secretary Sally Hunt has today written to all members in USS institutions to confirm an industrial action ballot will be launched on 1 October after detrimental proposals to alter USS were tabled.
See also:
Universities Superannuation Scheme valuation as at 31 March 2014 (.pdf) [243kb]
---
18 July 2014 - USS update
It is expected that this week the employers will receive a consultation document from UUK, acting as the conduit between the USS board and employers, outlining a proposed approach to the USS pension fund deficit, including an option for a change to scheme design. Between 18 and 25 July, a series of briefings for relevant branches are taking place.
You can find a UCU briefing on the issues here (UCUHE225).
A decision-making meeting, where a report and recommendations from negotiators can be discussed, will be held on 18 September 2014 for USS branches.
---
July 2014 - Branch briefings
In line with sector conference motion HE10 recommendation 4, briefings have been scheduled to provide further information on the future of the scheme and update branches on discussions with USS and the employers. These will take place in July 2014.
---
May 2014 - USS: Report to HE Sector Conference
Information was circulated UCU to branches and delegates to HE Sector Conference 2014 (UCUHE22) which provided an update on USS on meetings concerning the future of the USS pension scheme, and which set-out UCU's negotiating objectives. This report was considered with sector conference motion HE10 which was subsequently carried.
---
November 2013 - USS annual statement

USS scheme members should have received a statement from USS explaining that the fund has reported a deficit. There was some coverage of this on BBC Newsnight. For your information, please find below that statement agreed by the UCU and the employers:
Employer and UCU joint statement regarding USS funding position
USS is not alone in having to deal with funding issues and volatility of this kind; similar issues are facing other defined benefit schemes throughout the UK.
A joint funding and benefits group, comprising employer representatives and the UCU (as representative under the USS rules for all scheme members) was established in 2012. This group's remit includes the need to take account of the funding position of USS and our objective is to secure an attractive, affordable and sustainable scheme for members and employers in the long term.
Through this group the process is already under way for discussions between the employers and the UCU and discussions are expected to run up to and beyond the March 2014 triennial valuation.
All options remain under discussion and it is too early to be drawn on what the parties will believe to be the right plan for the scheme for the long term.
---
31 January 2013 - comparison of USS with Teachers Pension
The joint working group of employers and UCU have undertaken a comparison of USS CRB scheme with the proposed heads of agreement with Teachers Pensions CARE due to come in April 2015. Different career paths have been modelled to provide an insight into the differences:
Comparison of USS and TPS CARE schemes - report, Jan 13 (.pdf) [221kb]

Comparison of USS and TPS CARE schemes - data summary, Jan 13 (.xls) [29kb]