Website URL : http://www.ucu.org.uk/5684
|
|
UCU politics monthly - October 2013
Monthly political news from UCU around the UK
This month's reports
• Westminster
• Wales
• UCU Northern Ireland
• Scotland

• Coming up

UCU's political team
Welcome to the monthly political activity briefing bringing you news from the Northern Ireland Assembly and the Westminster parliament.
This briefing is to keep you up to date with things that are going on both inside and outside the parliaments and assemblies focusing on the post-16 sector.
We would also like to give you a flavour of how the different parties, individuals and pressure groups operate. There is no better place to see than how they represent themselves through blogs and online communities.
---
---
Westminster
Reshuffles
The Conservatives undertook a reshuffle at the beginning of October. While there was more movement than expected, it did not effect either HE or FE. David Willetts remains as minister of state for universities and science and Matthew Hancock has been promoted from under-secretary of state to minister of state for skill and enterprise.
For Labour, there has been a big shift around in the Shadow education team. Tristram Hunt replaces Stephen Twigg as shadow secretary of state for eduation and will be the most senior member of the Labour team across the piece.
Liam Byrne replaces Shabana Mahmood as shadow universities minister but also takes on responsibility for all post-19 FE and skills policy. 14-19 education is undertaken by Rushanara Ali who works to Tristram Hunt as a shadow education minister. She has responsibility for liaison with Liam Byrne as BIS shadow.
The general secretary and the political team have met Liam Byrne and will be meeting other shadow ministers in due course.
Party conference season
At their conference the Liberal Democrats passed a policy document on further and higher education 'learning for life'. Controversially, they voted to retain the current fees regime of £9000 charges in higher education, despite obvious misgivings from a large part of the activist base.
At Labour, Ed Miliband made his controversial pledge to recruit one British apprentice for every foreign worker (which subsequently seemed to be dropped rather quickly). The focus of shadow ministers was on improving vocational and skills training in order to reduce unemployment and stimulate economic growth. Both the president-elect and the immediate past president spoke at fringe meetings on apprenticeships and priorities for post-16 education. The fringe on apprenticeships was briefly joined by the Skills minister Matthew Hancock via Skype!
At the Conservative conference, Cameron following similar announcements at both Labour and the Lib Dems, unveiled plans to tackle the high number of young people not in education, employment or training. However these words were not accompanied by any detail.
The Conservative party conference started off with a loud and proud trade union demonstration in support of the NHS. Even police estimates reckoned the attendance was 50,000. Many UCU branches brought their local banners. Andy Burnham addressed the rally and promised that Labour would repeal the Health and Social Care Act if elected to government.
At the fringes at all three party conferences one theme was ubiquitous. That there needs to be a change of view on the post-compulsory sector and that view should be to see it as a whole. The importance of further education and lifelong learning was emphasised both for economic growth, for pathways for personal development and not least as pathways to higher education.
Zero hours contracts
Labour initiated an opposition day debate in October and reiterated their plans for tackling zero hours contracts:
Stopping zero-hours contracts that require workers to work exclusively for one firm

Ending the misuse of zero hours co

ntracts where employees are in practice working regular hours over a sustained period.

Putting in place a code of practice on the use of zero-hours contracts

Banning employers from insisting that those on zero-hours contracts are available even when there

is no guarantee of any work;

Stopping zero-hours contracts that require workers to work exclusively for one firm
Ending the misuse of zero hours contracts where employees are in practice working regular hours over a sustained period.

Putting in place a c

ode of practice on the use of zero-hours contracts
Offender learning
There were two meetings in October to represent the views of our members in prison education or offender learning as it is known.
The first was with Jeremy Wright, prisons minister and Matthew Hancock, skills minister. The effects of re-tendering, the new OLASS 4 regime and recording requirements as well as professional issues for our members were raised.
The regular meeting of the Offender Learning and Skills Forum took place just over a week later and followed up on many of those issues and more. Of particular concern, (and concern mirrored across the prison service) is the new 'benchmarking regime' which has led to increased risk for staff from violence from offenders as well as offender on offender violence. This serious issue is being followed up by the representatives at the meeting from the National Offender Management System (NOMS).
---
Wales
Education (Wales) Bill
UCU Wales provided oral evidence to the Children and Young People Committee (CYPC) on the 2ndOctober. One of the main proposals of the Bill is to introduce registration for the wider education workforce. There is general agreement between UCU Wales and other teaching Unions in Wales, that any new body should be a professional body rather than a regulatory body. Stage 1 of the Committees consideration of general principles of the Bill has been completed. The date for the plenary debate has not yet been confirmed.
Further and Higher Education Bill (Governance and Information)(Wales) Bill
Stage 2 has now been completed and it looks likely that the Bill will go ahead as proposed with regard to the deregulation of the FE sector in Wales. The Minister for Education and Skills sees this as necessary step to avoid significant financial implications for FE colleges, if the ONS classification is not reversed. He is confident that the proposed Bill will have the desired effect.
We still however, have concerns over the enhanced autonomy and decision making powers that the legislation will give the FE institutions.
Amendments to the Bill regarding the election of staff and student members to the governing body, and the right of appeal to the governing body in the case of redundancy dismissals, were tabled on our behalf by Plaid Cymru AM's Simon Thomas and Bethan Jenkins. All amendments fell on technical issues, but we will be working with AM's and our members to try and get these issues addressed at stage 3.
Minister's speech
Huw Lewis, the Minister for Education and Skills gave his first formal address entitled 'Reform,Rigour andRespect' on the 15th October. The speech, mainly aimed at the school sector, highlighted his priority of breaking the link between poverty and attainment. The second part of his address, which will cover FE and HE, will be on the 18th November at Cardiff University.
FE Funding
We are continuing to work with branch officers and Assembly Members to urge for reconsideration of the unexpected cut to the levels of FE funding for 2013/14, which was announce in July. This along with the proposed reduction to the further education budget of £38m in 2014-15 and £37m in 2015-16 is going to have a considerable impact on the FE sector in Wales.
Although budget decisions are not yet confirmed, we have grave concerns over the implications of these cuts on the quality of provision and the effect they will have on staff and students. If the Welsh Government is serious in its aim to improve economic and social wellbeing, it needs to make some significant investment in FE.
Wales Organising Strategy
The Wales organising strategy for the coming year has been agreed by Wales Council. The priorities are:
Recruitment of full and PTH members

Branch Map

ping

Recruitment of reps. (PTH, organising, departmental, policy)
C
onsultations
Safeguarding children in education- 25

th

October



A brief response was submitted to the consultation on the revised guidance on Safeguarding Children in Education. Although the

guidance is mainly aimed at schools, it is an area that crosses over into the FE sector. Issues that were highlighted were the status of students in work placement with children and how the guidance applies to them, and the need to protect members of staff during investigations, when accusations are made against them. A copy if the submission will be available on the UCU Wales section of the website shortly.
Open consultations
---
UCU Northern Ireland
Salisbury Review of Industrial Relations in FE
The Salisbury Review of Collective Bargaining Arrangements in FE is ongoing. Sir Bob Salisbury is continuing to engage with stakeholders, although it is unlikely that the initial time frame will be adhered to. The recommendations of this review - which was one of the outcomes from the McConnell report into Industrial Relations at the North West Regional College - will be taken forward by Colleges NI. He has met with UCU and the Colleges Employers Forum (CEF).
Stalemate on FE Pay
A one per cent pay offer to support staff in FE has been accepted, but the similar offer to lecturers has not. A stalemate situation continues as FE colleges are required to make their business case to DEL (Department of Employment and Learning) in respect of both pay and increments.
UCU has sought legal advice regarding how to challenge DEL's position on this matter. UCU is seeking a speedy resolution in the interests of members but at time of writing, no further correspondence had been received from the department.
Cancer Expert appointed VC at Queen's
Cancer expert Professor Peter Johnson has been appointed Vice Chancellor at Queen's University. He replaces Sir Peter Gregson whose £250k plus salary plus Rolls Royce caused controversy and was highlighted in Channel Four's Dispatches. The new VC has already called for the cap on tuition fees in Northern Ireland to be scrapped.
Legislation Round Up
Public Service Pensions Bill
The Public Service Pensions Bill is now at Committee stage and is expected to become law by the end of this year.
NIPSO - Draft Legislation for NI's Public Service Ombudsman to include FE colleges
The proposal for a Northern Ireland Public Service Ombudsman - to include further education - has progressed to draft legislation. This is something UCU has raised and lobbied for in Northern Ireland. Legislation is being drafted by OFMDFM (office of First and deputy First Minister) to go before the Assembly.
Assembly members approved the report by the OFMDFM Committee which set out proposals to merge the separate offices of the Assembly Ombudsman and the Northern Ireland Commissioner for Complaints, on 16 September 2013. It has the support of all five main parties.
Employment Law Review
Fixed Term Contracts in Higher Education get a special mention
The Department's review of Employment Law has singled out Fixed Term Contracts in Higher Education for a special mention. Under its impact assessment of the Collective Redundancies Consultation period, it stated that HE was identified across GB as the sector most affected by the uncertainty over the requirement to collectively consult with regard to fixed-term employees, due to many HE institutions having a high proportion of staff on FTCs. "A large number of higher and further education academics in NI are thought to be on fixed term contracts. The precise numbers are not known and the Department would welcome submissions to furnish it with a better sense of the proportion."
Strategy Round Up
Progress on Implementation of Higher Education Strategy
The HE Implementation Committee for Graduating to Success and the widening participation strategy Access to Success has issued a progress report on each of its 20 projects. These continue to be taken forward and the Implementation Committee is due to meet again in November.
Teacher Training Infrastructure - International panel of experts appointed to progress Stage 2
Following the May 2013 report into the Teacher Training Infrastructure in Northern Ireland - which focused on the costs associated with the delivery of teacher training education and diversification at Stranmillis and St. Mary's - the Minister has made clear his position that the continuation of the current funding and management arrangements raised issues regarding the long term sustainability of both. Minister Farry has since appointed an international panel of experts to take forward stage 2 of the review of teacher training infrastructure. The Panel will report its findings in 2014.
Political Party Conferences
The Ulster Unionist Party kicked off the round of Autumn party conferences on 18th October. UCU attended as an observer. November will see three in a row - SDLP on the weekend of 9th November, NI21 - the new mini-party set up by ex-chair of the Employment and Learning Committee Basil McCrea (who left the UUP when disciplinary action was taken by the party following his comments on the so-called 'flags dispute' earlier this year). The DUP conference takes place third weekend of November. UCU attends with observer status.
Review of Apprenticeships
The consultation into the Review of Apprenticeships closed on 2nd October. Minister Farry called for the review to ensure that youth training and apprenticeships reflect the 'changing nature of the Northern Ireland economy'. A separate call for submissions for youth training is taken place separately.
Steps to Success - the new Steps to Work programme
The Department intends to introduce a new employment programme, Steps 2 Success (NI) to replace its main adult return to work programme Steps to Work.
Public Consultation
The Assembly has been tasked with strengthening link between Government and public in the interests of public consultation in policy formation, following concerns raised at disparity of costs associated with consultation across Government Departments. OFMDFM has been called upon to define best practice.
Assembly Questions
Questions have been raised in the Assembly regarding Fixed Term Contracts. When asked what research has been carried out to ascertain the number of people on fixed term contracts, Minister Farry said there is currently no Northern Ireland specific research on the number of people on zero-hours contracts. The only available data is provided through the UK Labour Force Survey and that is statistically too small to offer a reliable estimate of the number of zero-hours contracts. He has asked his Department to commission research on the number of workers on zero hours contracts here so his department can provide 'a more informed understanding of whether there is a need to introduce protections for workers on such contracts. The Committee for Employment and Learning had received information from both universities to state that they had no zero hours contracts.
Questions have also been raised about the closure of the crèche at Magee campus in Derry, where Pat Ramsay said this meant Magee was the only campus in Britain or Ireland without a crèche facility (although this has not been verified). Mr Ramsay asked the Minister whether his Department has granted permission for the University of Ulster to change the use of the day care facility, built using European funds, at Magee campus. Minister Farry responded that a condition of the European Regional Development Fund grant was that the building be used for the purpose for which the grant was made for at least twenty years. Since the University has closed the crèche after only 12 years, the Department has exercised its right to reclaim a portion of the EU grant initially provided to establish day care facilities.
The Minister was also asked what consideration he has given to increasing university tuition fees beyond £3,500 - following the appeal by the new VC at Queen's to lift the cap on tuition fees. Dr Farry said 'As you are aware, on 27 June 2011 the Executive agreed to cap tuition fees for Northern Ireland domiciles studying in Northern Ireland at £3,465, subject only to annual inflationary increases. Presently, my Department is committed to maintaining the current Executive policy of freezing tuition fees at their current levels.'
---
Scotland
2014 - Manifesto for Scotland's Referendum
UCU Scotland launched its manifesto for Scotland's referendum on Thursday 17 October. Developed by the discussion and debate from within UCU Scotland branches, Congress, our Education Committee and Executive, the manifesto sets out why universities are so vital for Scotland's economy and society. The union is not intending to support any one particular constitutional settlement in the independence referendum debate, but what we are doing is presenting our vision for post-16 education in Scotland. The UCU Scotland manifesto is a useful resource for members and branches to use in local and national debates, as well as when questioning local politicians on the key issues in the referendum debate.
Members can access a copy of the full document here (.pdf).
UCU Scotland at SNP Conference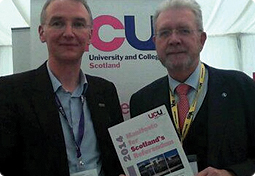 The union attended the recent SNP Conference in Perth 17-20 October 2013 to speak to Ministers, MSPs, councillors and delegates about the importance of higher education. The UCU Scotland exhibition stand promoted our manifesto for the independence referendum.
UCU Scotland President Dave Anderson presented a copy to the Cabinet Secretary for Education and Lifelong Learning, Mike Russell MSP (pictured right).
---
Coming up

There are no key events in the political diary.
---
UCU's political team are:
This update is put together by the UCU political team specifically for UCU members so tell us what you want to know. If we sent you every little morsel of political gossip, all of the goings on and every scheduled event this would be a very long bulletin and not many people would read it! So let us know what you think is relevant, what should be added or what we should get rid of entirely. There is no point in us writing it if you don't want to read it. Email any of the above with your suggestions.
---