•
•
•
UCU wins award for Holocaust film
11 July 2013
| last updated: 10 December 2015
UCU was last night awarded a TUC Communication Award for its work on the Holocaust.
The union submitted a film made by Paul Rey-Burns for the union to commemorate Holocaust Memorial Day, which won the award for the best use of e-communications.
The judges said the film contained 'moving and powerful testimonies from UCU members about how the Holocaust continues to affect lives today.' They added that the film 'eloquently makes the case for education unions having a special role in ensuring that current generations understand the Holocaust.'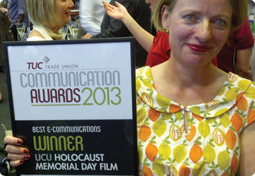 UCU head of equality Helen Carr receives the TUC award for best e-communications for the UCU Holocaust Memorial Day film UCU head of equality, Helen Carr, who collected the award at last night's ceremony, said: 'It is always nice to be recognised for the union's important work to combat anti-Semitism. This is the second time our anti-Semitism work has been rewarded in this way and it is a testament to how seriously the issue is taken by the union and its members.
'As the judges mentioned, educators have a vital and unique role to play in ensuring the lessons of the Holocaust continue to be learned. This award is timely reminder that we must use education to combat ignorance and fear so neither can be exploited to whip up hatred against people in our communities.
'The film is part of our growing education resources on anti-Semitism and we hope that by winning this award it will now reach even more people.'
---
---
The judges for the TUC's 2013 Awards were Equity's Head of Communications Martin Brown, Mass1 Director Mark Epstein, Save the Children's Head of Mobilisation Jean McLean, John Healey MP for Wentworth and Dearne, and the BBC's Employment and Industry Correspondent John Moylan.