•
•
•
•

LGBT+ History Month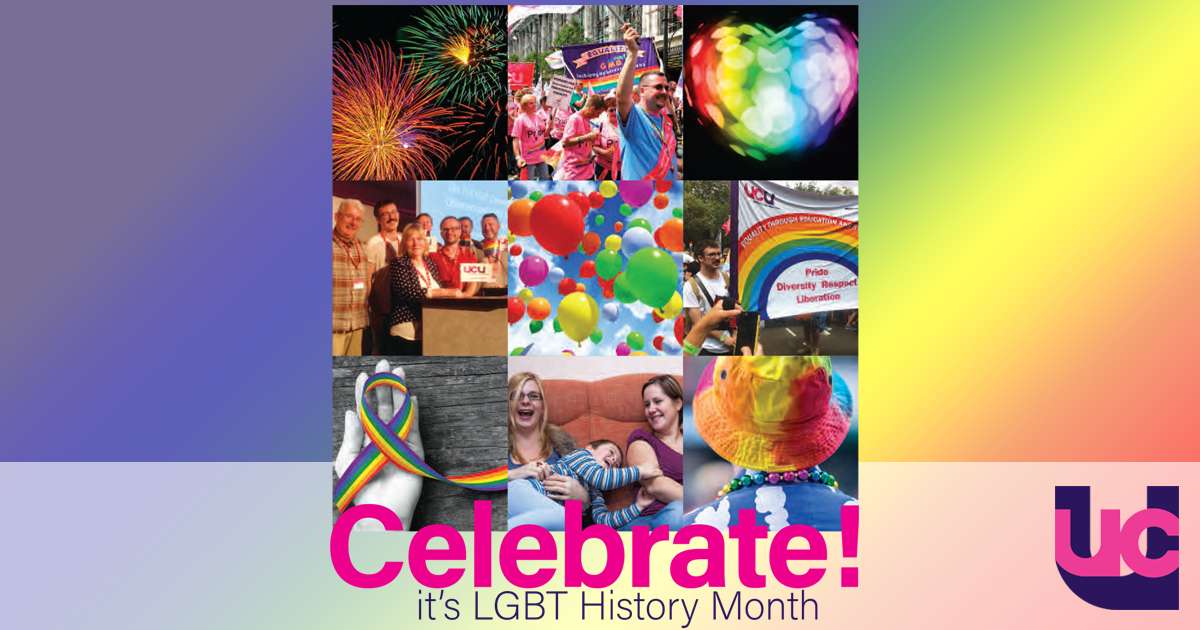 LGBT+ History Month
UCU is proud to support LGBT+ history month, which is celebrated in February in the UK.
LGBT+ History Month is a month-long annual celebration of lesbian, gay, bisexual trans, and non-binary history, including the history of LGBT+ rights and related civil rights movements. In the United Kingdom it is celebrated in February each year, to coincide with the 2003 abolition of Section 28. UCU LGBT+ resources are available.
LGBT+ History Month was initiated in the UK by Schools Out UK and first took place in February 2005. The event is intended to raise awareness of, and combat prejudice against, LGBT people and history.
Go to the LGBT+ History Month website for more details - lgbthistorymonth.org.uk
---
Defining and understanding LGBT+
A series of five videos produced by UCU which explore LGBT+ issues.
---
Removing the barriers
UCU has produced a film about the progress in achieving LGBT+ rights, barriers encountered to realising these rights in full, and ways to celebrate the success. The core aims of the film are to raise visibility of LGBT+ people, particularly at LGBT+ History Month (February) and raise awareness about historical and current progress and challenges. The film also demonstrates how important trade unions are in the realisation of rights and can serve as a resource to branches in promoting their work and the centrality of equality within the union movement.
---
Voices and visibility wallchart
A wallchart was launched at TUC LGBT conference and Pride in London in June 2015. The aim has been to produce a resource to support those raising awareness of sexual orientation and gender identity equality and diversity. Centred on the United Kingdom, it highlights important legal milestones and identifies visible and significant contributions made by individuals, groups and particularly the labour movement.