•
•
•
•
•
•

Four fights dispute FAQs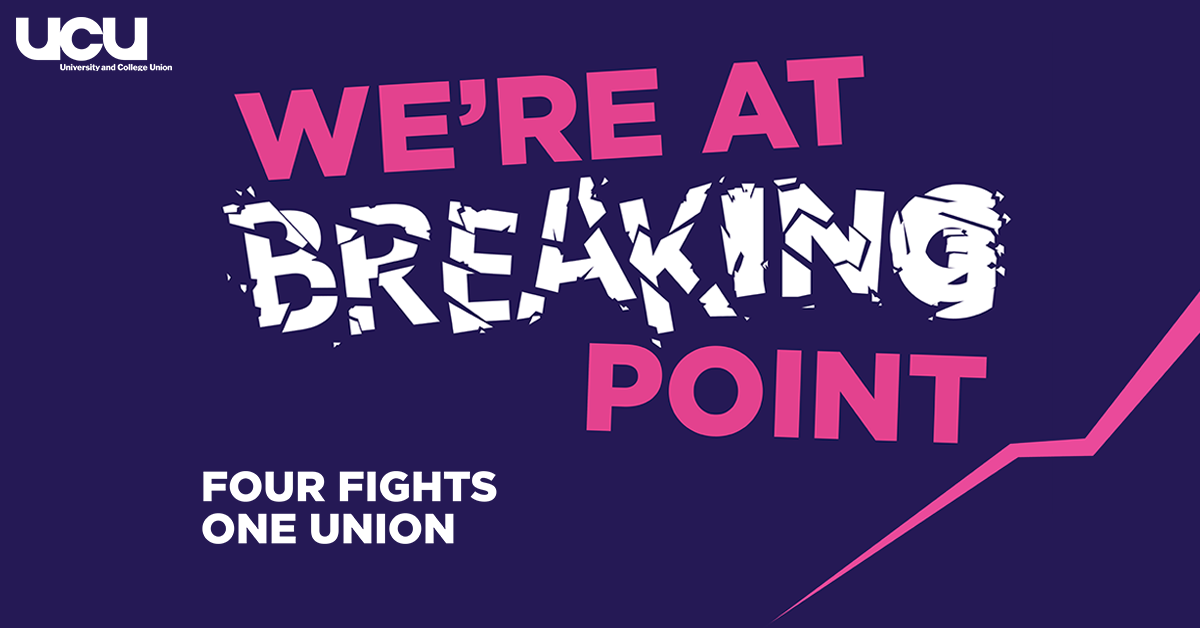 Four fights dispute FAQs
18 October 2021

FAQs on the four fights dispute and why we're balloting for action.
Why are we taking action on pay when the employers have offered a 1.5% pay rise?
The employers' offer is well below inflation, meaning yet another real terms pay cut for staff. The value of pay in higher education fell by 17.6% relative to inflation between 2009 and 2019. Based on the employers' current offer and the most recent inflation data, that figure is now over 20%. With inflation forecast to keep increasing in the short to medium term, salaries will continue to fall further and further short of the cost of living.
Meanwhile employers are failing to take effective action to tackle the persistent gender and race pay gaps that exist in our sector. We need to send a strong signal that we won't tolerate continued pay erosion or pay inequality.
Why is tackling casualisation a priority in the pay dispute?
Casualisation is rife within higher education: around half of teaching-only staff and 68% of researchers are employed on fixed-term contracts, while many more have contracts which are dependent on funding. A third of all academic staff are employed on fixed-term contracts. That figure has barely changed at all in the last three years, despite employers' claims of progress in this area.
The use of casual contracts erodes the rights, protections and security that should be afforded to all employees. Casualisation also makes it much more difficult for staff to challenge employers about key workplace issues, because staff are often reluctant to 'rock the boat' and risk their employment being terminated. Throughout the pandemic, employers have chosen not to renew thousands of casualised contracts, while many staff who have found work have felt pressured to work in-person and take other risks to keep themselves in employment.
Finally, casualisation has other serious material consequences for staff - UCU's research showed that 42% of staff on casual contracts have struggled to pay household bills, while many others struggle to make long-term financial commitments like buying a house.
You can find out more about the struggle against casualisation, including recent victories and resources for improving job security in your institution, on our website.
Why are we linking pay, equality, workload and casualisation in one dispute?
The Four Fights dispute is about demanding fair treatment for staff across the sector and a comprehensive remedy for the way in which your working conditions have been undermined over the past decade.
The combination of pay erosion, unmanageable workloads and the widespread use of insecure contracts has undermined professionalism and made the working environment more stressful for staff.
The average working week in higher education is now above 50 hours, with 29% of academics averaging more than 55 hours. A UCU survey conducted in December 2020 saw 78% of respondents reporting an increased workload during the pandemic.
The pay gap between Black and white staff is 17%. The disability pay gap is 9%. The mean gender pay gap is 15.1% and at the current rate of change it will not be closed for another 22 years.
Finally, workload, pay inequality and casualisation are all directly interrelated and compound one another. The recent UCU workload survey found that women, BAME and disabled staff were all disproportionately likely to report that their workload had increased, and the same groups are also disproportionately likely to be on casualised rather than permanent contracts.
How can the dispute be resolved?
UCU set out its demands in detail in the annual claim which it presented to employers in March 2021, along with the other unions that represent university staff (UNISON, Unite, GMB, and EIS in Scotland). You can find the full claim, which sets out the issues in extensive detail and discusses the action which the unions want employers to take, at this link.
You can find below infographics breaking down the key issues and key demands to resolve them below.
Don't we need to campaign for more funding for the sector before we can get a significant pay rise and more investment in staff?
UCU has always campaigned for a better and more fairly funded sector and will continue to do so. However, employers can already afford to invest more in staff with the money they have. The proportion of universities' money which they spend on staff has decreased over time, recently hitting a new low of 51.6%. This shows that they are choosing to spend money on other things, rather than suffering from low income in general.
At the same time, the sector's overall income is higher than ever and keeps increasing. It has increased every year for the past five years at a rate that comfortably exceeds every measure of inflation. Admissions from both domestic and non-EU international students have increased.
Employers are wrong to claim that there is no money to offer more than 1.5% on pay, or move more staff onto permanent contracts, or create more posts to keep workloads under control, or promote and give secure contracts to women and BAME and disabled staff.
Finally, UCU is open to solutions that will allow employers to budget ahead and gradually shift the balance of their expenditure in favour of staff over a period of a few years, rather than immediately: for instance, via a multi-year pay agreement, or via medium-term action plans to move more staff onto secure contracts or close the equality pay gaps.
---
Our demands

Four fights: what are we fighting for [1mb]

Four fights: what are we fighting against [1mb]
Last updated: 19 October 2021