•
•
•

FAQs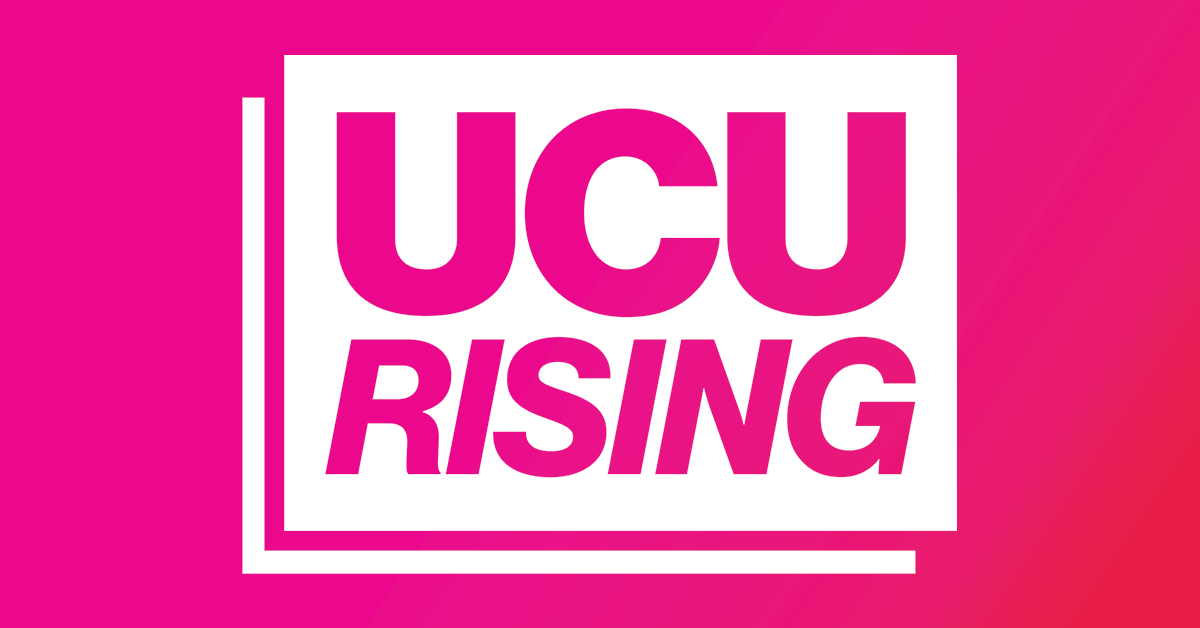 FAQs
3 August 2022

Pay and working conditions dispute
Why are we taking action on pay when the employers have offered a 3% pay rise?
The final offer made by Universities and Colleges Employers Association (UCEA) is well below inflation (which stands at RPI 11.8% as of June 2022). This means yet another real terms pay cut for staff during the cost of living crisis in the United Kingdom.
The value of pay in higher education fell by 17.6% relative to inflation between 2009 and 2019. Based on the employers' offer and the most recent inflation data, that figure is now approximately 25%. With inflation forecast to keep increasing in the short to medium term, salaries will continue to fall further and further short of the cost of living. Among other things, UCU is demanding a pay uplift that is, at least, RPI plus 2% on all pay points, to keep up with the cost of living and to catch up with pay lost over previous years.
Meanwhile, employers are failing to take effective action to tackle the persistent gender and ethnicity pay gaps that exist in the higher education sector. We need to send a strong signal that we will not tolerate continued pay erosion or pay inequality.
Why is tackling casualisation a priority in the pay dispute?
According to UCU's report, 'Precarious work in higher education', around one-third of all academic staff are employed on fixed-term contracts; this figure rises to almost half for teaching-only academics (44%) and over two-thirds (68%) for research-only staff. Despite the negative press and widespread campaigning, 18% of all higher education institutions still use zero-hours contracts for employing academic staff (equating to 29 institutions employing 3,545 academic staff on these discredited contracts). Despite the employers' claim of progress in this area—and important victories achieved by UCU members at Open University and Royal College of Art—precarity and casualisation continue to be rife within higher education.
The use of casual contracts erodes the rights, protections, and security that should be afforded to all employees. Casualisation also makes it much more difficult for staff to challenge employers about key workplace issues, because staff are often reluctant to 'rock the boat' and risk their employment being terminated. In fact, according to a February 2022 report from the Joint Committee of Experts of UNESCO and the International Labour Organization, the growth in casualised contracts in higher education has undermined academic freedom itself. Throughout the COVID-19 pandemic, employers have chosen not to renew casualised contracts and made thousands of staff redundant, while many UCU members who have found work have felt pressured to work in-person or take other risks to keep themselves in employment.
Finally, casualisation has other serious consequences for staff—UCU's previous research showed that 42% of staff on casual contracts struggled to pay household bills, while many others struggle to make long-term financial commitments like buying a house. In our 2019 survey of 3,802 casualised staff in higher education, 71% of the respondents said their mental health had been damaged by working on insecure contracts and 43% said it had impacted on their physical well-being.
Why are we linking pay, equality, workload and casualisation in one dispute?
The UCU rising campaign is about demanding fair treatment for staff across the higher education sector and a comprehensive remedy for the way in which your working conditions have been undermined over the past decade.
The combination of pay erosion, unmanageable workloads, and the widespread use of insecure contracts has undermined professionalism and made the working environment more stressful for staff.
UCU's 2021 workload survey (published June 2022) showed that academic staff are working on average 51.3 FTE hours per week (i.e. more than 2 unpaid days each week), academic-related professional services (ARPS) staff are working an average of 44.4 FTE hours per week (i.e. equivalent of one additional unpaid day every week), and staff on fractional contracts can be working 2-3 times the hours that they are paid for each week. Workload has been exacerbated too by ever-increasing administrative burden, reduction in staff members, and the COVID-related changes to teaching and learning: 33% of higher education respondents said their workload was unmanageable most of the time or entirely unmanageable.
The pay gap between Black and white staff stands at 17% and the disability pay gap is 9%. The mean gender pay gap is 16% and at the current rate of change it will not be closed for another 22 years.
Finally, workload, pay inequality and casualisation are all directly interrelated and compound one another. Women, Black and disabled staff were all disproportionately likely to report that their workload had increased, and the same groups are also disproportionately likely to be on casualised rather than permanent contracts.
How can the pay and working conditions dispute be resolved?
UCU set out its demands in detail in the annual claim which it presented to employers in March 2022, along with the other unions that represent university staff (UNISON, Unite, GMB, and EIS in Scotland). You can

read the full claim here [399kb], and this sets out the issues in extensive detail and discusses the action which the unions want employers to take. You can also

read the employers' confirmed final offer for 2022-23 here [295kb].
Please note that, for the pay and working conditions dispute, the union negotiates with Universities and Colleges Employers Association (UCEA), which is separate from Universities UK (UUK).
Don't we need to campaign for more funding for the sector before we can get a significant pay rise and more investment in staff?
UCU has always campaigned for a better and more fairly funded sector and will continue to do so. However, employers can already afford to invest more in staff with the money they have. The proportion of universities' money which they spend on staff has decreased over time, hitting a low of 51.6% in 2019/20. Employers are choosing to spend money on other things, rather than suffering from low income in general: university accounts demonstrate that investment in staff has been deprioritised in favour of investment in buildings and the hoarding of increasing reserves, which were £46.9bn in 2019/20, and have more than tripled since 2009/10.
At the same time, the sector's overall income is higher than ever and keeps increasing. It has increased every year for the past five years at a rate that comfortably exceeds every measure of inflation. Admissions from both domestic and non-EU international students have increased. The most recent figures show that the income of higher education institutions rose to £42.4bn in the financial year 2019/20, and this was £39.8bn for Universities UK (UUK) members. The expenditure of UUK members in 2019/20 was £36.4bn and therefore giving a surplus of £3.4bn.
Employers are wrong to claim that there is no money to offer more than 3% on pay, or move more staff onto permanent contracts, or create more posts to keep workloads under control, or promote and give secure contracts particularly to women and Black and disabled staff.
Finally, UCU is open to solutions that will allow employers to budget ahead and gradually shift the balance of their expenditure in favour of staff over a period of a few years, rather than immediately: for instance, via a multi-year pay agreement, or via medium-term action plans to move more staff onto secure contracts or close the equality pay gaps.
USS pensions dispute
What is the USS dispute about?
The Universities Superannuation Scheme (USS) conducted a valuation in March 2020, as markets were crashing during the COVID-19 pandemic, and claimed that contribution rates needed to increase very significantly from the rate of 30.7% of salary (9.6% for members, 21.1% for employers) that was established under the 2018 valuation.
Both UCU and the employer representative, Universities UK (UUK) argued that these increases were not necessary and had not been properly justified. However, instead of continuing to challenge the increases, UUK pushed through major cuts to the guaranteed, defined benefit (DB) element of the scheme to prevent employers from having to pay higher contributions.
The UUK cuts, which were formally voted through in February 2022 and came into force on April 2022, drastically reduced the level of guaranteed retirement income provided to members of USS for their future service (benefits already built up will not change). The cuts affected every active USS member but especially those nearer the start of their careers.
These cuts came in the context of a decade of detrimental changes to USS contributions and benefits. As UCU previously showed, the changes that had already taken effect between 2011 and 2019 would make a typical member of staff £240,000 worse off over the course of their career and retirement. The 2022 cuts from UUK have made things even worse: new research shows that global loss across current USS scheme members is £16-18bn, with those under the age of 40 losing between £100k-£200k each in retirement. It also shows that 196,000 staff will lose between 30%-35% from their guaranteed future retirement income.
UCU is demanding that vice-chancellors order their employer body UUK to revoke these brutal cuts and put pressure on USS to restore benefits to 2021 levels, especially after a drastic improvement to USS finances was revealed by the trustee in March 2022: USS reported assets increasing to over £88bn, and the trustee said that growth outstripped liabilities and that the level of contributions required to service the deficit fell to 0%.
What exactly has happened to my retirement benefits when Universities UK's cuts were implemented from April 2022?
UCU's actuarial advisers, First Actuarial, developed a modeller that would allow you to compare the retirement benefits you would build up as a result of UUK's cuts versus the benefits you would build up had the scheme stayed as it was. You can access the modeller here.
The modeller indicates that a typical USS member at point 37 of the current higher education pay spine (the starting salary for lecturers in many institutions) would suffer a 35% cut to the guaranteed retirement benefits which they would build up between the date for implementation of the cuts and their retirement (assuming that the typical USS member retired on their 66th birthday).
These cuts could be partially offset by an increase in the one-off defined contribution lump sum received by the same member, but the overall cut would still be 20-25% and unlike defined benefits, the defined contribution lump sum would not be guaranteed—its size would depend on how USS's investments perform.
Universities UK/USS Employers provided an official modeller that took into account of the benefits already accrued, revealed a similar—if not deeper—level of cuts compared to UCU's modeller (this official modeller was taken offline).
My employer said that they went ahead with these cuts because UCU failed to propose alternatives in negotiations in 2021-22. Is that true?
That is not true. In August 2021, UCU's elected negotiators and professional actuarial advisers tabled a set of fully costed alternative proposals for addressing the 2020 valuation, which USS confirmed could be implemented.
The UCU proposals sought to preserve as much of the benefit package as possible while reducing members' contributions. The UCU proposals also included important new mechanisms to allow lower paid and casualised staff to join the scheme at little or no cost to themselves and build up a defined benefit pension with the same level of security as other members.
However, the UCU proposals did not proceed to a formal vote of the USS joint negotiating committee (JNC), because employers refused to provide as much 'covenant support' (essentially, willingness to stay in the scheme and accept constraints on the amount of debt they can take on) for the UCU proposals as they provided for their own proposals.
Employers also refused requests from UCU to delay the decision-making process to provide more time for employers and UCU members to be consulted fully on potential alternative resolutions.
Finally, in January 2022, UCU issued another set of compromise proposals aimed at averting widespread industrial action across UK campuses in February. The proposals would see retirement benefits protected in return for a small increase in contributions for both members and employers ahead of a new 'evidence-based valuation' of the scheme. In the February 2022 JNC, employers formally voted in favour of their package of cuts. UCU's compromise proposals, which would have replaced UUK's cuts, were rejected by both UUK and JNC chair Judith Fish, who had the casting vote in a tie. You can read more about UUK's misrepresentations of UCU's proposals here.
How can the USS pensions dispute be resolved?
UCU members want employers to revoke the massive cuts which they imposed on members of the USS pension scheme, and put pressure on USS to restore benefits to 2021 levels as soon as possible.
UCU also want UUK to put strong pressure on USS to ensure that the next and all subsequent valuations are moderately prudent and evidence-based. Prudence should be defined in terms of the likelihood of all pensions being paid from investment returns and contributions going forward. Future valuations should be realistic reflections of the underlying strength of the scheme and the UK higher education sector.
Please note that, for the pay and working conditions dispute, the union negotiates with Universities UK (UUK), which is separate from the Universities and Colleges Employers Association (UCEA).
Could employers afford to pay more to protect members' benefits?
Yes. Employers currently contribute 21.4% of salary, but USS itself had determined that employers can afford to pay a 24.9% contribution rate on a long-term basis. USS's view was informed by research by their external professional advisers into institutional finances.
The higher education sector's income has comfortably outstripped every measure of inflation over the past five years, while the proportion of money spent on staff has decreased. The pre-92 universities that are the main sponsors of USS are in a particularly strong position and have no excuse not to pay more to protect staff retirement benefits.
My employer talked about 'conditional indexation' as a potential long-term solution to the USS pensions dispute. What does this mean?
Conditional indexation is better described with the term 'conditional benefits'. This arrangement would involve more risk for members' retirement benefits than the current defined benefit arrangements, but less risk than defined contributions (DC). Under the right circumstances it could involve lower contributions and higher benefits, but whether that is a likely outcome is far from clear at this stage.
With conditional benefits, a USS member would accrue a minimum defined i.e. guaranteed benefit, but that benefit would only increase in line with inflation if the scheme continued to perform well enough financially (until the member enters retirement, at which point the law ensures that there is protection against inflation up to 2.5% regardless of the scheme's performance).
Delegates at UCU's special higher education sector conference (SHESC, September 2021, motion B4) voted to mandate UCU's negotiators to explore conditional benefits via talks with UUK and USS, but it is too early to say whether it could be a solution to this long-running dispute or a superior alternative to DB. Ultimately no agreement will be entered into without full democratic consultation of UCU members.
We took industrial action over USS before and it did not work. Why would it work this time?
If UCU members had not taken industrial action in the past, we would not today have any guaranteed pension to defend. No union in the UK has got as far as UCU in defending a good, defined benefit pension through multiple industrial disputes. By voting and taking action in large numbers from 2018, UCU members stopped employers from closing the defined benefit element of the scheme, forced them to pay more to preserve defined benefits, and forced them to work with us more than ever to achieve a good outcome.
Your industrial action has always strengthened the union's hand in negotiations and put UCU's elected lay negotiators in a better position than they would have been in without it. The stronger the turnout in any industrial action ballot and the higher the participation in any action, the better the chance of achieving victory in this dispute.
It is worth noting that the democratic mechanisms of the union, including the annual Congress in 2022, the higher education sector conference (HESC), and the higher education committee (HEC), decided that the USS pension and pay and working conditions industrial action ballots would run in an aggregated fashion this time. In an aggregated ballot, the 50% turnout threshold is applied to the voting membership as a whole. If turnout among the whole membership meets or exceeds 50% and there is mandate for action, every UCU branch at a USS institution could take action, even if a particular branch's own turnout is lower than 50%. This means that the union could have unprecedented leverage if the ballot were successful.
What can be done to make USS more affordable for low paid and casually employed staff?
With contributions currently at 9.8% of salary for members, USS is already an expensive scheme. The final report of the Joint Expert Panel (JEP), convened by UCU and UUK after the 2018 industrial action, concluded that the rate of eligible staff opting out of USS was worryingly high and steps should be taken to address it.
The JEP proposed options for addressing the opt out rate that would make the scheme cheaper for low paid staff while giving them the same level of retirement security as every other scheme member by providing them with defined (i.e. guaranteed) benefits. UCU is working with First Actuarial on this issue and is committed to exploring options like this and finding ways to make them work for members.
However, instead of honouring the proposals made by the JEP, UUK came up with a different 'solution': creating a separate scheme which would involve significantly lower contributions from employers as well as members. This option would be defined contribution (DC) only and provide no guaranteed retirement income whatsoever. It would lead some staff away from the main defined benefit (DB) scheme. Because the DB scheme would benefit from having a steady stream of new members generating contributions, it would also have a knock-on effect of undermining the main DB scheme. UCU strongly opposed this option just as it opposed the cuts to the main DB scheme from UUK.
Isn't the real problem with USS and/or The Pensions Regulator, not our employers?
USS's decision making and the role of The Pensions Regulator (TPR) in encouraging damagingly high contribution rates have been criticised by UCU, UUK, both parties' professional actuarial advisers, and the Joint Expert Panel (JEP). Neither USS nor TPR has fully recognised the unique strength of the scheme and the sector that underpins it. UCU is engaged in extensive lobbying and other campaigning efforts to influence both USS and TPR and that will continue.
However, Universities UK chose to respond to USS and TPR's insistence on high contribution rates by imposing cuts that could be avoided. UUK's plan was an extremely poorly advised kneejerk reaction to USS's demands and those cuts ought to be revoked while both parties take time to reach a fair and stable long-term solution.
The UCU modeller, built by First Actuarial, only illustrates benefits for future service, not past service. How can I get a full overall picture of what my pension looks like?
It is not possible for a non-USS modeller to tell you what you benefits are for past service and illustrate benefits for future service, because that would require direct access to USS's data for you. However, you can work this out yourself by adding the figures in your annual statement from USS to the modeller outputs. The modeller text instructs you on how to do this:
Benefits earned prior to the date of any change will be unaffected and are excluded from the modeller. To find out about any benefits you have already earned as a USS member, consult your annual statement from USS. The statement is posted to you and can also be found online.
It is particularly important to use the modeller if you are an early career member of staff, because you may have accrued relatively little (or zero) benefits for past service—so the modeller will give you a more complete picture of the overall cut to your benefits, which will be very severe.
USS also released a modeller of its own, as part of its statutory consultation of members on the changes which employers were trying to make to USS. Unlike UCU's modeller, the USS modeller was able to take past service as well as future service into account, because USS had access to members' personal data about their past service in USS. Because the USS modeller could include benefits you already built up as well as those you would build up from April 2022, it is likely to provide a higher figure for your total benefits than UCU's modeller. However, USS has now taken this modeller offline.
The USS modeller's assessment of the impact of employers' cuts on the benefits you build up in future was very similar to UCU's modeller and in some respects it was even more pessimistic.
How reliable is the UCU modeller's overall projections of benefits?
As the notes point out, the modeller is best for comparing the 'pre-UUK cuts' and 'post-UUK cuts' scenarios rather than providing an objective illustration of future benefits. This is because any projection of future pension benefits relies on a number of assumptions that could vary: about future salary increases, economic growth, how people choose to invest any defined contributions, and so on. However, the assumptions underpinning the UCU modeller are the same in each scenario, both 'pre-UUK cuts' and post-UUK cuts', which means that even if future events differ from what is assumed, they still make for a reliable comparison.
There is one exception to this, where an assumption has been made that decouples the 'pre-UUK cuts' and 'post-UUK cuts' scenarios from each other and could lead to a larger or smaller gap between them than will actually be the case. This is the assumption regarding inflation. Because the UUK cuts will involve capping protection of defined benefits against CPI inflation at 2.5% from 2025, the extent to which the 'post-UUK cuts' scenario falls short of the 'pre-UUK cuts' one would depend partly on how much inflation occurs in future and when. The more time inflation spends above 2.5%, and the higher it goes, the worse off members will be under the UUK cuts.
The particular assumption which First Actuarial adopted regarding inflation did have an impact, but was arguably closer to the more conservative end of the spectrum of possible inflation assumptions. The real impact of inflation in the 'post-UUK cuts' scenario could be worse than was projected.
On the whole, the assumptions used by First Actuarial were fairly typical of the actuarial profession and could not easily be disputed by USS or employers. For instance, the assumptions which they used for the likely return on defined contributions were the same as USS's. (This means that if USS's assumptions regarding returns on DC are over-optimistic, the 'post-UUK cuts' scenario could be worse still for most members: because most members' benefits would depend more on DC returns in the 'post-UUK cuts' scenario than they did in the 'pre-UUK cuts' scenario.)
While UCU's modeller illustrates big cuts to my DB pension and DB lump sum, there is also a big increase to my DC cash lump sum. How can I compare these cuts and increases directly to see the overall impact?
The modeller outputs will always show a significant cut to the defined benefit (DB) annual pension and DB lump sum, but for some members this will be partially offset by an apparently significant increase in the defined contribution (DC) lump sum which they may receive on retirement. If this applies to you, you may wish to evaluate the impact of this increase to DC, and the best way to do this is by seeing what you could get if you converted that DC cash into an annual pension.
The text accompanying the modeller explains how to do this.
You may wish to make a direct comparison between the amount you lost annually in your defined benefit pension, and any amount you might be projected to gain in your DC Investment Builder cash.
When you do this, you will find that the pension supplement provided by converting your extra DC cash does not come close to compensating for the initial cut to the DB annual pension illustrated by the modeller. For instance, if you are 37 years old and on point 37 of the higher education pay spine, you find that a 35% cut to your annual pension is still a 23% cut after all your extra DC cash has been converted. Meanwhile, the 35% cut to your DB lump sum remains in place.
Practicalities of the industrial action ballot
What is the balloting timetable?
The union will be in a position to finalise the ballot timetable very soon. We will provide the following details:
ballot opening date--when the independent scrutineer Civica Election Services dispatches the ballot packs
replacement ballot request form opening date
cut-off date for new members to join and be automatically included in the industrial action ballot
replacement ballot request form closing date
cut-off date for branch officers to submit exclusions
the 'last safe posting date' and the ballot closing date.
Who made the decisions regarding balloting and the timeframe?
Delegates at UCU's annual Congress and higher education sector conference (HESC), which took place in June 2022, resolved to ballot on the pay and working conditions and USS pensions disputes, in time to take industrial action in the autumn term. This ballot timetable has been designed to make that possible.
UCU is a member-led union where decisions are made by UCU members themselves. The democratic mechanisms of the union include the annual Congress (UCU's supreme policy-making body), the further and higher education sector conferences (FESC and HESC), and the elected representatives in the national executive committee (NEC) which is also subdivided into the further education committee (FEC) and higher education committee (HEC).
As a UCU member, how can I help to 'get the vote out' (GTVO)?
You can contact your UCU branch. Campaign materials will be delivered to all HE branches involved in the ballot. Your branch will have a plan to GTVO at a local/institutional level, so please volunteer to support your branch in activities such as emailing colleagues, door-knocking, and disseminating leaflets/posters. ThruText (peer-to-peer text messaging for GTVO) will be handled by the UCU campaigns team.
There are also resources specific to the UCU rising campaign (which is continually updated) and more general GTVO guidance. There will be a series of national online and in-person events. Please pay attention to communications from UCU's campaigns team and attend these events.
You can also become a UCU rising 'campaign ambassador': as an ambassador you will be asked to champion the campaign locally and on social media. You do not have to have had any experience in an elected position within the union to sign up. You can sign up as a campaign ambassador by completing this form.
One of the simplest and most helpful things you can do is email or WhatsApp/Telegram/Signal 5-10 UK-based colleagues in your professional network, asking them if they are aware of UCU's industrial action ballots, and urging them to vote. You can also use social media—Twitter, Facebook, Instagram—to spread the word, but one-to-one personal contacts are the most effective means of increasing participation.
How many ballot papers will I be receiving?
UCU will be conducting two industrial action ballots of our higher education members. One ballot relates to the pay and working conditions dispute (pay, workload, casualisation, and equality), and the other relates to the dispute over the Universities Superannuation Scheme (i.e. USS pensions).
Members in 145 institutions will be able to vote in the pay and working conditions ballot, and members who work in 68 USS institutions (for the most part, these are the so-called 'pre-92 universities') will have a ballot paper on USS.
62 of these institutions are in both disputes, and members there will receive two ballot papers. If your institution falls into this category, please make sure you fill in and post both ballot papers.
To find out which dispute(s) your institution is part of, see this list.
It is a reflection of the scale of employers' ongoing attacks on staff in higher education that the union is holding ballots in two disputes at the same time—a decision democratically made by UCU Congress, higher education sector conference (HESC), and elected members of the higher education committee (HEC).
We are legally required to run two separate ballots as they are two different disputes.
What will the ballot pack look like?
This image shows what the ballot pack/envelope will look like. It will have distinctive branding for Civica Election Services (CES) and the University and College Union (UCU).
The ballot pack will contain either one or two ballot papers (see explanation above). The ballot pack will contain a pre-paid envelope. Put all ballot papers in that envelope.
If you have misplaced the pre-paid envelope or the pre-paid envelope is missing from the ballot pack, you can put the ballot paper(s) into a blank envelope, write this address on the envelope—Civica Election Services, 33 Clarendon Road, London N8 0NW—then affix a stamp and post it back.
Where is the ballot pack being sent?
The ballot pack is being sent to the preferred address that you have indicated—this is either the home address or your workplace. To check your preferred address, please log into MyUCU.
I cannot find or have misplaced the ballot pack. What do I do?
If you cannot find your ballot pack, you can request a replacement ballot when the replacement ballot request form opens.
I am out of the country and am not at my usual address. What do I do?
You can request a replacement ballot to be sent to your temporary address.
Will UCU know if I have voted or which way I have voted?
Industrial action ballots are confidential and UCU will not know if an individual member has voted or which way that a member has voted. UCU branches do not get notified if a member has voted or which way that a member has voted.
As part of a UCU branch's 'get the vote out' (GTVO) activities, your branch officers may ask you—via email or door-knocking for instance—whether you have voted, so that the branch can target their GTVO with precision. It will be an enormous help to your branch and your union if you choose to volunteer this information.
Who will be eligible to vote?
The industrial action ballot electorate by default includes:
full members (standard membership or standard free membership)
joint union members.
The industrial action ballot by default excludes:
student members
attached/unemployed members
retired members
members whose membership has lapsed (please note that standard free membership will expire after a period of time—members will be warned well in advance if this is happening—and those standard free members should upgrade their membership via MyUCU)
members who have cancelled their membership or resigned from the union
members with a 'ballot exclusion' in place (e.g. parental leave, long-term absence).
Remember that you can check your membership category by logging into MyUCU. If you are not yet a UCU member, and wish to participate in the industrial action ballot, you can join UCU online right away.
What if I am on paternity leave or long-term absence?
If you are on paternity leave or long-term absence during the period of balloting and potential industrial action, you should inform both your UCU branch and update your details on MyUCU as you may be excluded from the ballot.
What if I am employed at multiple institutions (and therefore am at multiple UCU branches)?
Members employed in more than one institution will only be able to vote once, at their primary institution of employment.You can check your primary institution of employment via MyUCU.
What questions will appear on the ballot paper(s)?
The ballot paper will have two questions:
do you support strike action?
do you support action short of a strike (ASOS)?
UCU urges everyone to vote YES and YES to both questions.
If you receive two ballot papers because your institution is in both the USS pension dispute and the pay and working conditions dispute, then remember to use both ballot papers, and vote YES and YES in the USS ballot, and vote YES and YES in the pay and working conditions ballot.
What does 'action short of a strike' (ASOS) mean?
While a strike is a concerted stoppage of work, 'action short of a strike' (ASOS) is normally action which affects only certain aspects of your work. Under the Trade Union Act 2016 the union must (in England, Wales, and Scotland) indicate in advance and ballot members on the types of ASOS we are likely to call upon members to take (in Northern Ireland the union can ballot for action without specifying the types of ASOS).
UCU branches involved in the pay and working conditions and/or the USS pensions disputes will be balloted on the following forms of ASOS:
working to contract
not covering for absent colleagues
removing uploaded materials related to, and/or not sharing materials related to, lectures or classes that will be or have been cancelled as a result of strike action
not rescheduling lectures or classes cancelled due to strike action
not undertaking any voluntary activities; and
marking and assessment boycott.
Members should be clear that, if they are taking part in any of the action short of strike described above, they should continue with their other normal duties.
Decisions over when different forms of ASOS are called are made through the democratic mechanisms of the union, including the elected members of the higher education committee (HEC).
Are the ballots 'disaggregated' or 'aggregated'?
The democratic mechanisms of the union, including the annual Congress, the higher education sector conference (HESC), and the higher education committee (HEC), determined that the USS pension and pay and working conditions ballots should both run in an aggregated fashion.
In an aggregated ballot, the 50% turnout threshold is applied to the voting membership as a whole. If turnout among the whole membership meets or exceeds 50%, every UCU branch can take action, even if a particular branch's own turnout is lower than 50%.
Can I vote electronically/online?
The law mandates that a ballot for industrial action must be conducted by post. It is therefore not possible to participate in the industrial action ballot electronically/online.
The law also states that a ballot for industrial action must be supervised by a qualified independent scrutineer, in this case Civica Election Services. Civica Election Services is responsible for the production, posting, and processing of ballot papers. UCU cannot by law produce, post or process ballot papers. It is not possible for UCU or Civica Election Services to send out a ballot paper electronically for you to print out at home or at work.
For further information please see 'Taking part in industrial action and strikes' from the UK government website, as well as the Trade Union and Labour Relations (Consolidation) Act 1992 c. 52 s. 230.
What happens if the vote is for action, and when will action take place?
If the vote in either ballot (USS pension or pay and working conditions) is for action, the democratic bodies of the union will decide on what forms of action to take, when to take it, for how long, and whether action for both disputes will take place concurrently or separately.
By law, fourteen days' notice must be provided to all relevant employers before industrial action can begin. Note that a successful ballot will only provide a mandate for industrial action for a period of six months, starting from the date when the ballot closes.
If we decide to take industrial action, what am I expected to do?
Your union only takes strike action once every other avenue of influence has been exhausted and when the democratic decision-making bodies of the union believe there is no other way to make employers change their position.
It is a very serious sanction and that is why we ask that every member observes the strike. Every member who does not observe the strike is directly undermining the union's bargaining power and making it harder for the union to protect all its members. Every member who does observe the strike is helping to advance the interests of all staff throughout the sector.
If/when we call a strike, we ask that members do not do any work for all of the days specified by the union. This includes, for instance, time before 9am and after 5pm, and includes any activity which is part of your work such as teaching, administration, meetings, emails related to work, marking, research or conferences where you are directly or indirectly representing your employer. It also means not doing any preparation for work that you are due to do when you return to work after you strike. In a nutshell, if you are employed at one of the institutions on strike, do not do any work at all on strike days.
On strike days, the best possible thing you can do is contact your UCU branch and volunteer to help at the picket lines—and ask colleagues in your department to join you. Picketing is a vital opportunity to demonstrate to the employer the scale of the disruption that the union is able to cause, and get support for your action from students and other colleagues.
I'm in the Teachers' Pension Scheme (TPS). What's happening to my pension scheme?
The Teachers' Pension Scheme (TPS) is at present not part of any industrial dispute. Visit this page on the latest updates from UCU on TPS.
How long will the disputes go on for?
The USS pensions and pay and working conditions disputes are distinct and involve UCU negotiating with two different bodies— Universities UK (UUK) and Universities and Colleges Employers Association (UCEA) respectively. Both disputes are kept under constant review by UCU's democratic structures, specifically the elected members of the higher education committee (HEC) as well as the higher education sector conferences (HESC), who determine UCU's next steps.
If either dispute is suspended or resolved for any reason but the other dispute is not, the action in the unresolved dispute will still take place. A positive outcome in the pay and working conditions dispute does not mean that UCU abandons the USS dispute, or vice versa. Neither dispute will be concluded without a democratic consultation of the members involved in it.
What about my students?
UCU is a union of education professionals and we know that our members do not relish taking industrial action that affects our students, to whom you have dedicated so much of your energy, even during extremely challenging conditions like the Covid-19 pandemic. It is the same for many public services—doctors and nurses for instance.
However, if you take industrial action, you are making a case for greater investment in or defence of the quality of the education and research you provide. In the case of job cuts, for example, the union will rightly argue that our students will be hurt far more by management's actions than by our own. Participating in an industrial action ballot and observing industrial action are defending the interests of staff and students alike—staff's working conditions are the students' learning conditions. Undermining the ballot and strike action might feel like the right thing in the short term, but will only serve to embolden management and staff and students will all suffer more in the longer term.
Formally, it is university management's responsibility to explain to students if classes are to be cancelled on strike days. However, you may wish to talk to your students before any industrial action, explaining why the union is taking this step and asking them to write to university management to voice their concerns. You may also wish to discuss some of the practicalities which your students may not be familiar with—in particular, the fact that when you go on strike you will not be paid by your employer.
What do I do if I have a question that is not covered in this FAQ?
This FAQ will be continually updated by UCU staff. If you have a pressing question that is not covered here, please contact the UCU campaigns team and we will either reply to you directly or provide a response in this FAQ.
Last updated: 9 August 2022