•
•
•
UCU branch organises Anne Frank exhibition at Northumbria University
24 January 2008
| last updated: 14 December 2015
UCU's branch at the University of Northumbria (UNN) has arranged for the 'Anne Frank - A history for today' exhibition to be displayed at UNN for all of this week, in advance of Holocaust Memorial Day on Sunday.
Anne Frank, a young Jewish girl, recorded her experiences in her famous diaries during her enforced hiding to escape the Nazis during their occupation of Amsterdam in the second world war. Anne's family was ultimately betrayed, and she and her sister Margot died in Bergen-Belsen concentration camp in 1945.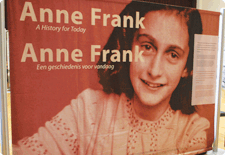 The exhibition, provided by the Anne Frank Trust, consists of 11 large canvasses, which have pictures of both Anne's life and of the rise of Nazi Germany, as well as powerful and shocking images of the Holocaust. It is the first time it has been shown in this format anywhere in the world.

It is intended to help viewers to 'learn more about scapegoating, anti-Semitism, racism, ethnic cleansing, and genocide as well as tolerance, human rights, democracy and conflict resolution.'

UNN has a history of teaching about the Holocaust and UNN students frequently visit the former Auschwitz concentration camp.

UCU's branch at UNN wanted to send out a positive antiracist message, and upon discovering the exhibition was available, approached the university, which agreed to fund the display. The UCU branch did all the organisational work and

produced a flyer [181kb] to help publicity.

UCU branch chairperson Martin Levy said: 'One of the most distinctive features of Northumbria University is the diverse nature of its community. We are fully committed to the underpinning values of equity, diversity, ethical behaviour and concern for the welfare of individuals and society. As Holocaust Memorial Day approaches, this exhibition reminds us of the need to hold fast to these values.'

The exhibition is being held in Rutherford Hall, Ellison Building on City Campus West, from 9am until 9pm, except on Friday, when it will close at 3pm.
UCU branches/LAs interested in hosting the exhibition should contact Paul Tyack at the Anne Frank Trust.