•
•
•

The Friday email: 20 July 2018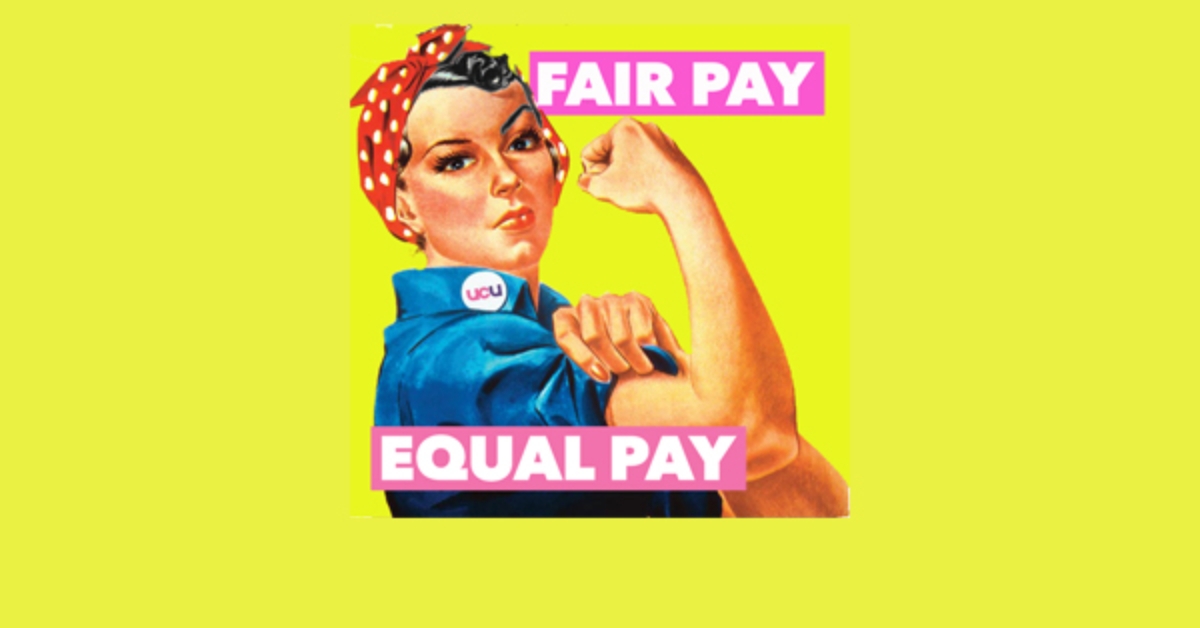 The Friday email: 20 July 2018
Higher education pay
This week we revealed accounts showing the chief executive of the Higher Education Funding Council for England (Hefce) Professor Madeleine Atkins received a 96% pay rise with a package worth £554,648 last year. Another kick in the teeth for members following a derisory offer of 2% from employers'. Join our campaign for fair pay and make sure your details are up to date to get your vote when the ballot for industrial action opens later in the summer.
FE fights back
As the union continues to campaign for a better deal for further education (FE) with a ballot for action due in the autumn, please share our latest short film and find out why staff like Alison are fighting back for FE.
In the news
Autumn strike warnings as UCU says staff need decent pay offer
Minister channels Gerald Ratner to talk down T-levels
University principal's "deep regret" at failing to mention £12million Irish castle link
JEP report
Meetings of the USS joint expert panel (JEP) continue. In this report from the sixth meeting, JEP chair, Joanne Segars, reports back after hearing from Sir David Eastwood, the chair of the USS trustee board.
Learning for life with UCU
We offer a high-quality free continuing professional development (CPD) programme including courses and online resources to help develop your skills and progress in your career. Please help us continue to improve the programme and support your professional development needs by clicking here and answering a few questions.
UCU condemns attacks on RMT and joins Cambridge march against the far-right
UCU has sent solidarity to fellow trade unionists in the RMT who were attacked and injured last weekend by supporters of the far-right Tommy Robinson. In her message UCU general secretary Sally Hunt said: "We are proud to call ourselves friends and comrades of the RMT and enemies of all that the Robinson march represents." Please join the protests against the far-right in Cambridge this Saturday 21 July.
UCU People's University at Tolpuddle 2018
Many UCU members are heading to Tolpuddle in Dorset this weekend for the annual trade union festival and celebration of our movement. Come and join us at the UCU People's University on Saturday with free lectures on topics including technology, national independence, the NHS, lifelong learning and the environment.
Friends of Birzeit University (Fobzu) summer appeal
Over the past year UCU has been working closely with Fobzu in supporting access to education in Palestine. See here for information on Fobzu's summer appeal.
National Gallery educators campaign
A group of artists and lecturers are campaigning against their dismal from the National Gallery where they have delivered talks, courses and workshops for many years. They are asking to be recognised as workers rather than self-employed. See here for more on their campaign.
Democracy commission
Congress 2018 agreed to set up a commission to review the union's democratic structures. There are places on the commission for representatives from branches/local associations. If you are interested in standing for election to the commission you can nominate yourself via your branch. Please contact your branch secretary or chair/president as soon as possible if you are interested.
You can find information about the commission and the election procedure here.
Best wishes

Justine Stephens
UCU head of campaigns
Last updated: 20 July 2018