•
•
•
•
•
•

HE pay e-ballot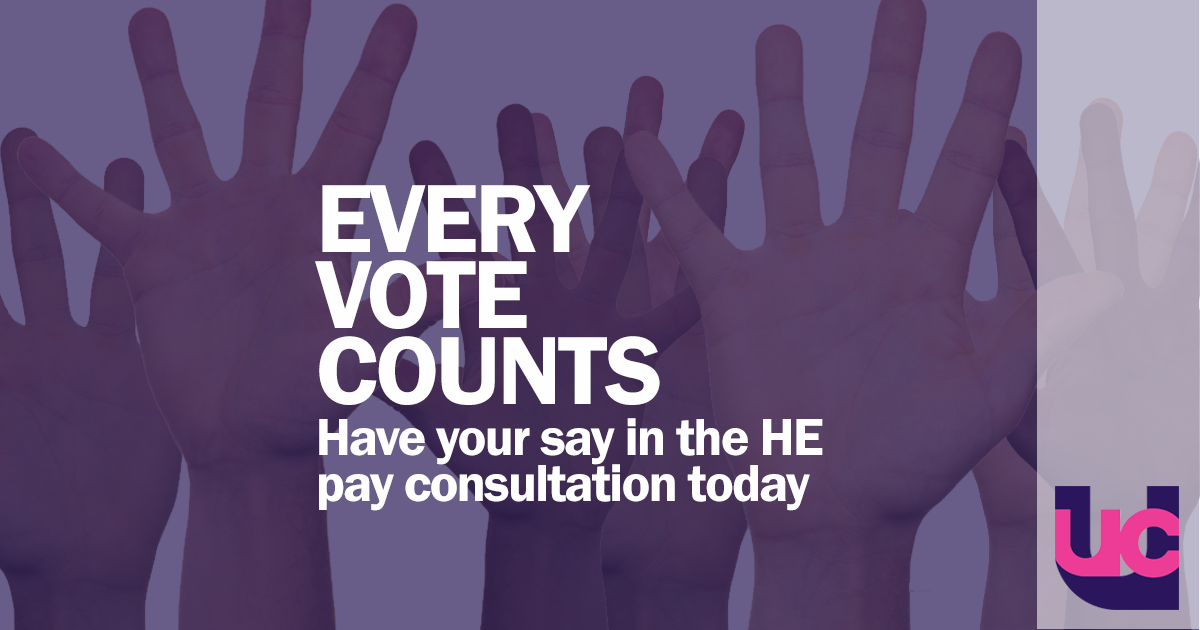 UCU e-ballot on higher education pay
Your decision
You are asked* to make an important decision about the 'final' pay offer of a 1.7 percent salary increase for higher education staff in 2017/18.
Use your vote
Recent changes in the law are designed to take decisions about what the union does out of the hands of you - the member.
Whatever your views, please read this message carefully, and make sure you use your democratic right to vote.
About the offer
The union's higher education committee (HEC) believe that the 'final' offer of 1.7 percent is the best achievable through negotiation, in other words: achieving a further improvement is likely to require you to take industrial action.
While a 1.7 per cent pay rise is significantly above recent awards for comparable staff in the public sector like teachers, doctors and nurses, it is substantially lower than inflation which rose again to 2.9 percent last month.
As part of their 'final' response the employers also proposed further joint work with the unions on addressing the gender pay gap. However, no meaningful progress at all was made with other important issues raised by the union such as the use of casual contracts, rising workload and stress, and our claim for minimum rates of pay for external examiners.
About the vote and its consequences
When you click the link you will be asked two questions.
First, whether you wish to accept or reject the employers' final offer.
Second, whether in the event members reject the offer, you would be prepared to take action either in the form of strikes or as part of other types of action called 'action short of a strike' (ASOS).
All forms of industrial action are a breach of contract. Both strikes and ASOS can be legally penalised by the employer by withholding up to 100 percent of your pay for the duration of the action.
Let's make sure this is your decision
It is now unlawful to take industrial action without a turnout of more than 50 percent in a statutory ballot, even if the majority of members who vote, support action.
It is therefore vital that the union knows your strength of feeling on this offer.
Please have your say.
Sally Hunt
UCU general secretary
PS. You can find full details of the employers' offer here.
---
*Institutions included in the consultative balot
Aberdeen, The University of
Abertay University
Aberystwyth University
American InterContinental University
Anglia Ruskin University (ARU)
Arts University Bournemouth (AUB)
Aston University
Bangor University
Bath Spa University
Bath, University of
Bedfordshire, University of
Birkbeck College, University of London
Birmingham, The University of
Bishop Grosseteste University
Bolton, The University of
Bournemouth University
Bradford, University of
Brighton, University of
Bristol, University of
Brunel University
Buckinghamshire New University
Cambridge, University of
Canterbury Christ Church University (CCCU)
Cardiff Metropolitan University
Cardiff University
Central Lancashire, University of
Chester, University of
Chichester, University of
City University London
Courtauld Institute of Art
Coventry University
Cumbria, University of
De Montfort University (DMU)
Derby, University of
Dundee, University of
Durham University
East Anglia, University of
East London, University of
Edge Hill University
Edinburgh Napier University
Edinburgh, University of
Essex, University of
Exeter, University of
Falmouth University
Glasgow Caledonian University (GCU)
Glasgow School of Art
Glasgow, University of
Gloucestershire, University of
Glyndŵr University
Goldsmiths, University of London
Greenwich, University of
Harper Adams University
Heriot-Watt University
Hertfordshire, University of
Huddersfield, University of
Hull, University of
Keele University
Kent, University of
King's College London (KCL)
Kingston University
Lancaster, University of
Leeds Beckett University
Leeds College of Art
Leeds Trinity University
Leeds, University of
Leicester, University of
Lincoln, University of
Liverpool Hope University
Liverpool John Moores University (LJMU)
Liverpool School of Tropical Medicine
Liverpool, University of
London Metropolitan UniversityLondon School of Economics
London School of Hygiene and Tropical Medicine (LSHTM)
London South Bank University (LSBU)
Loughborough University
Manchester Metropolitan University (MMU)
Manchester, The University of
Middlesex University
Newcastle University
Newman University College
Northampton, The University of
Northumbria University
Norwich University of the Arts (NUA)
Nottingham Trent University (NTU)
Nottingham, The University of
Open University (OU)
Oxford Brookes University
Oxford, University of
Plymouth, University of
Portsmouth, University of
Queen Margaret University
Queen Mary, University of London (QMUL)
Queen's University of Belfast (QUB)
Reading, University of
Robert Gordon University
Roehampton University
Rose Bruford College
Royal Academy of Music (RAM)
Royal Agricultural University
Royal Central School of Speech and Drama (CSSD)
Royal College of Art (RCA)
Royal College of Music (RCM)
Royal Holloway, University of London (RHUL)
Royal Northern College of Music
Royal Veterinary College, University of London (RVC)
Salford, University of
Senate House, University of London
Sheffield Hallam University
Sheffield, The University of
SOAS, University of London
South Wales, University of
Southampton Solent University
Southampton, University of
St Andrews, University of
St George's, University of London
St Mark & St John, University of
St Mary's University College [Belfast]
St Mary's University, Twickenham
Staffordshire University
Stirling, The University of
Stranmillis University College
Strathclyde, University of
Sunderland, University of
Surrey, University of
Sussex, University of
Swansea University
Teesside, University of
Trinity Laban Conservatoire of Music and Dance
UAL Camberwell, Chelsea & Wimbledon
UAL Central St Martins
UAL London College of Communication
UAL London College of Fashion
Ulster University
University Campus Suffolk (UCS)
University College Birmingham
University College London (UCL)
University for the Creative Arts
University of Sheffield International College
Wales Trinity St David
Wales, University of
Warwick, University of
West London, University of
West of England, University of the
West of Scotland, University of the
Westminster, University of
Winchester, The University of
Wolverhampton, University of
Worcester, University of
Writtle College
York St John University
York, University of
Last updated: 18 July 2017