•
•
•
•
•

On the ground
On the ground
UCU branches (and student unions) across the UK are now making sure that the action to defend USS is being publicised on campus. We've got some examples of what's being produced locally below.
Goldsmiths, University of London
Goldsmiths UCU and student union members explain the USS pensions dispute
Heriot-Watt University
Recruitment/USS dispute business cards mocking our university's slogans:
Leaflet created for Open Meeting. Open Meeting: Speaker Carlo Morelli. Very effective in providing detailed information of the complex pension matter in an accessible manner. Moreover, the wider and political implications (e.g. collective vs individual; covenant; marketisation) which are rarely focused on elsewhere convinced quite a number of colleagues to participate in the strike.
University of Kent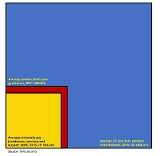 Click for larger version Infographic produced by University of Kent UCU that branches or members might like to use when talking to students about why we are taking industrial action.
University of Lancaster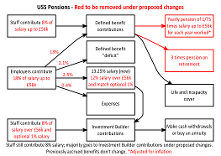 Click for larger version The branch have set up a local strike action Facebook page and have been sharing various resources, such as the pension change diagram opposite, which have reached over 1000 people. Feel free to visit our page and share them!
University of Leeds
Fun video with a serious message by Leeds UCU
University of Leicester
Basic explanations of strike and ASOS for staff & students. Can be reproduced as leaflet or poster.
University of Sheffield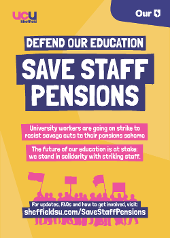 The student union at Sheffield has produced a great leaflet linking the attack on USS with the future of higher education:

Sheffield student union USS leaflet [968kb]
You can download versions without Sheffield-specific logos on, along with matching fonts if you want to rework it.
University of Warwick
The student union at the University of Warwick which is offering fantastic support for their staff taking action (follow them on Facebook here) and have produced this great video:
Last updated: 13 April 2018