Website URL : http://www.ucu.org.uk/6759
|
|
HE national negotiations 2013-14 & 2014-15
Information on the 2013-14 pay negotiations which fed into the subsequent 2014-15 negotiating round.
---
Summary
UCU members took industrial action and action short of a strike in response to the employers' failure to make HE members a proper pay offer for 2013-14. This included one day and two-hour strikes, and working to contract. The 2013-14 dispute ended when a conditional offer made during the 2014-15 pay round was accepted by members.
---
Members vote to accept 'final offer'

In a ballot of members over the employers' 'final offer' for 2014-15, 83.7% of members who voted, voted to accept the offer and call off the marking boycott. The turnout was 52.6%.
The final offer of 2% from August 2014 was in addition to last year's offer of 1% from August 2013, and was conditional on the current 2013/14 dispute ending.
The union's higher education committee met on 2 May to consider the ballot result and confirmed that the dispute had ended and the threatened marking boycott called off.
The 2014-15 offer
The employer's full and final offer is:
2% on all pay spine points with effect from August 2014
point 1 (the lowest point) of the pay spine to be increased by an additional £30 which will be the equivalent of the living wage in those institutions with a 35-hour week
joint work to explore the use of the bottom pay points across the sector
both sides remain committed to explore the pay equality claims which will be addressed at next New JNCHES meetings on 24 April and 20 May.
In a message to members, UCU general secretary Sally Hunt said:
'As you may have heard from your branch the result of the recent ballot on the 'full and final' pay offer made by the HE employers was as follows:A total of 30,141 valid votes were counted, giving a turnout of 52.6%. The eligible votes were cast as follows:
To accept the offer and call off the marking boycott:
25,239 (83.7%)
To reject the offer and commence the marking boycott at the earliest opportunity possible:
4,902 (16.3%)
Arising from this overwhelming result, the Higher Education Committee has agreed to inform the employers we accept the full and final offer of 2% made for the 2014/15 negotiations and the pay dispute carried over from 2013 is now resolved.
The proposed marking boycott due to start on 6 May is therefore cancelled and members should work normally.
Thank you for you support during the dispute and for taking part in the ballot in such great numbers.'
The 2014-15 claim submitted to the employer's representatives at UCEA was an updated version of the claim for 2013-14:

Joint HE union claim 2014-15 (.pdf) [423kb]
---
Fighting fund
Members who had a day's pay deducted for taking two-hour strike action or are in real hardship were entitled to claim from the strike fund. Click here for more information.
---
Two-hour strikes hit universities
UCU members escalated their action by taking part in a series of two-hour stoppages. Members walked out on Thursday 23 January between 11am-1pm, and Tuesday 28 January, between 2pm-4pm. A further two-hour stoppage took place on Monday 10 February 9am-11am, after a further joint one-day strike on 6 February called by all four higher education unions. The third of UCU's two-hour stoppages will take place on Monday 10 February from 9-11am. Read more about the two-hour stoppages here.
Some employers have responded to the two-hour stoppages by deducting an entire day's pay. UCU has warned these employers that they will face legal action over punitive salary deductions. It also emerged during this period that university vice-chancellors enjoyed an average pay rise of 5.1% last year.
---
Joint union strike action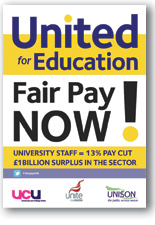 UCU, UNISON and Unite members took their first day of strike action on Thursday 31 October and walked out for a second day of strike action on 3 December.
UCU, UNISON and Unite members were joined by Scottish education union, the EIS, after the employers failed to improve on their offer. The joint unions had met with UCEA for further talks on 26 November 2013. Insultingly, the employers only said they were willing to 'look into' any equality issues if members accepted the pay cut on offer. The pay offer of just 1% this year would mean members in HE suffering a pay cut of 13% in real terms since October 2008. The squeeze on staff pay comes at a time when pay and benefits for university leaders increased, on average, by more than £5,000 in 2011-12, with the average pay and pensions package for vice-chancellors hitting almost £250,000.
This came after a new report which revealed that more than half of UK universities pay some of their staff less than the living wage and over a quarter have more than 100 staff paid less than the living wage.
A third day of joint one-day action took place Thursday 6 February, with employers having failed so far to offer any improvement on their 1% pay offer. With a further two-hour strike planned for 9-11am on Monday 10 February UCU has warned that if the dispute is not resolved by then that it will consider moving to a marking boycott, which could hit end of year exams and graduations.
International messages of support sent to UCU members
On 31 October 2013 unions from across the world sent in messages of support to UCU's higher education members, who were on strike against a 1% pay offer.
---
---
Industrial action ballot
The ballot closed at noon on 10 October. Turnout was 35.0%. The responses to the two questions you were balloted on are as follows:
Are you prepared to take industrial action consisting of strike action?
Number of ballot papers returned: 20,741
Number voting YES: 12,754 (61.5%)
Number voting NO: 7,985 (38.5%)
Number of papers found to be invalid: 2
Are you prepared to take industrial action consisting of action short of a strike?
Number of ballot papers returned: 20,741
Number voting YES: 15,967 (77.0%)
Number voting NO: 4,772 (23.0%)
Number of papers found to be invalid: 2
HE pay ballot result, Oct 13 (.pdf) [42kb]
Why we balloted
Staff pay is being systematically and intentionally eroded as part of a bad strategic choice by university managements who can afford to pay you more. Since 2009, the cumulative value of the pay cut is around 13%.
Yet universities are spending less on their staff overall and building up their surpluses and reserves.
In attacking pay to fund their surpluses, they are undermining the real basis of quality education for students and ultimately gambling with their own reputations.
Their actions are unnecessary, provocative and represent a failure in their duty of care to the staff who teach our students. They are also being reckless with the reputation of our sector.
We have tried everything possible to make them reach a negotiated agreement with us, but they are refusing to negotiate meaningfully on anything in our claim.
They will keep on doing this, year after year, until we say enough is enough.
That's why we balloted for action.
Stop the squeeze in HE pay: briefing for members (.pdf) [142kb]
---
You were not included in this ballot if you are a retired/attached/student member, or if you work in one of the following places: Imperial College, Cranfield, Birmingham City University, American InterContinental University, Arts Educational Schools, Guildhall, London Contemporary Dance School, Mill Hill, NIBSC, Ravensbourne, Regent's College, RADA, UHI, Royal Welsh College of Music and Drama or Ruskin College.