Website URL : http://www.ucu.org.uk/3541
|
|
Campaign materials
The following documents are intended for members, branches and local associations across all sectors of the union. The materials include advice for branches/LAs and templates of various campaigning materials that can be adapted for local use.
---
For further information email anticasualisation@ucu.org.uk
---
Campaign pack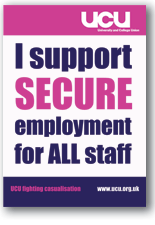 'I support secure employment' poster (.pdf) [23kb]
Hourly-paid staff leaflet (.pdf) [121kb]
Anti-casualisation poster (.pdf) [51kb]
Researchers leaflet (.pdf) [240kb]
Zero-hours leaflet (.pdf) [32kb]
Zero-hours poster (.pdf) [26kb]
Charter for the treatment of casualised staff (.doc) [116kb]
---
Advice for manager members in HE

---
General branch resources
See also:
Campaign and recruitment downloads
Template workshop presentations:
Know your rights card
Available to order via Martin Whelton (please provide postal address and quantities wanted):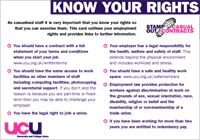 see a preview of the card (.pdf) [41kb]
Related pages:
---
Other resources
There are also branch/LA resources available on the website on:
that can be used in a local anti-casualisation campaign.