Website URL : http://www.ucu.org.uk/5799
|
|
Workload and Stress
Rising workloads - linked to job and funding cuts and the increasing intensity of work in post-16 education - are a growing problem. Following a number of key decisions at 2012 Congress, UCU is committed to campaigning to control workloads and tackle performance management strategies and occupational stress and bullying in the sector.


Workload is an Education Issue
The workload campaign will be using publication of results for individual colleges and universities from UCU's 2012 stress survey to highlight particular areas of concern related to stress and workload, and to encourage local negotiation with employers to tackle these issues.
The campaign includes:
---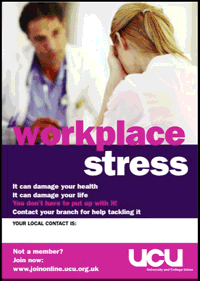 As well as posters and stickers to help you publicise 'UCU Anti-stress and Bullying Week', we also have new leaflets for staff on what to do if you're experiencing problems at work with either stress or bullying - find these resources below.
---
Robust management or bullying?

Some employers accused of bullying often claim that it isn't bullying, it is simply a robust managerial approach; and that in an academic environment, staff should be able to deal with that by argument and debate. This simple questionnaire should help you test if your employer is a bully or merely 'robust':
Robust management style or bullying? (.doc) [131kb]
---
The 2012 UCU stress survey results
Workload demands
Higher education:
Relationships and bullying
Higher education
Further education
Control
Higher education
Stress
Prisons
---
Campaign materials
'Ban bullying in education' leaflet (.pdf) [108kb]
'Workplace stress' leaflet (.pdf) [86kb]
'Workplace stress' poster - pressure gauge (.pdf) [358kb]
'Workplace stress' poster - head in hand (.pdf) [405kb]
'Workplace stress' poster - blood pressure (.pdf) [114kb]
'Workplace stress' poster - pile of papers (.pdf) [203kb]
'Workplace stress' poster - with doctor (.pdf) [108kb]
'Stress is a workplace hazard' sticker (.pdf) [20kb]
'Workplace violence - don't ignore it' poster - male (.pdf) [74kb]
Bullies are a workplace hazard - poster (.pdf) [122kb]
Cyber-bullying is a workplace hazard - poster (.pdf) [77kb]
Staff notice: this is no place for... - poster (.pdf) [151kb]
No entry for bullies - poster (.pdf) [65kb]
No entry for bullies - poster 2 (.pdf) [90kb]
'Workplace violence - don't ignore it' poster - female (.pdf) [67kb]
Information
A copy of the England FE national agreement on workloads can be found at
Guidance on regulating working hours in further education colleges, Nov 09 (Eng) (.doc) [275kb]
For further advice on the agreement