•
•

UCU training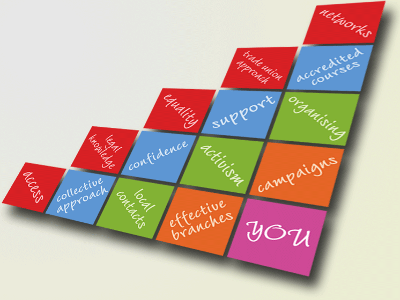 UCU activist education programme
Welcome to UCU's education and training pages. UCU's education programme offers its growing network of activists a wide range of courses. Courses run on a regional basis enabling participants to meet and work alongside UCU members from branches within their region.
Whether you are an existing UCU activist or you are considering taking on a more active role within your UCU branch we have a course for you.

UCU Activist Education Guide 2015-16 [656kb]
---

New training opportunity for black members.

This one day course is for black members who are new to activism and keen to find out more about UCU.

The course will contain information about UCU along with a professional development session around leadership and mentoring.
---
Unsure which UCU region you are in? Check here
Your rights to time off for training
If you are an elected UCU rep you have rights to time off for training. See also our UCU training FAQs.
About UCU reps
Branch officers • UCU reps • Health and safety reps • Learning reps • Equality reps • Environment reps. See also Being a UCU rep
Find a course in your area:
---
Other training opportunities
UCU reps are entitled to attend locally run TUC courses. All reps and officers are also entitled to apply for TUC online learning courses. Click here to find relevant TUC courses

If you wish to claim travel and associated expenses for a TUC course you must comply with the following policy and contact the UCU training officer:


TUC courses: UCU attendance policy [127kb] (opens in a new window)


TUC courses: UCU attendance policy [147kb] (opens in a new window)
Thompsons Solicitors also run short online free training sessions.
Need help?

Try looking in our FAQs on UCU Training

Get in touch with UCU training