•
•

Stamp out casual contracts
Stamp out casual contracts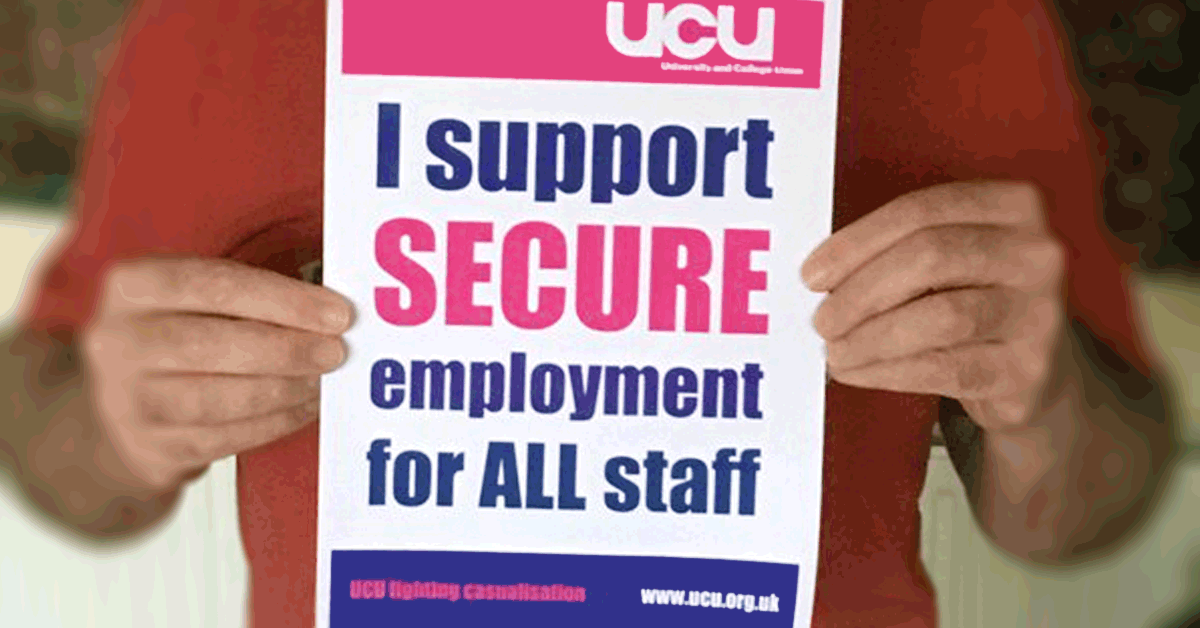 Stamp out casual contracts
UCU believes that high quality education and fair working conditions depend on contracts that give staff stability and continuity of employment. Casualisation is bad for staff and bad for education, yet it's endemic in our colleges and universities.
46% of universities and 60% of colleges use zero hours contracts to deliver teaching.
68% of research staff in higher education are on fixed term contracts, with many more dependent on short-term funding for continued employment.
Stamp Out Casualisation is UCU's campaign to win continuity of employment and fairer contracts for casualised staff.
The campaign against casualisation is one of UCU's national priorities:


Read about our work over the past year here [259kb]
---
A snapshot of precarious work and institutional attitudes in our colleges and universities
In January this year UCU wrote to every college in England and every university in the UK where the union has a branch, asking them to engage with us in tackling the abuse of casual contracts.
We have collated the results of this exercise alongside other available data and have provided tables for you to see how your institution ranks in a series of indexes of insecurity.
---
Making a difference
---
On Twitter?

Follow @ucu | Follow @ucuanti_cas
---
Anti-casualisation committee
UCU has an advisory committee representing staff on casualised contracts, elected at an annual meeting for casualised staff.
The committee's priorities are:
make use of the current public and political profile of zero-hours contracts to strengthen the drive to eradicate this form of contracts from post-secondary education.
work to ensure that the struggle against casualisation in all forms is a central negotiating and bargaining issue at all levels of the union.
promote and support campaigning, organising and bargaining initiatives at local institutional level to translate our national objectives into tangible successes that win greater continuity and security of employment and fair treatment for all staff on all forms of casual contract.
build a bank of personal testimonies about life on casualised contracts to enhance the union's campaigning, organising and bargaining work.
work to ensure that the annual meeting for casualised staff is well attended and fully representative of casualised staff in post-secondary education
continue to support and encourage the recruitment of casualised staff
produce at least two editions of Anti-casualisation news.
The committee runs a blog on their work and how our union is winning improvements for precarious staff: ucuanticas.wordpress.com
---
Further information about the campaign can be obtained from Jonathan White.
If you are a member who has a query about any issue please contact your branch or local association in the first instance: contact details can be found here