•
•
•

Security Matters
Security Matters
Security Matters is produced by UCU and its anti-casualisation committee. It features discussion of issues facing precarious workers in post-secondary education and reports on the union's work to win better, more secure jobs for education professionals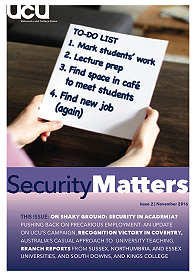 We believe in secure work for all staff.
November 2016 issue:
On shaky ground: security in academia?
Pushing back on precarious employment: an update on UCU's campaign
Recognition victory in coventry
Australia's casual approach to university teaching
branch reports from Sussex, Northumbria, and Essex universities, and South Downs, and Kings College
---
Issue 1 of 'Security Matters', the campaigning publication from UCU which looks at the issues facing precarious workers in post-secondary education.