•
•

UCU Scotland
CONNECT WITH UCU SCOTLAND
Scotland office contact information

follow @UCUScotland on Twitter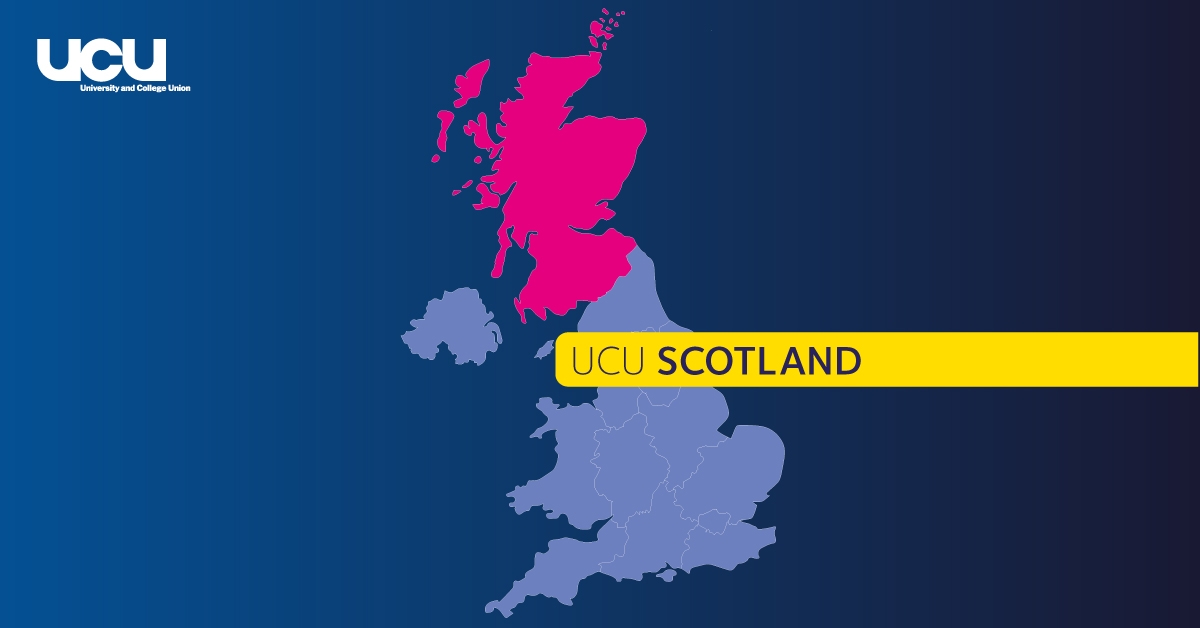 UCU Scotland
22 March 2021

UCU Scotland has an autonomous executive which operates under the umbrella of national UCU.
The UCU Scotland executive has representatives from every branch in Scotland.
UCU Scotland raises issues by:
lobbying the Scottish parliament
working with the Scottish government and MSPs.
Covid-19 crisis

Report of Covid-19 survey of members



New academic year priorities in Scotland [297kb]

'Scottish universities must stop hiding behind unclear government guidance'



Report on the likely impact of the Covid-19 crisis on Scottish higher education [176kb]

Protecting Scotland's higher education sector - draft letter for UCU members to send to their MSPs
We work with and influence:
Universities Scotland
the Scottish Funding Council
Scottish media
NUS Scotland
Scottish representative bodies.
Staff support is provided by UCU's Scotland office.
The UCU Scotland rulebook and congress standing orders are available to download here:
Latest UCU Scotland news
Report of Covid-19 survey of members
Our Covid-19 survey went to all UCU members in Scotland in July 2021. We received 994 responses from all branches, roughly proportionate to branch membership, and just over ten percent of the union's membership in Scotland. The survey outputs help us understand members' views on Covid-19 and the new academic year, and are shaping and informing UCU's work in Scotland, including in representation to employers and the Scottish government.
The key issues are:
excessive workload
an anxious workforce
employer support for staff
keeping safe on campus in the new academic year
the support, advice and guidance you want from UCU.

UCU Scotland report of Covid-19 survey of members [684kb]
Last updated: 9 May 2022