•
•
•
Universities should pay researchers, says UCU
2 July 2012
| last updated: 11 December 2015
UCU said today that universities should pay researchers properly for their work. The union was responding to a job advert seeking an 'honorary research assistant' in the University of Birmingham's school of psychology.
The advert says the posts are offered on a voluntary basis with a minimum time commitment of two days a week. Applicants must have access to their own car and will only be reimbursed for petrol, not paid for their work.

The union said research posts should be paid and the rate of pay should be determined through a process of job matching and evaluation. UCU added that not paying researchers undermines the principles of equal pay and is discriminatory.

UCU general secretary, Sally Hunt, said: 'Unpaid internships have caused concern about access to the professions, especially where there is an over supply of graduates and a under supply of paid employment opportunities. Clearly not everyone can afford to work for nothing and universities need to recognise the importance of people being paid properly for their work.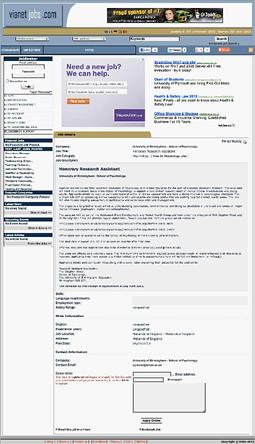 'Failing to pay researchers undermines the principles of equal pay and is clearly discriminatory. Universities need to follow a clear evaluation process that ensures all jobs are properly remunerated for the work required.'

The union has produced a guide to internships with the National Union of Students that can be found here:

UCU/NUS advice on unpaid internships [228kb]