•
•
•
•

Strikes set to begin this month at 13 colleges in pay row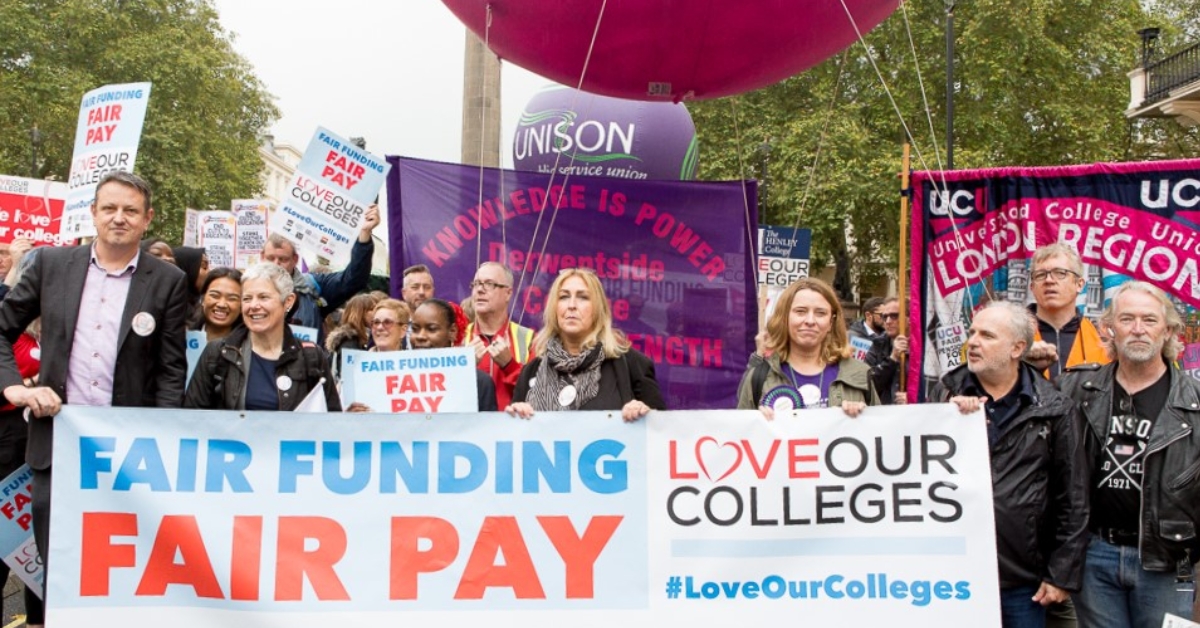 Strikes set to begin this month at 13 colleges in pay row
15 September 2021

UCU members at 13 colleges across England are walking out from Tuesday 28 September for up to 10 days as union warns of further strikes

Employer body offered just 1% pay rise to staff

Pay gap between college and school teachers at £9,000
Up to 10 days of strike action at 13 further education colleges will begin this month after college management refused to meet UCU pay demands.
Five colleges are taking 10 days of strike action whilst eight colleges will initially walk out for three days [note 1].
UCU members have a mandate for further action and the union said more waves of strikes are on the cards if employers refuse to meet its demands.
The dispute has arisen following a pay offer of just 1% from employer body, the Association of Colleges, in December 2020. The offer was condemned by UCU, Unite the Union, Unison, GMB and the National Education Union.
Staff at all affected institutions are taking action over pay, but at City & Islington College, Westminster Kingsway College and the College of North East London the dispute also includes other issues such as working conditions.
An overwhelming 89% of members who voted backed strike action, on an average turnout of over 62% (62.6%) [note 2]. UCU said the turnout and vote for action reflected the anger staff feel over having their pay held down for so long.
The pay gap between college and school teachers currently stands at £9,000 as staff working in further education have suffered real term pay cuts of over 30% in the past decade.
UCU is demanding a pay increase of greater than 5% in an effort to close the school-college pay gap, and after more than a decade of below inflation further education pay increases.
UCU general secretary Jo Grady said: 'College staff are angry at having had their pay held down whilst workloads increase. They have now had their pay cut by over 30 per cent in real terms over the past decade and this derisory 1% pay offer is another real term cut. It is completely unacceptable and is especially insulting after staff have worked so hard throughout the Covid pandemic. College leaders urgently need to come to the negotiating table if they want to avoid facing sustained strike action and severe disruption over the next few months.'
Notes
[1] The colleges affected and strike dates are:
Employer

Strike dates

Capital City College Group:
City & Islington College
College of North East London
Westminster Kingsway College

28/29 September
5/6/7/11/12/13/14/15 October

City of Bristol College

28 September suspended: members balloting on local offer
6/7 October (pending outcome of local ballot)

City of Liverpool College

28 September
6/7 October

Croydon College

28/29 September
5/6/7/11/12/13/14/15 October

Lambeth College

28/29 September
5/6/7/11/12/13/14/15 October

New College Swindon

28 September suspended: members balloting on local offer
6/7 October (pending outcome of local ballot)

South Thames College Group:
Carshalton College
Kingston College
Merton College
Wandsworth & Tooting College

28 September
6/7 October

Weymouth College

strikes off following acceptance of local offer
Employer

Turnout

Vote yes to strike action

Capital City College Group:
City & Islington College
College of North East London
Westminster Kingsway College

65%

95.9%

City of Bristol College

69.9%

93.7%

City of Liverpool College

63.7%

81.7%

Croydon College

70.5%

93.2%

Lambeth College

64.5%

90%

New College Swindon

60.4%

87.5%

South Thames College Group:
Carshalton College
Kingston College
Merton College
Wandsworth & Tooting College

59.9%

75.8%

Weymouth College

61.5%

89.3%
Last updated: 28 September 2021