•
•
•
•

Second week of college strikes begins today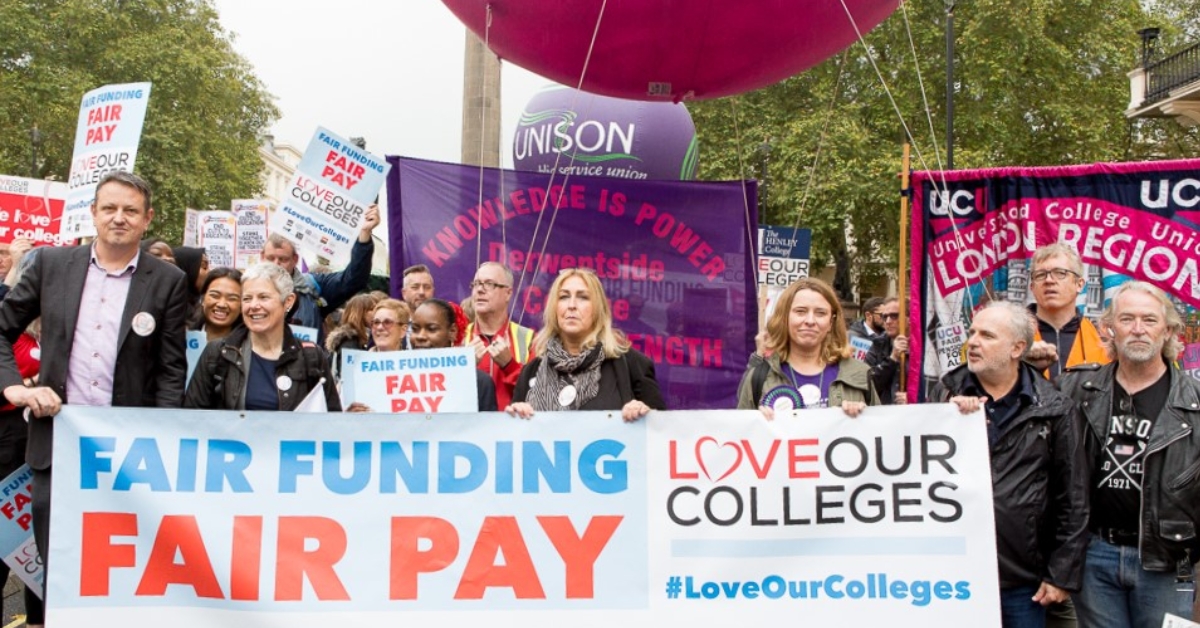 Second week of college strikes begins today
5 October 2021

Staff at six English colleges will be walking out again this week in their ongoing fight for fair pay
The strike is the second week of walk outs in a wave of industrial action over pay. Following action last week, University and College Union (UCU) members at five of the six colleges will take eight more days strike action from today (Tuesday) and the remaining college will see members walk out for two days from Wednesday. Pickets will take place at all affected institutions from 8am.
The dispute has arisen following a pay offer of just 1% from the further education employer body, the Association of Colleges, in December 2020. Staff working in the sector have suffered real terms pay cuts of over 30% in the past decade.
Strikes were suspended at City of Bristol College, Weymouth College and New College Swindon after late deals and action at South Thames College, Merton College, Carshalton College and Kingston College has been suspended whilst further negotiations take place. UCU said that if employers want to avoid further disruption they need to follow the lead of these colleges and get around the negotiating table.
The union is demanding a pay increase of greater than 5% in an effort to close the school-college pay gap that currently stands at £9,000, and after more than a decade of below inflation pay increases.
Staff at all affected institutions are taking action over pay, but at City & Islington College, Westminster Kingsway College and the College of North East London the dispute also includes other issues such as working conditions.
UCU general secretary Jo Grady will be visiting pickets at Westminster Kingsway College on the morning of Wednesday 6 October and attending a rally later that day alongside Jeremy Corbyn MP, John McDonnell MP and Cllr Michelline Safi-Ngongo from Islington Council. The rally will start at 12pm at the college's main King Cross site at 221 Grays Inn Road.
UCU general secretary Jo Grady said: 'College leaders are facing another week of strike action and severe disruption because they continue to refuse to negotiate on pay. If they want to avoid further disruption they need to enter meaningful negotiations with us on wages, as other colleges have done.
'It is outrageous that college staff have seen their pay cut by over 30% in real terms in the past decade, and are now being offered a below inflation pay rise of just 1%. After strike action last week staff will be walking out again in the coming days unless they see improved pay offers. This dispute can be resolved, but the employers must be prepared to pay staff properly.'
Last updated: 5 October 2021