•
•
•
•

University staff pay cut by 20%, new figures show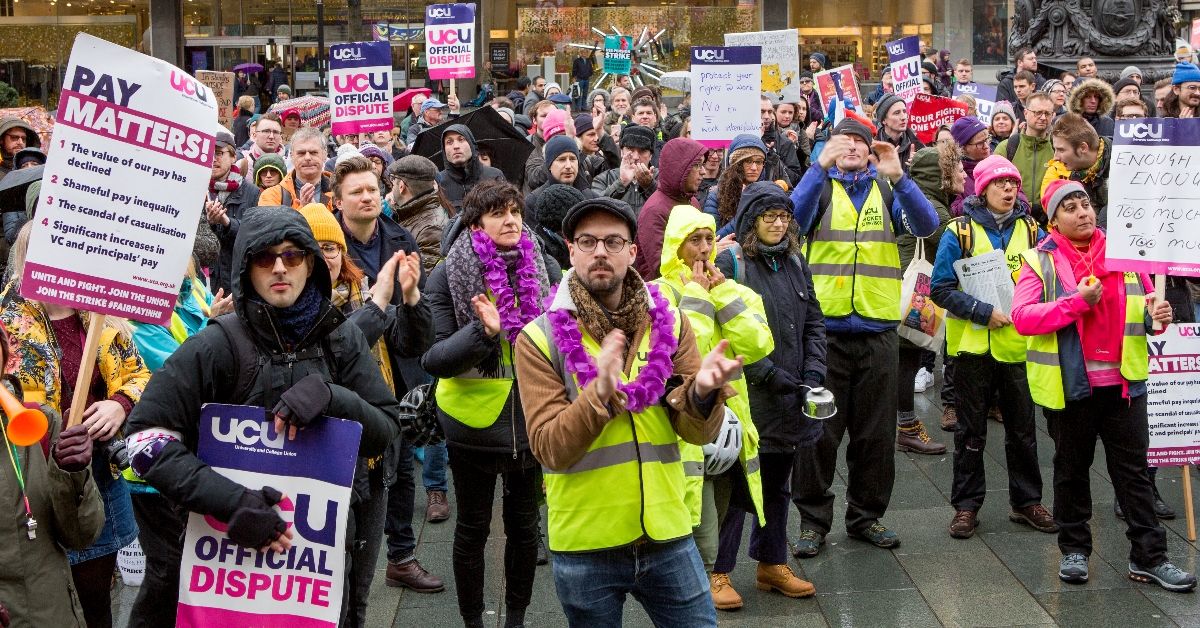 University staff pay cut by 20%, new figures show
26 October 2021

The scale of pay cuts faced by university staff has been laid bare as new data showed 12 years of below inflation pay offers have left staff thousands of pounds worse off.
Employers' latest pay offer for 2021/22 is just 1.5% but inflation is at 4.5%. Employers have described this real terms pay cut as 'fair'. But UCU's modeller - launched today - shows the offer means pay has fallen 20% in real terms since 2009.
The modeller also shows the effect unpaid work has had on hourly pay, as staff try to keep up with growing workloads.
The news comes as UCU ballots 75k university staff across the UK over attacks on pay and pensions.
The most recently published vice chancellor salaries show university bosses earn around £278k. This is almost ten times more than entry level academic or academic related professional staff, such as assistant librarians who start on under £28k, around £5,500 less than they did in 2009, the modeller reveals.
The modeller also shows that a research assistant is almost £7,000 down, a lecturer at a pre-92 university is earning £8,400 less and a senior lecturer's salary is down by over £10k.
UCU says the figures are a 'stark reminder' of just how little university bosses value their staff.
Some of the worst news is reserved for university staff in pre-92 universities who as well as having their pay cut, are facing cuts of 35% to their guaranteed pension.
A 31 year old lecturer on £34k per year would be earning over £41k had their pay kept pace with inflation, building up an annual guaranteed pension of over £22k. However, as a result of employers' most recent pension cuts and 12 years of below inflation pay rises, the lecturer's annual guaranteed pension will build up to less than £14k.
In a survey of over 1,200 USS members, almost half said they would consider leaving the USS pension scheme if employers implement their 35% cut to guaranteed pensions. And almost two thirds of 744 respondents said they were 'dissatisfied' or 'very dissatisfied' over what information employers had provided about the cuts.
UCU is balloting 152 institutions in total, 146 are being balloted over pay and working conditions, and 68 over cuts to USS pensions. The ballots will run until Thursday 4 November. On pay and working conditions, the union is demanding a £2,500 pay increase; an end to race, gender and disability pay injustice; a framework to eliminate zero-hours and other precarious contracts; and meaningful action to tackle unmanageable workloads.
On pensions, the union is demanding that employers, represented by Universities UK, revoke their pension cuts and join UCU in calling for a new valuation of the USS pension scheme.
UCU general secretary Jo Grady said: 'The figures exposed today are a stark reminder of how little university leadership care about the staff who are the backbone of the sector. Staff have seen their pay fall by 20% over the past 12 years leaving those like librarians and lecturers thousands of pounds worse off.
'Yet bosses, who in some cases earn close to half a million pounds per year, seem to think 12 years of below inflation pay rises is fair and justifiable in a sector awash with money. Staff will be insulted, and rightly so.
'Demanding decent pay is not asking for the moon on a stick and staff are ready to take industrial action to help reverse the scandal of 12 years' worth of real-terms pay cuts. If education is disrupted this term, it will be the responsibility of university bosses who refused to give their staff the long overdue pay rise they deserve.
'Many university staff, including four in 10 teaching-only staff, are on hourly paid contracts. Hourly rates vary so widely throughout the sector that they cannot be captured by our modeller but many will be earning below the minimum wage, which is nothing short of scandalous.'
Last updated: 26 October 2021