•
•
•
•

UCU writes to university bosses setting out how to avoid pre-Christmas campus strikes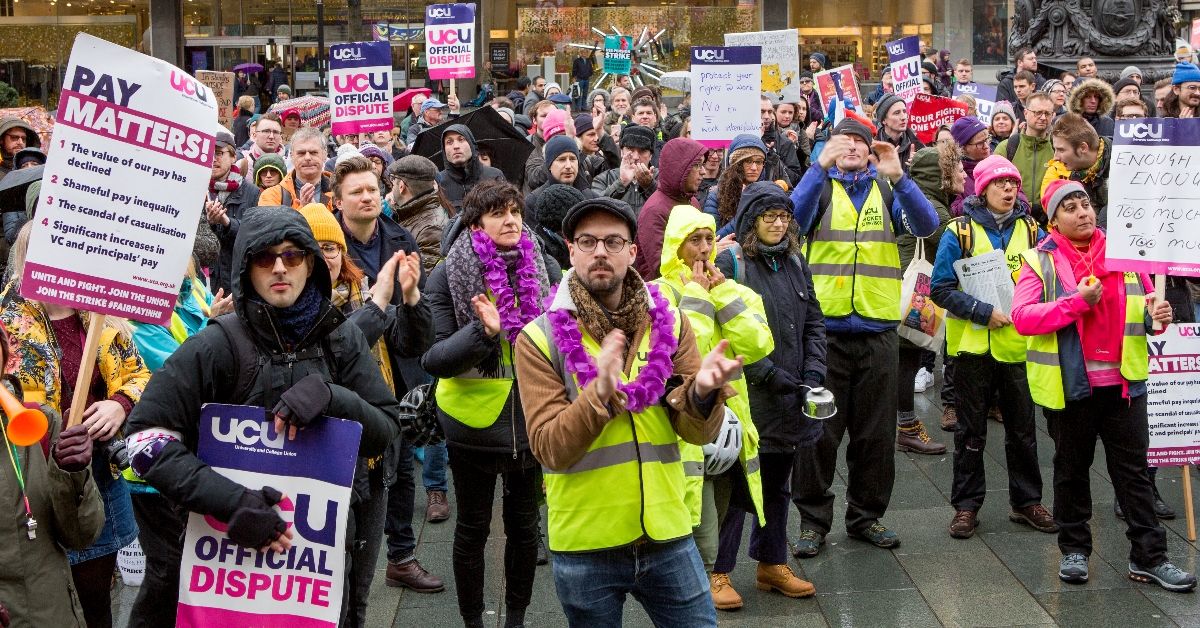 UCU writes to university bosses setting out how to avoid pre-Christmas campus strikes
9 November 2021

UCU has written to university employer representatives, the University and Colleges Employers Association (UCEA) and Universities UK (UUK) outlining what university vice chancellors have to do to avoid industrial action before Christmas, escalating into spring and beyond.
The letters come just days before the union's higher education committee meets on Friday 12 November to decide the scale of the action, the dates at which it will take place, along with an escalation and reballoting strategy.
Last week a total of 58 UCU university branches won ballots over pensions and pay & working conditions, providing a mandate for industrial action across UK campuses.
Pay & working conditions
On the pay & working conditions ballot staff at 54 universities have a mandate to strike. Overall, more than seven in 10 members who voted backed strike action with 85% voting for action short of strike, which could include a marking boycott. The overall turnout in British universities beat the 50% threshold required by Tory anti-trade union laws and was the highest ever in a nationwide dispute over the issues.
UCEA represents universities in negotiations over pay and conditions. On 18 October UCEA chief executive Raj Jethwa wrote to UCU refusing to negotiate on casualisation or make an improved pay offer.
The union's latest letter gives the employers' body another chance to avoid industrial action, calling on UCEA to consult with employers on:
improving their pay offer; and
committing to meaningful agreements and action on casualisation, workload, and equality pay gaps.
USS pensions
On the pension ballot 37 of the 68 universities that were balloted have a legal mandate for strike action. 76% of UCU members who voted backed strike action and 88% voted in favour of action short of strike in a turnout of over 53% - the same as the last ballot in 2019.
UUK represents university bosses over Universities Superannuation Scheme (USS) pensions. On 18 October UUK said it was pushing ahead with the 35% cut to guaranteed pensions.
In its letter, UCU has called on UUK to consult employers on:
withdrawing their current un-agreed detrimental changes to members' pensions
whether they would be prepared to pay higher contributions for fixed period of time to allow a negotiated settlement; and
to call publicly for a 2021 valuation of the pension scheme.
21 universities in the USS pension ballot just missed the 50% threshold needed to take industrial action and UCU expects to reballot them to get them over the line and increase the number of universities able to take action if the dispute continues into the new year.
Last week the National Union of Students backed staff, calling their working conditions "untenable".
Yesterday, university staff reacted with fury when at a UCEA and UUK press conference about UCU's vote for industrial action, Research Professional reported that Oxford Brookes vice chancellor Alistair Fitt, on behalf of employers, compared staff delivering remote learning during the pandemic with taking strike action. He said: "Over the last 18 months, we've been able to cope a lot with zero per cent of staff being able to come onto campus, so I'm sure we can cope with this".
UCU general secretary Jo Grady said: 'I have written to employer representatives in an attempt to try to resolve disputes with university bosses over pensions and pay & working conditions before the union is forced to declare strike action. UCU members would prefer not to have to take industrial action and now employers have more chance to prevent it.
'We have made clear our demands for an improved pay offer and meaningful agreements to tackle casualisation, workload and equality failings, and we are urging employers to cancel cuts of 35% to guaranteed pensions, re-enter negotiations and join us in calling for a new valuation.
'Employers must now signal they take the demands of staff seriously and are willing to help avoid industrial action. Staff and students alike will be watching closely to see if vice chancellors step up and resolve this, which is entirely in their gift.
'Unfortunately, whilst UCU sets out pragmatic solutions that could halt widespread disruption in UK campuses - which could otherwise take place before Christmas and into the new year - university vice chancellors are intent on provoking hard working staff. Comparing the incredible work staff did to support students during lockdown with taking industrial action is exactly the attitude that has pushed staff to this point.'
Last updated: 12 November 2021