•
•
•
•

UCU response to government's Plan B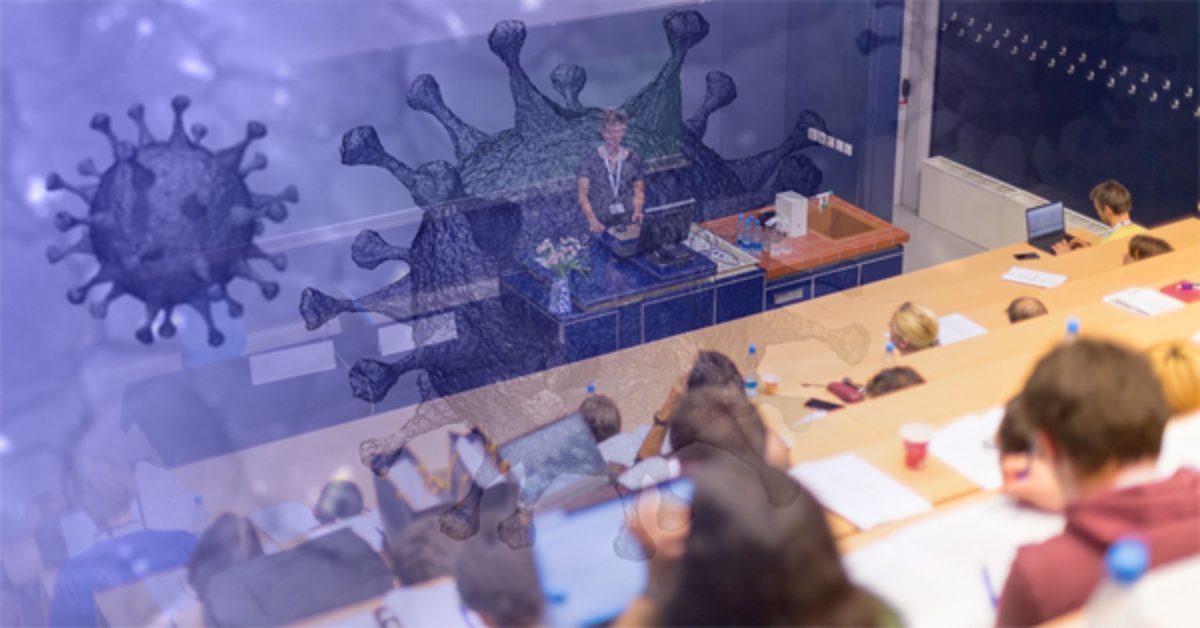 UCU response to government's Plan B
10 December 2021

UCU has called for universities to move the final week of teaching online with colleges and universities urged to carry out new risk assessments, as concerns around the Omicron variant rise.
The Westminster government's 'Plan B' announced on Wednesday called for the continued delivery of face-to-face teaching in universities. But the union says with the end of the year approaching, this will put both staff and students still attending campus in unnecessary danger and that teaching and non-teaching staff who are able to work from home should be allowed to do so.
A clear direction to suspend in-person activities for the final week won't disrupt education and will prevent needless spread of omicron amongst university communities. It will also allow essential activities such as lab-based research and medical teaching to continue on campus.
The threat in universities is particularly acute, with outbreaks reported in a number of institutions including the University of Oxford. Imperial College London is already moving the final week of teaching online.
Covid-19 is an airborne virus and early reports suggest there may be a high risk of vaccine evasion with the Omicron variant. The union says moving university teaching online for the final week can reduce social mixing and allow students to return home for Christmas before cases rise exponentially in the coming weeks.
Colleges and universities are being told they must carry out rapid new risk assessments and implement robust mitigation measures against Omicron. The union says employers must be prepared to continue moving beyond government guidance - which has failed to prevent outbreaks of the virus previously - to protect staff and students.
Risk assessments must also be conducted after the Christmas and New Year period before students and staff are scheduled to return.
For staff that are able to work from home before the end of the academic term, colleges and universities must make support available.
Today, the union has also criticised the Westminster government's updated guidance for universities and colleges, which fails to mandate the use of face masks in classrooms and lecture theatres. The union says the wearing of high-quality masks must be mandatory (excluding those exempt) in all university and college settings, and institutions should make them available for staff and students.
The union says there must be a clear focus on health and safety of all in the post-16 sector, and calls for:
new, rapid risk assessments in universities and colleges, carried out in consultation with UCU reps
university and college employers to communicate with staff and students contingency measures under 'Plan B'
transparent publishing of daily cases of Covid-19
wearing of high-quality masks in all settings, including classrooms, excluding those exempt
good levels of ventilation to be maintained in indoor spaces with effective use of C02 monitors and HEPA filtration units. Poorly ventilated spaces must not be used
PCR testing to be made readily available to students and staff
risk assessments to be reviewed again in 2022 before students and staff return.
In August this year, UCU launched its Five Principles for Post-16 Education Recovery which contained a series of national and local demands aimed at ensuring a safe and productive return to education.
UCU general secretary Jo Grady, said:
'The safety of staff and students in post-16 education must be the priority, and with government guidance yet again falling short, it falls on employers to ensure appropriate mitigations are in place for the remainder of the year.
'Instructions to move online in universities for the final week are the most sensible temporary measure and will allow university students to return home rather than risk unnecessary infection and isolation in their accommodation over Christmas. This will also allow the sector to re-evaluate whilst scientists get to grips with the emerging picture presented by Omicron.
'In both colleges and universities we need new rapid risk assessments and measures in place which must include allowing staff who can work from home to do so. We also want to see the mandated wearing of masks for any staff and students on site, including in areas where lessons and lectures are still taking place.
'Last year, ministers moved too slowly, effectively denying there was a need to suspend in person activities while new variants developed, leading to mass outbreaks. We can avoid that situation by moving the final week online.
'Staff have worked non-stop for 18 months to keep education going in the midst of the pandemic and deserve huge credit.'
Last updated: 10 December 2021