•
•
•
Protests against abolition of the education maintenance allowance
13 December 2010
| last updated: 11 December 2015
Students, staff and trade unions are uniting for a day of action on Monday as part of their campaign to save the education maintenance allowance (EMA).
Colleges and sixth-forms around the country will be holding lunchtime protests against government plans to axe financial support that can often be the decisive factor when it comes to students staying on in education.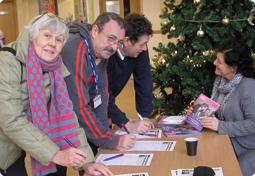 Signing the petition at East Riding College
Activities on the day will have a strong political feel with protestors being urged to contact their local MP to make the case for keeping the EMA. The campaign is being run by the National Union of Students (NUS), the National Union of Teachers (NUT), the University and College Union (UCU), the Association of Teachers and Lecturers (ATL), NASUWT, Unison, Unite, GMB and the Save EMA campaign.
Studies show that the EMA is a key factor in improving participation in further education and colleges in some of the most deprived areas of the UK will be the hardest hit if the government breaks its pre-election promise and scraps the EMA. In some areas of Birmingham, Leicester and the North West as many as four-fifths of students receive the EMA.
The recent Education at a Glance report, by the Organisation for Economic Co-operation and Development (OECD) revealed that the UK has one of the worst participation rates for 15-19 year-olds in education.
UCU general secretary, Sally Hunt
, said: 'The EMA is a vital lifeline for many students in this country and can be the difference between people being able to study at college or being priced out. Withdrawing the EMA will hit some of the poorest and most vulnerable people in our society, as well as the colleges that are there to serve them.'
NUT general secretary, Christine Blower
, said: 'If these proposals go ahead it will be a disaster for social justice and for the economy. Education is the major factor in social mobility, ending the EMA will mean that many students from less well off backgrounds will simply not be able to countenance continuing with further education.'
NASUWT general secretary, Chris Keates
, said: 'The abolition of the EMA is a direct attack on the futures of thousands of young people across the country. They have a right to be angry and to use the democratic process to influence elected representatives to oppose these changes.'
ATL general secretary, Dr Mary Bousted
, said: 'Cutting the EMA will hit the most disadvantaged students hard and make it impossible for some to stay in education. That money is vital to pay for their basic costs - transport, food, books, internet access. It seems totally perverse to pull the rug out from those who want to get qualifications to help them get jobs and make a contribution in life.'
UNISON general secretary, Dave Prentis
, said: 'By taking an axe to the EMA, the government is chopping away at the future of the next generation. We know that this support has resulted in an increase in the number of young people going on to college in the last seven years and dramatically halted the number dropping out. UNISON supports the young people who expected EMA to help them stay in education. This attack on their life chances is an attack on us all.'