•
•
•
•

UCU at TUC Congress 2017
UCU at TUC Congress 2017
15 September 2017

It was a busy few days for UCU delegates at the 149th annual TUC congress in Brighton this week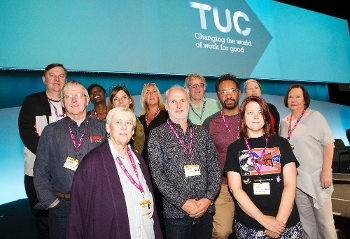 UCU's delegation at TUC Congress 2017
© Jess Hurd/reportdigital.co.ukSpeaking in the opening debate on Brexit on Sunday afternoon, UCU general secretary Sally Hunt said she had no time for the argument that immigrants take British jobs, depress wages and undermine workers' rights.
She said that it was "beyond condescending" to tell people who want to lift themselves out of poverty that they should stay in their own country and in effect were not welcome here. She said it was "bordering on racism" to blame people from other countries for depressed wages in the UK.
Also speaking in the Brexit debate was UCU vice-president Douglas Chalmers, who launched a strong defence of the Erasmus student exchange programme, including pointing out that couples who had met since Erasmus was established in 1987 had created the next generation of Europeansby producing over 1 million "Erasmus babies".
Pauline Collins spoke on the problems of mental health in universities on Monday morning as part of the health and social care debate. UCU president Joanna De Groot spoke in the casualisation debate and highlighted the high levels of insecure contracts in post-16 education. She told delegates that we had to fight against a Sports Direct version of colleges and universities.
UCU past president Rob Goodfellow reminded delegates that the Tories were the nasty party. He picked apart the vindictive Trade Union Bill, highlighted the fact that Unison had to go to the high court to get tribunal fees removed, and that Theresa May had already u-turned on a flagship policy of putting workers on company boards.
After a break for lunch and fringe meetings, where UCU president-elect Vicky Knight spoke at a Trade Union Co-ordinating meeting on pay and privatisation, Sean Vernell outlined the case for better pay for all as the Tories tried to divide and rule public sector workers. Rounding the day off for UCU was Rhiannon Lockley who spoke to a motion on child poverty as part of the children and young people debate.
Tuesday saw Joanna De Groot and Rob Goodfellow return to the floor for speeches on arts funding and the prisons crisis. Joanna was back up before conference again on Tuesday afternoon speaking to UCU's motion on post-16 education.
UCU delegates also caught up with colleagues from Justice from Columbia and TUC guest speaker Huber Ballesteros. Huber was booked to speak at the TUC in 2013, but was arrested just weeks before he was due to fly to Britain on criminally fabricated charges of rebellion and financially assisting terrorism.
Dave Muritu was the first UCU speaker on Wednesday when he spoke about the need for better organising of black workers, telling delegates that racism is entrenched within the structures of society and must be challenged.
Vicky Knight moved the motion on gender pay gaps in her role as chair of TUC's women committee and was back on stage later in the morning to talk about the importance of trade union education, and how people who teach it must participate fully in the TUC review.
It was also a busy morning for UCU general secretary Sally Hunt who was on the stage between Vicky's two speeches presiding over the international debate in her role as TUC's general council spokesperson on international issues.
Congress closed on Wednesday afternoon when this year's president (Mary Bousted, who started her presidency as general secretary of the Association of Teachers and Lecturers and ended it as joint general secretary of the New Education Union) brought proceedings to a close.
She handed the reigns over to Sally Hunt who will be TUC president during its 150th anniversary year and, among other commitments, will chair next year's TUC Congress in Manchester.
Last updated: 15 September 2017