•
•
•

The Friday email: 26 January 2018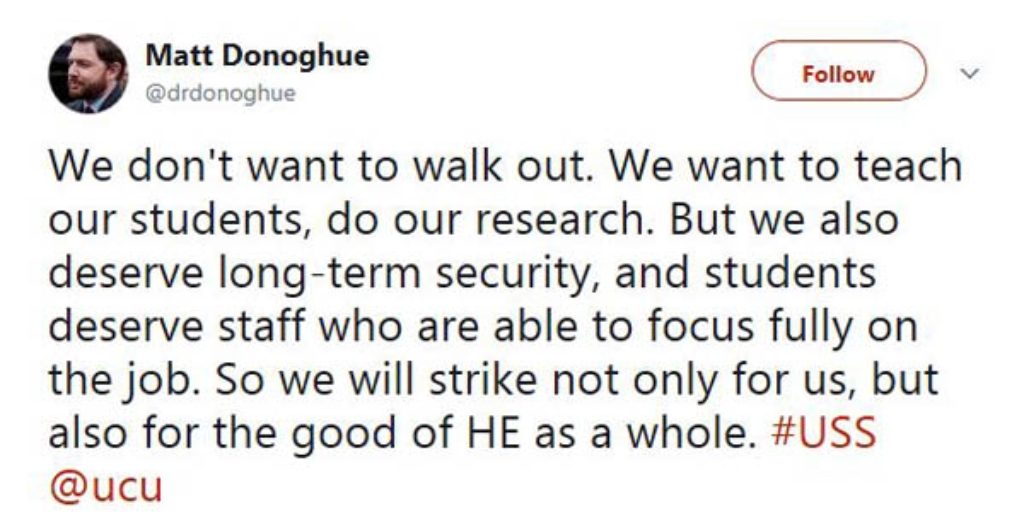 The Friday email: 26 January 2018
USS dispute: we must and will fight back
Members have overwhelmingly voted for industrial action over proposed changes to the USS pension scheme with 88% backing strike action and 93% for action short of strike. Thanks to all our members and activists who worked so hard to achieve a fantastic turnout of 58% - the highest in any national UCU ballot to date.

Unfortunately talks with the employers ended on Tuesday without agreement after the chair sided with the hardline employers' position which will end guaranteed pensions and reduce retirement income for members of the USS scheme.

The union now plans to call a wave of strikes and other forms of industrial action starting from Thursday 22 February. If you work at one of the universities involved please look out for confirmed strike dates, talk to your local branch about helping to organise picket lines and campaign activities and help us build the biggest and strongest strike action the sector has ever seen.
Better pay and better jobs in further education
The college employers' 'pay offer' of 1% is a kick in the teeth for FE staff in England and that's why UCU members in 19 colleges are kicking back with a ballot for strike action open this week. If you work in one of the colleges please remember to fill in your ballot form, vote by sending it back in the envelope provided, and share our short film inviting colleagues to do the same.

The UCU Wales ballot on FE workloads closes today. Please look out for results and next steps in the campaign here.
In the news...
February strikes look like a reality in USS pensions row
Pay ballots launched at further education colleges
Education staff vital to Labour's education plans, UCU tells MPs
Vice-chancellor attended all-male scandal dinner
Toby Young controversy looms large over bungling Office for Students
Calling adult and community education staff
Adult learning has never been more vital but government policies have cut provision and failed to invest in staff. We invite members working in adult and community education to come and meet likeminded professionals on 24 February at our London office and find out more about our campaign to defend jobs and adult education provision. Register here.
Notice of scrutineer's appointment for UCU political fund ballot
UCU must ballot members over the retention of its political fund every 10 years. A ballot will take place 12 March - 12 April 2018 and Electoral Reform Services, 33 Clarendon Road, London N8 0NW has been appointed as the scrutineer. More information, including the full rules of the ballot, is available here. Note that UCU's political fund is not used for affiliation to any political party.
NHS in crisis - demonstrate 3 February
As the crisis in the NHS deepens and with reports of dangerously over-crowded and understaffed hospitals in the news daily, an emergency demonstration calling for proper funding and an end to privatisation has been called by Health Campaigns Together and the People's Assembly Against Austerity.
Last updated: 2 February 2018