•
•
•

The Friday email: 18 May 2018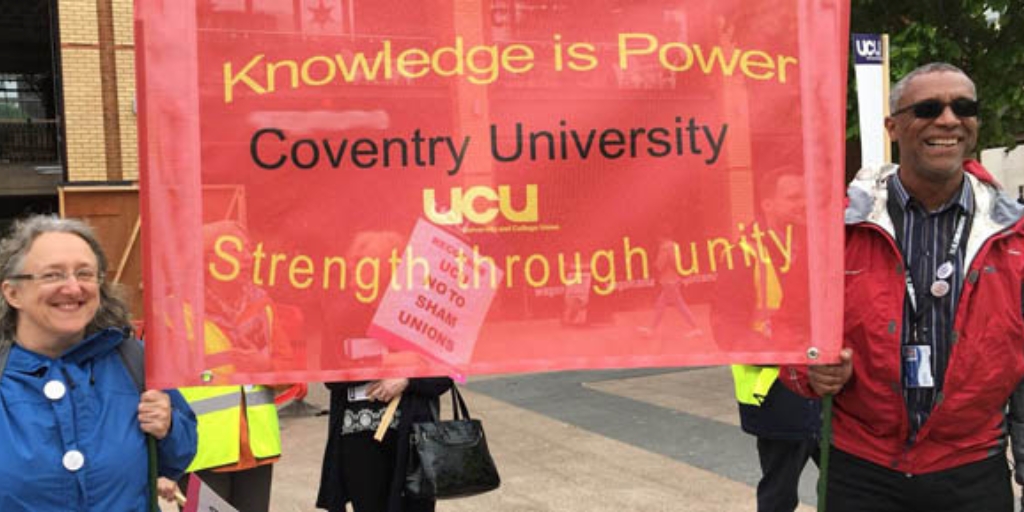 The Friday email: 18 May 2018
Trade union rights: UCU wins recognition at Coventry
We're delighted to announce that an agreement has been reached with Coventry University Group that UCU will be recognised to negotiate for staff. The agreement means that UCU will be recognised to negotiate on pay and other key terms and conditions for academic staff at CU Coventry, CU Scarborough and CU London. The parties have agreed a joint statement which you can read in our press release here. A very big thank you to the thousands of members who have supported this campaign from the start.

UCU believes trade union rights are human rights and that's why we're calling on the government to guarantee international staff the right to strike. Already over 900 of you have contacted your MP to help defend migrant workers' right to strike without fear of deportation - please use our online tool and join them.
FE fights back
More and more college staff are saying 'enough is enough' and joining our FE fights back campaign and you can help by sharing this short video calling for a better deal. This week:
In the news
UCU win recognition for staff at Coventry University Group
Pay deal at Sandwell College
Hull College staff walkout over job cuts
Higher education: pay, security, workloads, and the gender pay gap
Following a disappointing final offer from HE employers on pay you can find a new set of downloadable campaign materials here. The offer of 2% does not keep up with inflation or comparable professions and UCU is also calling for urgent action to address the gender pay gap, precarious contracts and workload.
Palestine: education, occupation and liberation
As part of The Friends of Birzeit University's 40th anniversary programme, you are invited to a special event chaired by UCU president Dr Joanna de Groot on 24 May at Institute of Education (UCL).
Government calls for your views on further education
The Department for Education has invited college staff to share their experience of working in the further education in order to develop policy. The survey has been sent to all college principals to circulate so if you haven't yet received your link please contact your them or email here. This is the first opportunity in recent years for staff to feedback directly to government and we encourage you to engage with the initiative and have your say.
TEF survey: have your say
Please help our research into the impact and implications of the Teaching Excellence Framework (TEF) by filling in this short survey. We're particularly interested in the views of those teaching HE in FE institutions. Please email here with queries.
Can you pack a rucksack for Calais?
We support the charity Care4Calais to provide direct aid to refugees living in the worst conditions across France and Belgium and you can help us provide backpacks of essential items by visiting here.
Best wishes

Justine Stephens
UCU head of campaigns
Last updated: 18 May 2018