•
•
•

The Friday email: 22 June 2018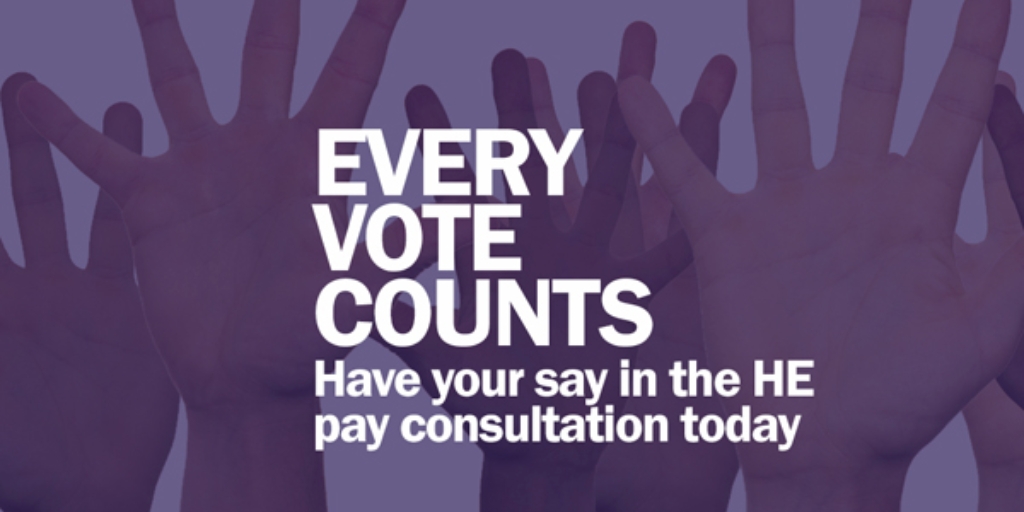 The Friday email: 22 June 2018
Vote now in higher education pay and equality e-ballot
The e-ballot on higher education (HE) pay closes on Wednesday 27 June so now is the time to have your say and use your vote if you have not done so already. The consultation covers HE members at UCEA higher education institutions so if you think you are eligible but can't find the email please request a replacement here. UCU's recommendation is that you reject the employers' offer of 2% and vote to take action for a better deal on pay, security and gender equality, https://www.ucu.org.uk/he2018 but whatever your views please take part.
UCU Wales says no to redundancies at Coleg y Cymoedd
Coleg Y Cymoedd UCU are campaigning against redundancies due at the end of July and plan to ballot for strike action from 6 July unless management withdraw the threat to jobs. There have been no compulsory redundancies in any further education FE college in Wales for more than 8 years and UCU members say they will not stand by and allow Coleg y Cymoedd to be the first college in Wales to make compulsory redundancies. Please send messages of support to Paul Davies.
TEF survey closes today
Please note that the survey on the impact of TEF closes today so this is your last chance to participate.
In the news
How the UK stands alone on university admissions
Another substandard attempt to deal with vice-chancellors' pay
King's denies universities minister's hate speech story
Recognition agreement signed at Coventry University Group
Following a hard fought two year campaign with a subsidiary company at Coventry University, UCU has finally signed an agreement with CU Group that recognises UCU to negotiate for academic staff. Congratulations to all involved in this fantastic campaign in support of a group of workers who wanted UCU to speak for them.
Defend migrants' right to strike
This week,UCU's lawyers have written to the Home Office asking them to amend the Immigration Rules and guarantee that international staff taking strike action will not be putting their immigration status at risk. If you haven't already done so, write to your MP or tweet using the hashtag #righttostrike to support this important campaign.
Our NHS is 70 - celebrate and demonstrate, 30 June
Please support the 70th birthday celebrations for the NHS and march next Saturday for a publicly owned health service; free for all, forever. Assemble 12 noon, Portland Place, London W1A and march to Downing Street.
Palestine: education, occupation and liberation, 5 July
UCU and Fobzu https://fobzu.org/ are co-hosting the second event in our Education, Occupation and Liberation series at the Institute of Education (UCL) on Thursday 5 July (6.30pm). Please come along and hear Professor Karma Nabulsi (University of Oxford) talk about 'Traditions of Liberation Education'.
UCU at London Pride, 7 July
UCU will be marching with the London Pride parade this year. For security reasons people attending the Pride parade require wristbands and we have a designated number of these. If you are interested in coming please contact Seth Atkin.
Best wishes

Justine Stephens
UCU head of campaigns
Last updated: 25 June 2018