•
•
•

The Friday email: 29 June 2018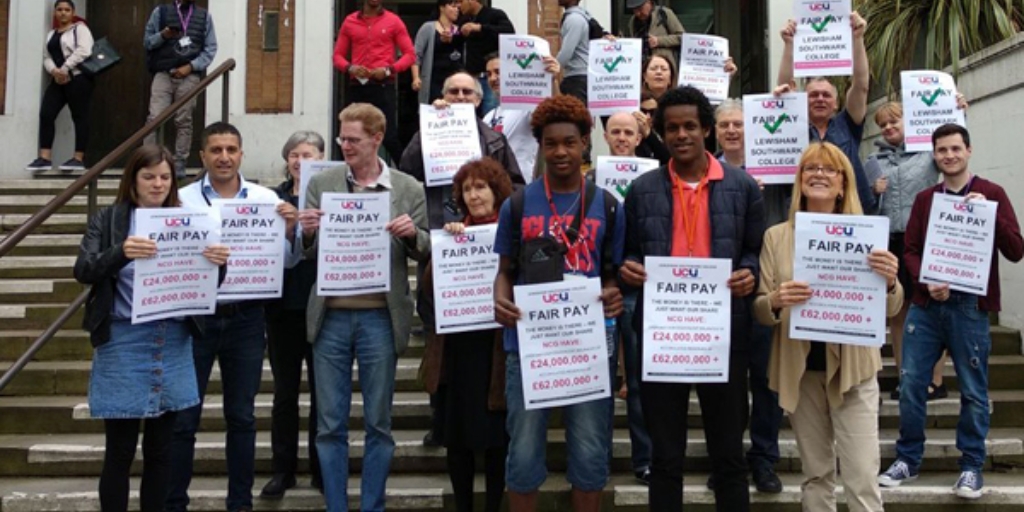 The Friday email: 29 June 2018
Higher education pay and equality consultation
Members in higher education have voted to reject the Universities and Colleges Employers' Association's final below inflation pay offer of 2%, and as part of the consultative ballot have resoundingly voted for industrial action in the latest campaign for pay and equality in higher education. 82% of members responding to the consultation voted to reject the offer and 65% said they were prepared to take industrial action in defence of their pay. The turnout was 47.7%. The next step in the campaign is a comprehensive get the vote out campaign for a national strike ballot to open in August and close in October.
FE fights back
Our demand for a better deal for further education staff continues to build momentum and activists meet in Manchester today to plan further activity for this exciting and vibrant campaign. We've just launched the first in a series of short videos giving members the chance to say why they're fighting back for FE - please watch and share.
In the news
Unions submit 5% pay claim ahead of July pay talks
Polling finds no evidence of minister's censorship on campus
Funding review report not expected until October and not much is expected
USS joint expert panel (JEP) update
The USS joint expert panel (JEP) has issued its latest statement which you can read here.
Edinburgh agrees to negotiate with UCU on casualisation
The University of Edinburgh has agreed to a timetable of negotiations to address the union's concerns over casualisation. UCU submitted a claim for action on fixed-term teaching fellowships and hourly paid staff pay and conditions in February, and since then the branch and its anti-casualisation group have been campaigning and pressing to secure these commitments. UCU is targeting other Russell Group universities who are some of the worst offenders in their treatment of casualised staff.
Calling all prison educators
Please submit a response to this short online consultation about your experiences as a prison educator which is open until the end of Monday 2 July 2018.
NHS demonstration tomorrow, 30 June
Please support the 70th birthday celebrations for the NHS tomorrow and march for a publicly owned health service; free for all, forever. Assemble 12 noon, Portland Place, London W1A and march to Downing Street.
Stop Trump - demonstrate Friday 13 July
Donald Trump is coming to the UK on 13 July and thousands are preparing to join together to protest against the politics of fear and division and to celebrate our diversity. Events are taking place across the UK between 12-14 July and there will be a march in central London on 13 July assembling at 2pm, Portland Place, and marching to Trafalgar Square
Best wishes

Justine Stephens
UCU head of campaigns
Last updated: 29 June 2018