•
•
•
Day of action over increasing casual contracts in post-16 education
5 March 2013
| last updated: 10 December 2015
UCU will tomorrow hold a national day of action in protest at rampant casualisation in colleges and universities.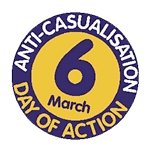 The union has highlighted that the growing number of casual contracts for teachers, lecturers and academic-related staff, has ranked post-16 education the UK's second most casualised workforce - behind the hospitality industry.
Recent data from the Higher Education Statistics Agency (Hesa), has shown that more than a third of the academic workforce is now on temporary, fixed-term contracts. The number of teaching-only staff on temporary contracts went up by a third between 2009-10 and 2011-12.
Data from UCU's stress survey in 2012 showed that of 7,110 UCU members in FE who responded to the survey, 17% were employed on casualised contracts. And the same survey showed that of 1,097 UCU members in adult education who responded, 27% were employed on casualised contracts.
UCU is calling for all staff to be on permanent fractional or full-time standard contracts. Events and activities will take place in universities and colleges across the country tomorrow.
UCU general secretary, Sally Hunt, said: 'We have seen an increase in people who are on successive fixed-term contracts for years on end. Now colleges and universities are trying to use the economic climate as justification but it doesn't wash as this has been going on for a long time.
'These workers are poorly paid and enjoy few if any benefits. They report feeling undervalued, marginalised and very uncertain about their futures. Their employment status spills over into other areas of their lives such as their ability to get a mortgage which is unacceptable. UCU will continue to campaign until we see permanent fractional or full-time standard contracts being used instead.'
For details of events around the country, visit: Anti-casualisation day of action 2013