•
•
•

Anti-union behaviour in Coventry University's subsidiary company
Anti-union behaviour in Coventry University's subsidiary company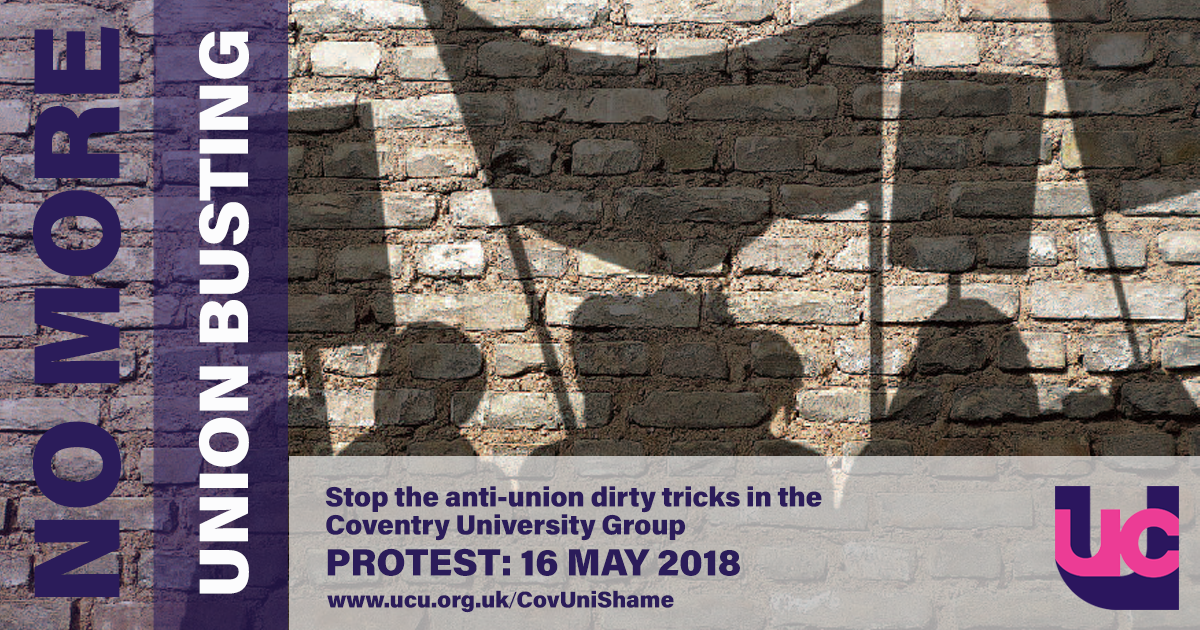 Anti-union behaviour in Coventry University's subsidiary company
The CU Group is a wholly owned subsidiary company of Coventry University. Its sole shareholder is Coventry University and its CEO is a Pro Vice Chancellor of the University.
Members in the CU Group have been denied a union since the company was set up five years ago. They've been campaigning for a union for the last year and now they have the support to win statutory recognition.
But on 8 March, their employer revealed that, unknown to them, it had registered its staff association, the Staff Consultative Group, as a union and signed a recognition agreement with it. The Staff Group is not independent and it has no support from staff who had no idea what their management were doing.
Although the staff group is not an independent union, a loophole in trade union law means that it is impossible for UCU to lodge an application for statutory recognition.
CU Group board meeting minutes from March 2016 show that the Group considered this as a way of preventing the union from applying for recognition.
This is nothing more than an anti-union manoeuvre from a company owned by a higher education charity and it brings shame upon the CU Group and its owner Coventry University.

Protest: stop anti-union dirty tricks, 16 May 2018 [507kb]



CU Coventry Newsletter [255kb]
---
Last updated: 18 May 2018