•
•
•

The Friday email: 5 July 2019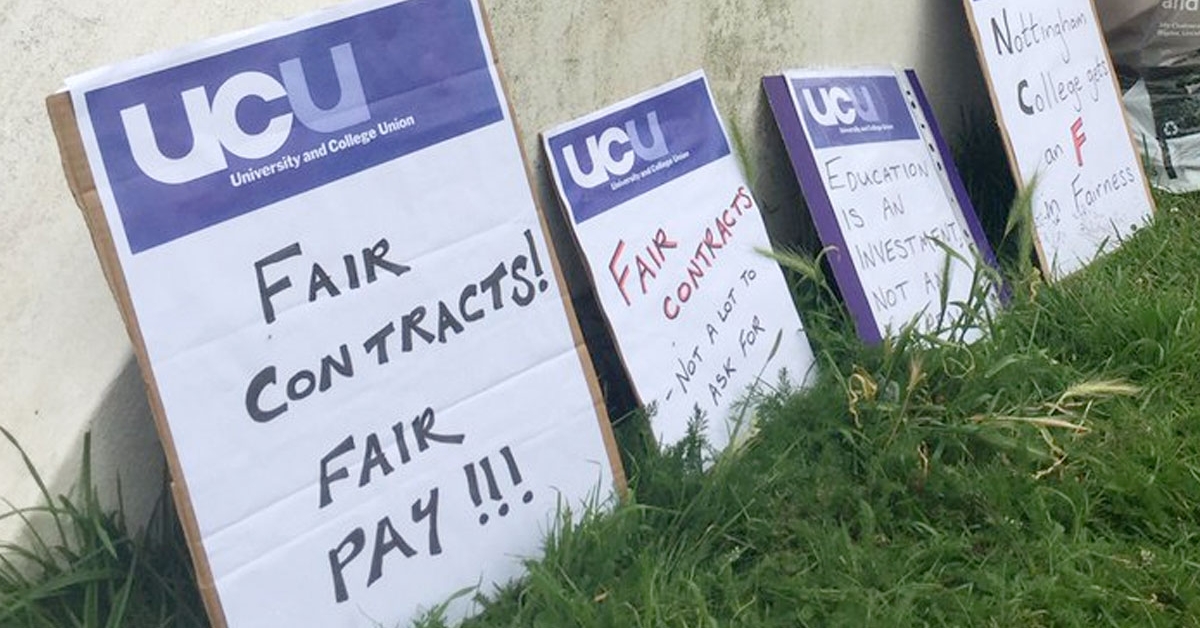 The Friday email: 5 July 2019
Bradford and Nottingham strikes over contracts, jobs and pay
Strikers were out in force at Nottingham and Bradford colleges this week. Nottingham members took action on Monday in a dispute against plans to impose new contracts which will leave many staff financially worse off, and which also include cuts to holiday and sick pay entitlements. At Bradford members walked out for three days in their fight back against job cuts and for decent pay. Staff there have seen their pay decline by 25% in the last 11 years and now management are threatening to cut 131 jobs. Please send messages of support to reps at Nottingham UCU reps and Bradford College UCU.
Insecure work is a blight on higher education: our report
Job insecurity in higher education is damaging our members' mental and physical health and blighting the lives of people who work in universities. Our report, published this week, says staff are working unpaid, holding down multiple jobs and struggling to pay the bills. UCU acting general secretary Paul Cottrell said: 'This report makes it clear that staff do not want to be forced onto these types of exploitative contracts. Despite their best efforts, staff just simply cannot stay on top of their teaching, marking, feedback and research employed like this and it is students who suffer... Some institutions have worked with us to move staff on to more secure contracts, but overall the higher education sector is too happy to exploit its army of casualised staff.' More on our 'stamp out casual contracts' campaign here.
Latest on HE pay and USS ballots
In her latest message to higher education (HE) members, UCU general secretary elect Jo Grady outlines plans for industrial action ballots on pay and pensions from 9 September to 30 October.

The UCU HE national negotiating team for 2019/20 has now been confirmed, and includes Vicky Blake, Mark Abel and Jo McNeil (Higher Education Committee chair and vice chairs) and four negotiators elected by HE sector conference at the end of May: Joanna de Groot, Marian Mayer, Robyn Orfitelli and Sean Wallis. You can contact the negotiators through UCU head of HE, Paul Bridge.
Cuts and further trade union victimisation at Ruskin College
Ruskin College boasts of its working class, trade union and social justice history, but in reality UCU's reps are being harassed and victimised. Management have announced plans to close the majority of HE courses, including the MA in Global Labour and Social Change, a proposal which puts five lecturers at risk of redundancy, including most of UCU's branch officers. This comes after UCU rep Lee Humber was suspended following a vote of no confidence in management, and the college has also announced plans to discipline more branch reps for their trade union activities. Please sign the petition calling for Lee's reinstatement. Please also email principal Paul Di Felice and board chair Doug Nicholls calling for Lee to be reinstated and trade union victimisation at Ruskin College to end immediately. Messages of support can be sent to Ruskin UCU here.
In the news
This week's news coverage includes the abuse of casual contracts in HE, protests at the University of Cambridge open days over teacher exploitation, the strikes at Nottingham and Bradford colleges and protests at the planned closure of Stourbridge College, plus the hefty pay-off for a 'disgraced' university head and UCU's evidence on prison education to a parliamentary committee.
Join the fight to save Stourbridge College
Please help save Stourbridge College which is facing closure by signing the petition here. Closure of the college would be a huge blow to the community and an end to vocational education in the town. Last Saturday hundreds of people took to the streets to protest against the closure plans. Almost 1,000 students are due to transfer to Dudley and Halesowen colleges from September, however the majority of these say they won't make the switch.
Defend Dave Muritu: please sign the petition
Please sign the petition in defence of our rep Dave Muritu who was sacked by Sandwell College for writing 'racist' on a poster for the controversial Prevent programme. A ballot for strike action at the college is now underway and closes on 12 July. #ReinstateDaveMuritu
Last updated: 18 November 2019