•
•
•
•
•

Update on levy of members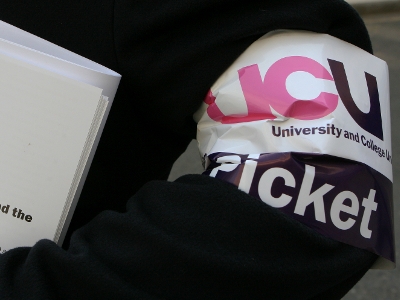 Update on levy of members
3 July 2020

I'm writing with some positive news that I hope will go part of the way towards addressing members' understandable concerns that the levy authorised in February is a flat rate, rather than progressively structured.
This week, UCU's elected officers (the honorary treasurer, president, past president, and president-elect) have now agreed in principle on a solution that can allow us to avoid imposing a flat rate, and mitigate or even eliminate the levy for those members who are lowest paid.
Having taken new legal advice and after commissioning further technical work by the company that services our membership systems, we have established that the officers can choose to exempt members in certain UCU subscription bands from both of the £10 and £5 instalments, or the second, £5 instalment, of the levy.
In other words, some subscription bands could be levied at £15; others at £10; and some could avoid the levy altogether. (For a guide to UCU's subscription bands, click here.) This would be in addition to those groups of members - such as standard free members, and retired members - who, as our Q&A specifies, were already fully exempt from the levy.
However, the officers' ability to implement this solution in practice will depend on how much money we can raise through donations and the financial position of the fund after that. The latest date on which the levy needs to be triggered is 28 July. At that point, the officers will need to review how much money has been donated to the fund and the amount of claims which we have received before they can decide to what extent payments can be reduced for different subscription bands. The more we raise, the more we will be able to reduce and/or completely avoid payments for lower subscription bands.
We need your donations
Now that the officers have agreed to this new approach, we are able to assure you that all of our fundraising efforts will go towards making this levy fairer on our lower paid members.
After my email on Monday evening, we received the largest influx of donations in a 24-hour period which we have received all year. A lot of members have said explicitly that they are donating to help those who will struggle to afford the levy - and if we can maintain that solidarity and keep up our fundraising efforts throughout the period leading up to 28 July, we should be able to ensure that the levy is significantly lower and fairer overall. We are also encouraging branches to make significant donations from branch accounts wherever possible.
Please click here to make a donation.
The future of the fighting fund
Looking further ahead, I want to make sure that we are never in this position again. The budget for the next financial year will double the percentage of members' subscriptions that goes into the fund each month. But we also need to look at how we use the fund to resource disputes, because the approach which we have taken this year is not sustainable. Above all, we need to make sure that more of the fund goes where it is most urgently needed.
This year, we introduced new measures to make fighting fund payments fairer to lower paid and precariously employed members than before:
we have allowed members earning under £30k to claim more per day and overall than higher earning members
we have introduced a mechanism for members to indicate that they are facing financial hardship and have their claim prioritised for processing
we have encouraged members to provide alternative forms of evidence that they have lost pay - since members on casual contracts are often unable to provide payslips.
At the same time, however, the NEC also voted to increase payments to our higher paid members, compared with previous disputes - including those who earn over £40k.
I am going to make a case in future to the officers and NEC that the balance needs to shift further in favour of lower paid members than it did this year.
Across our sectors, we have built our campaigning around issues that affect lower paid members, from pay inequality to casualisation, and our whole membership has thrown its weight behind those campaigns. The response to the levy announcement has only reinforced that. Our higher paid members really understand how tough things have got for colleagues on the sharp end of the business models that have dominated higher, further, prison and adult education for the last ten years, and they are ready to step up and make sacrifices to make our working conditions better and more equal.
That is the kind of solidarity we will need given the challenges which post-16 education is facing as a result of the Covid-19 pandemic. Targeting fighting fund support more carefully at our most vulnerable colleagues over the coming year will be the best way to lay down a marker about our intentions, and defend our collective interests.
Finally, we have expanded and updated our levy FAQ to reflect the developments outlined above and the questions that have come in from members. Please click here to read it.
Last updated: 6 May 2022