•
•
•

The Friday email: 16 October 2020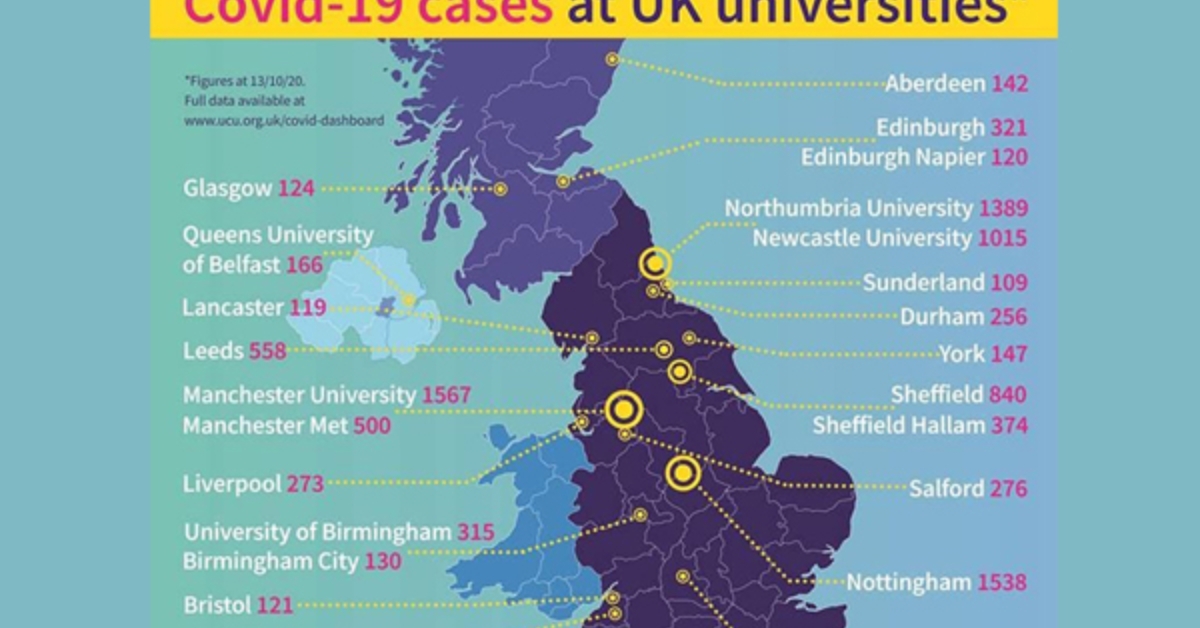 The Friday email: 16 October 2020
A preventable crisis: sign our petition
Please sign our new petition calling on the UK government to move university learning online and to provide necessary funding for the stability and safety of the higher education (HE) sector throughout the Covid-19 crisis and beyond. As UCU warned would happen, we are now witnessing a spiralling crisis with outbreaks on campuses affecting thousands of students and staff as shown on our online dashboard here.

Alongside our petition we have launched a campaign video setting out the issues and why we are urgently calling for all possible activities to move online now.

Please sign and share our petition and circulate the video as widely as possible to help put pressure on the government to act now.
#ReBuildFE: invest in our staff, invest in our communities, invest in our future
The national Covid recovery plan must have further education at its core. But unless colleges honour their promise to pay staff, it will be impossible to attract and retain the staff colleges need to be able to play their role in the national recovery effort. UCU and other unions representing staff in further education (FE) across England have launched a joint claim for a significant pay rise now the government has provided FE with an extra £400 million funding. You can watch this week's FE campaign launch here.
UCU solidarity gig, 22 October
The NEC fundraising group is holding UCU's first ever solidarity gig on Thursday 22 October. This is to raise funds for the UCU fighting fund. Activist and singer songwriter Joe Solo will be headlining for us live online on Thursday 22 October along with Sharon Lazibyrd, Yumi Hara Cawkwell, David Thorpe and other acts to be announced.
Fund the Future webinar: black and disabled workers' health and safety
The Covid-19 crisis has seen particular challenges for black and disabled workers. As part of the Fund the Futures series, this webinar will look at the issues facing black and disabled workers during the current pandemic and ways in which members can raise health and safety issues and use tools to ensure a safe workplace. To register for the event, please visit here. A BSL interpreter will be available for this event.
Recognition agreement signed at the Royal College of Art
After years of negotiation, the RCA has now signed an agreement recognising UCU in respect of academic, academic related and research staff on the national pay spine (including visiting lecturers (VLs)). As well as the usual facility 'time off', a memorandum of understanding was also signed to allow for facility 'time on' for the VLs.
Try our Transforming UCU development programme
Please register here for an online event to showcase Transforming UCU, our development programme for workplace leaders. the event takes place on Tuesday 20 October from 4-5pm. It will include two case studies from UCU branch officers in further and higher education who have taken part in the programme and helped lead successful campaigns with high participation from members in their branches. Members who have participated in our Strike School with Jane McAlevey or in any of UCU's formal training offer should consider applying to take part in the programme and this event aims to show you why!
Disabled workers' returning to work
The Covid-19 crisis has seen particular challenges for disabled workers so with the support of UCU's disabled members' standing committee, we've produced advice on equality and health and safety to support disabled workers in the workplace and at home.
Academic freedom and internationalisation: new model code of conduct published
A new model code of conduct for the protection of academic freedom in the context of the internationalisation of the UK HE sector was published this week.Produced by a group of UK-based academics, the aim of the code of conduct is to enable UK HEIs to adopt common responsibilities embedding transparency and accountability that will strengthen the protection of academic freedom and the academic community from risks arising specifically from internationalisation.
Last updated: 16 October 2020