•
•
•

The Friday email: 20 November 2020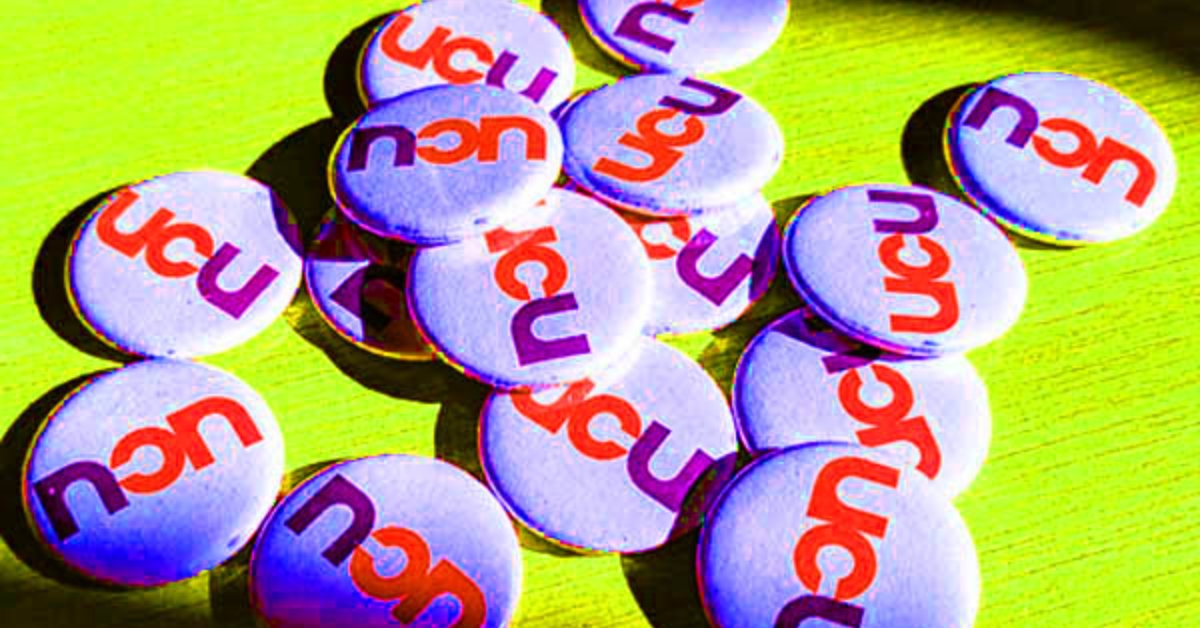 The Friday email: 20 November 2020
20 November 2020

Further education: your views on Covid-19 and safety at work
If you work in further or adult education please help us make a difference by completing this short survey which will only take a few minutes to complete.
The results will direct what your union does next to fight and campaign for your safety and is an opportunity to understand how the pandemic has changed your working patterns and the effects on your workload, safety and the many other issues you care about.
UCU members fighting back
UCU branches across the UK are fighting to defend jobs and conditions as the Covid-19 crisis continues to hit education sectors hard. Please show your support:
University of East London UCU is fighting compulsory redundancies and unmanageable workloads and are currently balloting for industrial action. Please tweet your support #saveUEL @EastLondonUCU
Northumbria University UCU is balloting for action to secure for a safe and fair workplace. Staff have been forced back to face-to-face teaching with inadequate safety measures on campus. Please tweet your support: @UCUNUbranch @EqualityUCUNor1.
Northern Ireland further education college branches are in dispute over a below-inflation pay offer and attacks on conditions and trade union rights.
Goldsmiths UCU are voting in a ballot for action over a restructure which will cut investment in staff and intensify workloads. Details here and you can tweet support to @GoldsmithsUCU
University of Brighton UCU has voted for strike action to fight redundancies in IT support. Solidarity tweets appreciated: @BrightonUCU
Heriot-Watt University UCU voted to strike over job cuts and their campaign has pressured the university into reaching a settlement that rules out the threat of compulsory redundancies.
Birmingham City University UCU members are demanding a move to online teaching and are prepared to take industrial action as shown by an impressive 60% turnout in their consultative ballot.
Universities of Birmingham and Warwick are also about to open ballots for action to move all non-essential working online.
University of Roehampton UCU members are fighting job cuts and worsening conditions and are currently asking members to show support for action in an e-ballot consultation. Sign the petition and tweet your support: @VRoehampton and write to the VC.
University of Central Lancashire UCU is resisting compulsory redundancies, and has lodged a dispute and an e-ballot consulting members on industrial action opens next week. Please send messages of support to our rep Michael McKrell.
Solent University UCU is seeking your support and solidarity after the university announced redundancies of up to 18.5% of its staff at risk of redundancy with dismissal letters planned to be sent just before Christmas. Tweet: @ucu_solent
UCU campaign win on post-qualification university admissions
UCU has welcomed the announcement of government proposals to review the current system of university admissions following years of campaigning to end the use of predicted grades. UCU general secretary Jo Grady said: 'It is good the Westminster government has belatedly listened to UCU and others in the sector after we have spent years campaigning for a post-qualification university admissions system. The evidence is overwhelming that the current system is fundamentally unfair and there is now a sector-wide consensus that things have to change.'
Day of action for disability equality, Wednesday 25 November
Covid-19 has disproportionately impacted on disabled workers and UCU is holding a day of action for disability equality on Wednesday 25 November and you are invited to join the following online events:
'Organising for disabled workers', 25 November, 1pm,chaired by Elane Heffernan, UCU NEC with contributions from Themesa Neckles, UCU disabled members committee, Ann Galpin, National Union of Journalists (NUJ) and Colleen Johnson, National Education Union (NEU).
'Everyday ableism', Friday 27 November, 1pm,exploring what ableism is; recognising it and how to challenge it. Chaired by Themesa Neckles, with Elane Heffernan, NEC, Lucy Burke, NEC and Michelle Daley, Alliance for Inclusive Education (ALLFIE) (invited).
A BSL interpreter will be available for both events.
Covid hit Wiltshire College told to sack staff to get government help
Wiltshire College estimates it has already lost £1.96m of income because of Covid-19 and projects more losses due to the pandemic. Now the college, which provides a unique and diverse service, has told the UCU that it will get no funding support from government unless it sacks the very staff needed to make a local and national social and economic recovery possible. UCU's regional official Nick Varney said: 'This is another example of FE being treated less favourably. Already poorly paid staff are now threatened with the sack before Christmas because of a ridiculous methodology where staff have to go before colleges are helped.'
Trade unions and human rights in Colombia, Monday 23 November, 6.30-8pm
UCU and Justice for Colombia (JFC) will be co-hosting a special online event in conjunction with Colombia's ASPU trade union for university teachers. Join us to hear from those defending human rights in Colombian universities, including the President of the ASPU trade union, and UCU members who have supported and visited Colombia with JFC. Flyer here.
Climate crisis: UCU, NEU and NUS respond to ten point plan
UCU, NEU and the National Union of Students (NUS) have welcomed Boris Johnson's ten point plan for a green industrial revolution but criticised the lack of any reference to education as a crucial element in the UK's journey towards net-zero. Read our joint statement here.
Campaigning for funded extensions for postgraduate researchers
Cambridge UCU and Pandemic PGRs have launched an open letter to urge UKRI to revisit their decision of not to provide blanket funding extensions to doctoral candidates, whilst also curbing the level of support available for those postgraduate researchers (PGRs) now in their 2nd and 3rd years. The letter is open to graduate students and supporters to sign.
In a complementary initiative, hundreds of research leaders, supervisors and reviewers have called on UKRI to revisit their decision with the view to providing greater support to postgraduate researchers who have had their research disrupted by the Covid-19 pandemic.
Academic-related, professional services staff webinar
Our ARPS committee recently hosted a webinar called 'keeping universities running during the pandemic - the importance of supporting ARPS staff' on Monday. If you weren't able to join live, you can watch it on YouTube or Facebook.
Last updated: 20 November 2020