•
•
•

The Friday email: 27 November 2020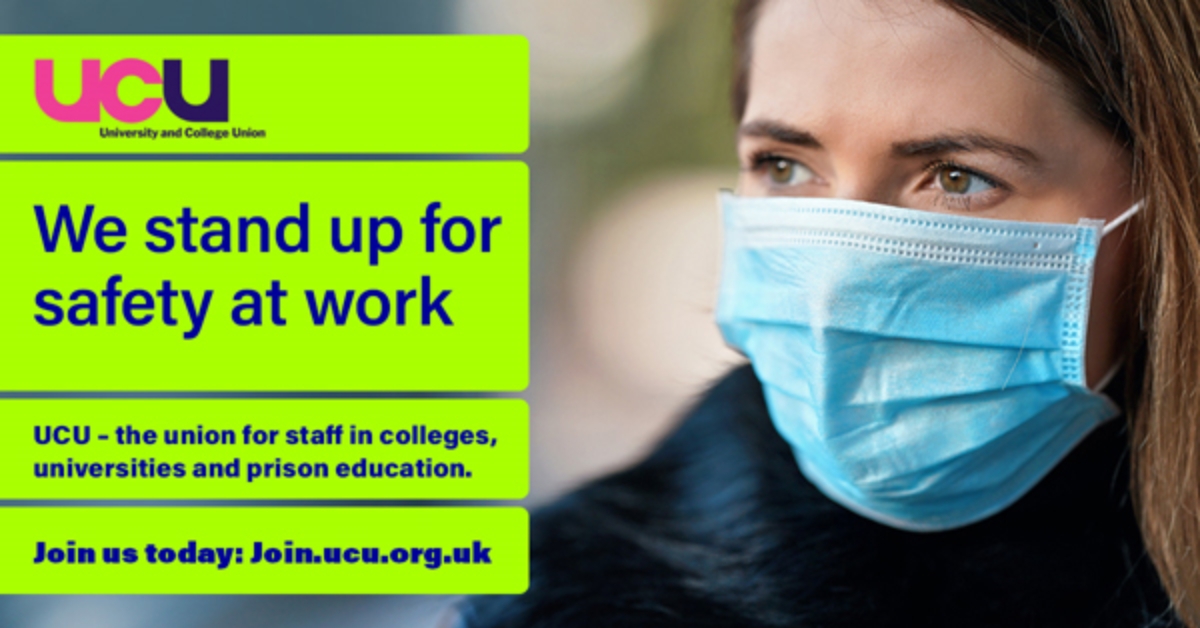 The Friday email: 27 November 2020
26 November 2020

Staff vote to strike over safety at Northumbria University
Northumbria University UCU has become the first union branch in the UK to win a ballot over health and safety relating to Covid-19 with 66.5% of members voting to strike on a turnout of 67.3%. In response to the ballot the employer has already agreed to limit the amount of in-person teaching that takes place on campus.
This could be the start of a wave of local industrial ballot successes on health and safety if employers continue to fail to prioritise the concerns of staff.
With a short ballot period of just two weeks, UCU reps put in a huge amount of work to get the vote out and have been rewarded with this fantastic result. Congratulations and solidarity to all involved.
Further education: your views on Covid-19 and safety at work
If you work in further or adult education please help us make a difference by completing this short survey which will only take a few minutes to complete. The results will direct what your union does next to fight and campaign for your safety and is an opportunity to understand how the pandemic has changed your working patterns and the effects on your workload, safety and the many other issues you care about.
Prison education inquiry: your views
The House of Commons education select committee has launched an inquiry into prison education and we need your views to inform UCU's response. Prison education members are invited to respond via this short survey before the deadline of 8 January 2021.
The inquiry will examine issues such as the purpose of education in prisons, to what degree adults and younger learners in custody can access suitable education, how effective current arrangements are in ensuring prisoners continue in training and employment on release and how this reduces reoffending.
We will also be holding three separate on-line focus groups to explore the following areas:
What is the purpose of prison education, 4 December 2020, 1:30-2:30pm
How to improve quality and resources in prison education, 11 December, 1:30-2:30pm
Vocational and skills education in prisons, 11 December, 5-6pm
To register for any or all of these focus groups please e-mail David Bussell.
National day of action for Palestine, Saturday 28 November
UCU is supporting this year's national day of action for Palestine which will take place on Saturday 28 November. The national day of action is being organised by the Palestine Solidarity Campaign (PSC) and you can find out more about how to participate in the online solidarity actions by visiting the PSC website.
University of East London UCU fighting job cuts: show your support
Staff at the University of East London are fighting the threat of compulsory redundancies which include several of our reps targeted to lose their jobs. Many staff have been lost to voluntary redundancy and resignations but student recruitment is up and now UEL is taking on temporary staff. Workloads for those who remain are higher than ever. UCU members are currently balloting for strike action and have passed a vote of no confidence in the VC Amanda Broderick and Provost Hassan Abdalla.
Show your support by writing to Anulika Ajufo, chair of the board of governors, demanding withdrawal of the redundancies and the university executive board and request it is circulated to board members. Please tweet your support #saveUEL @EastLondonUCU
Egypt: campaigning for the release of human rights defenders
Earlier this month three members of the Egyptian Initiative for Personal Rights (EIPR), an internationally-respected NGO, were arrested by the Egyptian authorities on spurious 'terrorism' charges. Campaigners here in the UK are calling on the UK government to urgently intervene and press the Egyptian authorities to release EIPR staff and other human rights defenders. If you are a trade unionist, you can add your name to the following protest statement here. You can also sign a Change.org petition calling for the release of Karim Ennarah and the other EIPR staff here.
Last updated: 27 November 2020