•
•
•

The Friday email: 23 April 2021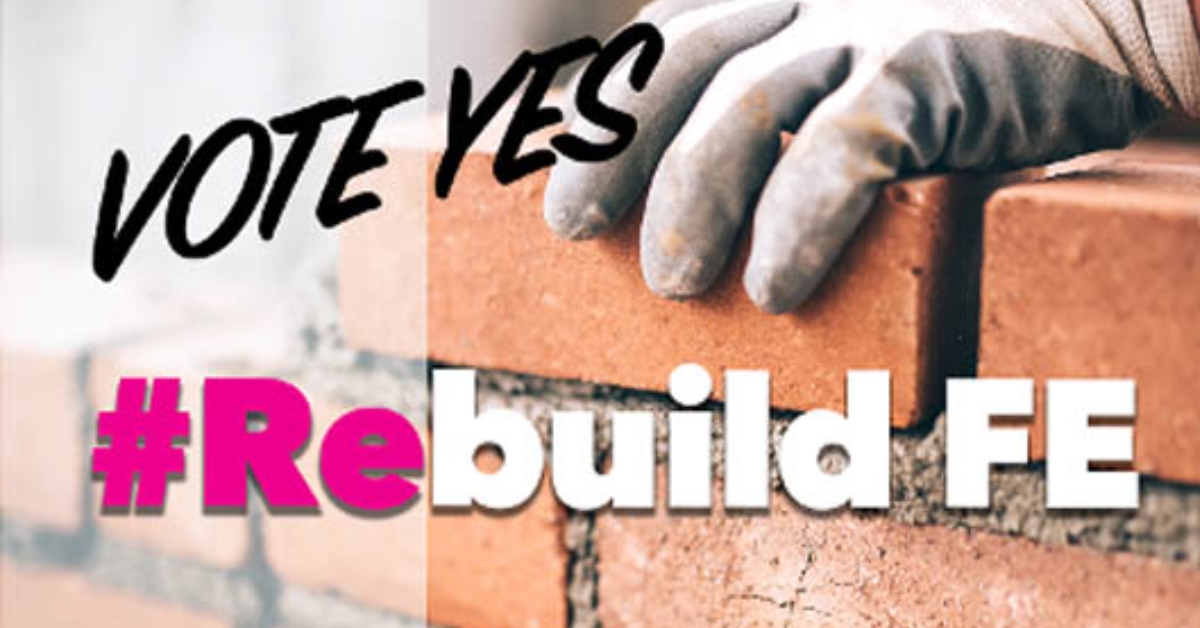 The Friday email: 23 April 2021
23 April 2021

Further education: vote YES to #RebuildFE
Members in many English further education colleges are being asked to vote in an online consultative ballot and if you have received an email from independent scrutineer Civica, please cast your vote and vote YES to indicate you are prepared to support strike action in a statutory ballot.
Staff working in FE have suffered a real pay cut of over 30% and UCU's campaign to #RebuildFE is about you and your pay. Please watch our short video to hear why workers are fighting back.
The current consultative ballot will ask if you are prepared to vote in favour of taking strike action in a statutory ballot for industrial action in support of a significant increase in FE staff pay. We are asking members to vote YES for a pay rise that will make a big difference to close the gap of a decade of pay cuts and the gap between FE pay and school teacher pay.

Click here to see if your college is included or to request a replacement eballot link.
UCU members fighting back
UCU branches across the UK are fighting to defend jobs and conditions and you can read our roundup of local disputes including the latest on campaigns at London South Bank University and Aston University here.
Kill The Bill day of action, 1 May
This May Day UCU will be taking part in a #KillTheBill day of action against the Police, Crime, Sentencing and Courts Bill. Join us in Leeds, Manchester, Sheffield or London.
You are also invited to take part in a special online meeting of education unions looking at how the bill could affect our sector and how we can resist it and you can register here.
Workers Taking Care
The STUC's Workers Taking Care initiative sees trade unionists talking about mental health, wellbeing, and the importance of getting outside in these challenging times. This complements UCU's own guidance for members on wellbeing.
Experiences of LGBT+ staff in higher education
UCU has been supporting research on the experience of LGBT+ staff in higher education (HE). Join us at 4pm on Tuesday 4 May to hear from the project researchers about their initial findings and plans for further work in this area. Register here.
Save Evesham College
Warwickshire College Group have announced that substantial parts of Evesham College site will be sold and the remainder "repurposed". This means a reduction to adult and further education provision in Evesham and elimination of provision in Malvern. Please sign our petition here.
Workers Rising Everywhere trade union organising course
You are invited to register a group for our Workers Rising Everywhere organising course. See our registration form here for more details. Deadline is 5pm, 3 May. You can also watch the recording of the taster event here.
Trade Unions, Climate Emergency and COP26 debate
Watch the discussion from UCU Scotland's Earth Day fringe meeting: Trade Unions, Climate Emergency and COP26. The fringe meeting was part of this week's annual STUC Congress, and hears about UCU's work, as well as from the Just Transition partnership and Friends of the Earth Scotland.
Solidarity with Myanmar's workers and educators
UCU continues to be appalled by the brutal repression of peaceful protestors in Myanmar, including of education workers and students. For some ideas on how UCU branches and members can support our colleagues in Myanmar, please check out a new UCU Northern Region podcast. In addition, Education International (EI), the global union federation for education workers, has set up an international solidarity fund to collect solidarity donations to help teachers and education workers in their daily struggles. Click here for more information about EI's Myanmar Education Workers Solidarity Fund.
LGBT+ liberation in contexts of hostility
UCU LGBT+ will host an online event about action for LGBT+ liberation ahead of the international day against LGBT+ phobias. There are experiences of anti-LGBT+ feelings at every level, this event looks at actions for support, empowerment, and solidarity. The event is on Wednesday 12 May from 4.00-5.30pm.
Last updated: 23 April 2021