•
•
•
•

Strike ballots open today at colleges across England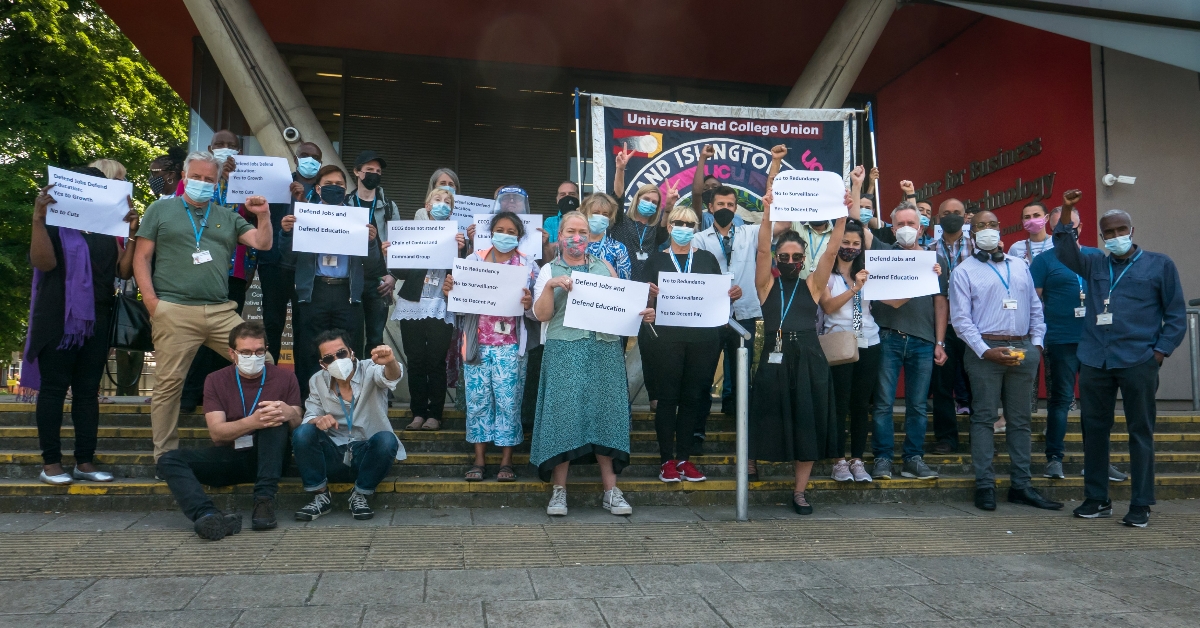 Strike ballots open today at colleges across England
14 June 2021

Employer body offered just 1% pay rise to staff
Strikes at eleven colleges in England could be on the cards as industrial action ballots opened today for members of UCU. Ten ballots are over pay. A separate ballot at Capital City College Group is over pay, working conditions, and compulsory redundancies. The ballots close on Wednesday 14 July.
The dispute is over college bosses' refusal to make a decent pay offer to staff. The pay gap between college and school teachers currently stands at £9,000 as staff working in further education have suffered real terms pay cuts of over 30% in the past decade.
After years of UCU's joint campaigning with employers, further education (FE) won £400m of increased government funding, £224m of which arrived in August 2020 and could have been used for staff pay. However, this year employer body Association of Colleges recommended a pay offer of just 1%. At ten of the colleges, UCU is demanding a pay increase of greater than 5% in an effort to close the school-college pay gap, and after more than a decade of below inflation FE pay increases.
Staff at Capital City Colleges Group in London are also being balloted today in a separate claim over pay, working conditions, and compulsory redundancies. The college is trying to make over 30 staff redundant, whilst reportedly investing millions into new 'teacherless' training.
UCU general secretary Jo Grady said: 'Employers have millions more in the bank after government investment, so staff should not have to threaten to strike to be paid fairly. Colleges across England need to urgently offer staff a decent pay increase to avoid disruption.
'College staff have seen their pay cut by over 30% in real terms and we are supporting members to vote 'YES' in a ballot to take strike action in the autumn. Strong, properly funded further education is central to creating a fairer society, and is more important than ever as we come out of the recent pandemic. Thriving colleges can help tackle social, economic and regional inequalities, allowing people to upskill and return to education. There is plenty of time to resolve these disputes before any student is affected.
'The UK government talks of 'levelling up' and 'building back better' but if these slogans are going to have any actual substance, we need investment in our colleges and staff.'
The ten colleges being balloted over pay are:
City College Plymouth
City of Bristol College
City of Liverpool College
Croydon College
Lambeth College
Sheffield College
South Thames Colleges Group
Swindon New College
Truro & Penwith College
Weymouth College
A ballot has also opened at Capital City College Group over pay, working conditions, and compulsory redundancies
Last updated: 14 June 2021