•
•
•
•

UUK consultation is PR exercise to justify slashing pensions, says UCU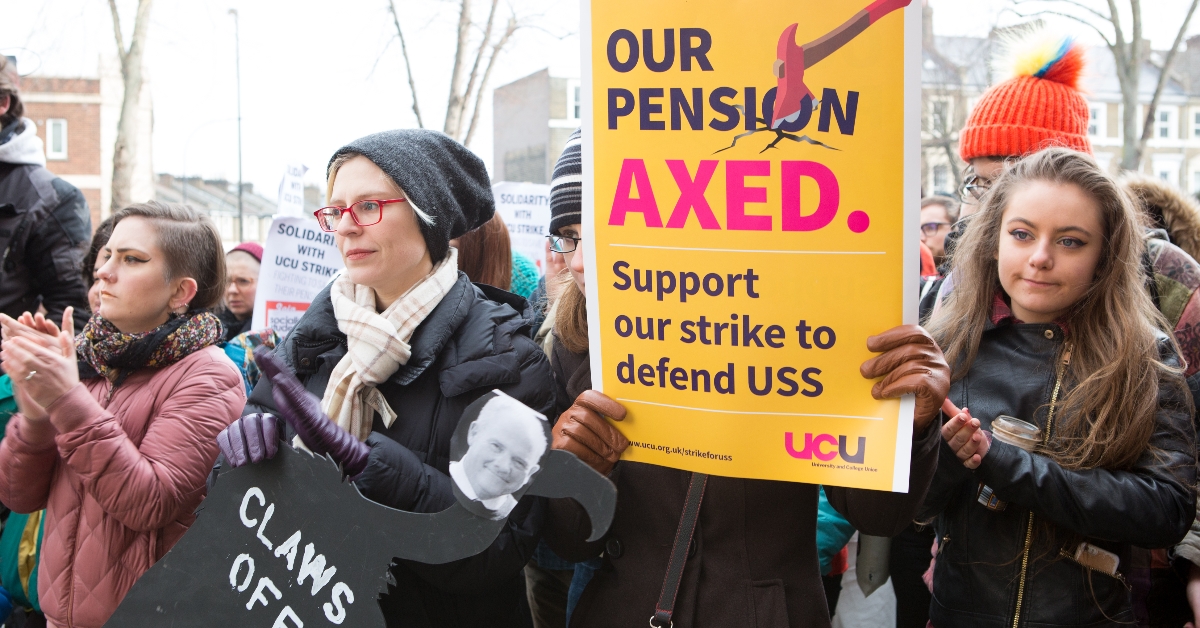 UUK consultation is PR exercise to justify slashing pensions, says UCU
16 June 2021

UCU has slammed Universities UK (UUK) after it used the results of an employer consultation to back swingeing cuts to USS pensions which would wipe thousands off retirement funds.
The union called the results a 'PR exercise readying the ground for further cuts' after the body failed to publish full details of its proposals or individual employer responses.
UUK launched a consultation earlier this year on proposals which include slashing the defined benefit element of the USS pension to £40k, imposing an indexation cap so benefits aren't protected against inflation rises over 2.5%, and cutting the accrual rate, as well as trying shunt lower earners onto an alternative lower tier pension scheme. UUK says it needs to cut pensions after the USS trustee calculated a deficit of over £17bn in its latest valuation. However, UCU has made clear that the valuation was conducted at the height of the Covid pandemic as markets were crashing and must be revisited.
Announcing the results of its pensions consultation yesterday, UUK reported that employers support its benefit cuts, but failed to come clean on the full extent of the proposals. It also failed to share any individual employer responses. However, USS in response said UUK's proposals still do not go far enough and wants contributions to rise or proposals for even greater cuts.
In response, UCU accused the employer body of failing to come clean and urged it to work with the union to protect pensions, or face a ballot for industrial action.
UCU general secretary Jo Grady said: 'Members of the USS pension scheme appear to be trapped between an employer group that wants to cut pensions and a trustee that refuses to listen to scheme members or experts - all to meet a crisis in a pension scheme that doesn't exist, based on a valuation that many have raised concerns about. UUK needs to publish the individual employer responses to its pension proposals consultation, otherwise it will be seen as nothing more than a PR exercise readying the ground for more cuts.
'UUK's proposals to cut defined benefits are unacceptable and will hit hard, affecting those earning over £40,000. It's also disappointing to see UUK fail to be up front about the slashing of accrual rates and the indexation cap of 2.5%, measures which will impact all members of the scheme, with those at the start of their career particularly effected.
'There is no need for a further governance review of the USS pension scheme. Reviews were carried out by Joint Expert Panels in the wake of industrial action in 2018, commissioned by both UCU and UUK. These reviews concluded that the scheme was sustainable and defined benefits could be made more affordable.
'USS has now made clear that it will not be placated by UUK's proposed cuts to defined benefits, claiming that further savings need to be found. UUK must therefore come clean and be honest about what further cuts it plans to support.
'Over 20,000 people have now used UCU's pension modeller to see how much they stand to lose under proposals put forward by UUK and members have shown they will fight to stop seeing their pensions eroded.
'UUK can either work with us to push USS to scrap its valuation, and make the changes necessary to maintain current benefit and contribution rates, or it can choose to face a ballot for industrial action, which UCU members voted for at this year's congress.'
Last updated: 17 June 2021