•
•
•
•

Union calls on Warwickshire College Group to stop its campus closure plan and cancel job cuts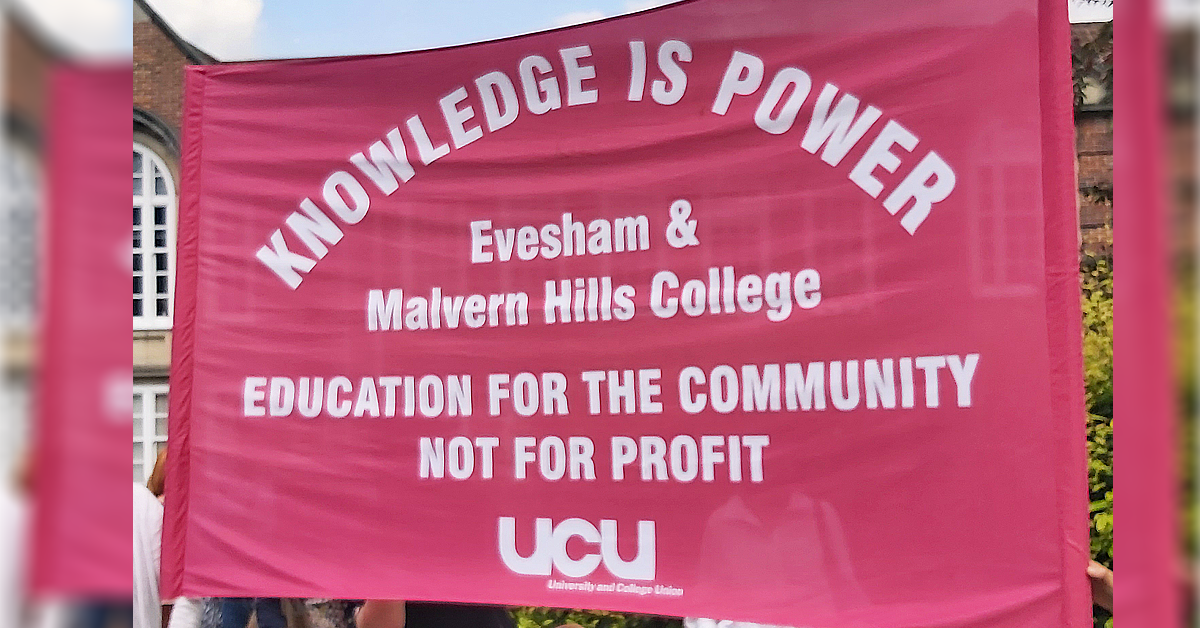 Union calls on Warwickshire College Group to stop its campus closure plan and cancel job cuts
14 July 2021

UCU has called on Warwickshire College Group (WCG) to rethink its decision to shut down and sell off its Malvern Hills campus, whilst reducing and selling off a large part of the Evesham campus.
In a letter to the college's chief executive officer, the union has accused WCG of failing to consult properly and ignoring the views of the local community, many of whom have signed a petition condemning the plans. The union has also called on the college to guarantee that there will be no compulsory redundancies as part of the plans.
WCG plans to close its Malvern Hills campus completely next month, while also cutting its Evesham College site by two-thirds, and moving Supported Learning, Health and Social care and Access to HE courses to another site 5.5 miles away. Students and staff currently based at Malvern Hills will be forced to travel over 20 miles to access their education. UCU is seriously concerned how growth of provision will be limited in Evesham, a town where the population is expanding.
Protests were held earlier this month at the Malvern Hills campus as the college closed its doors for what staff, students and the local community fear could be the last time.
WCG has blamed financial reasons for the closure of the campus. According to the most recent accounts, the college's Chief Executive, Angela Joyce, was paid £266,000 in 2020 and given a £40,000 relocation allowance.
UCU regional support official, Teresa Corr said: 'Warwickshire College Group's decision to close the Malvern Hills campus and cut local educational provision does not make sense, especially on the back of the Covid pandemic and the pressing need for educational opportunities across the region. Forcing young people to travel dozens of miles across the country to access their education is not just wrong-headed, it is morally unacceptable.
'It looks like college management are keener to pay huge salaries and allowances to the CEO than they are to support local young people. These campuses have been subject to lack of investment and as the country and region begins the Covid recovery process, now is the time to be adding to local education and skills provision, not cutting it.'
Last updated: 14 July 2021