•
•
•
•

Staff vote to strike over pay in 15 further education colleges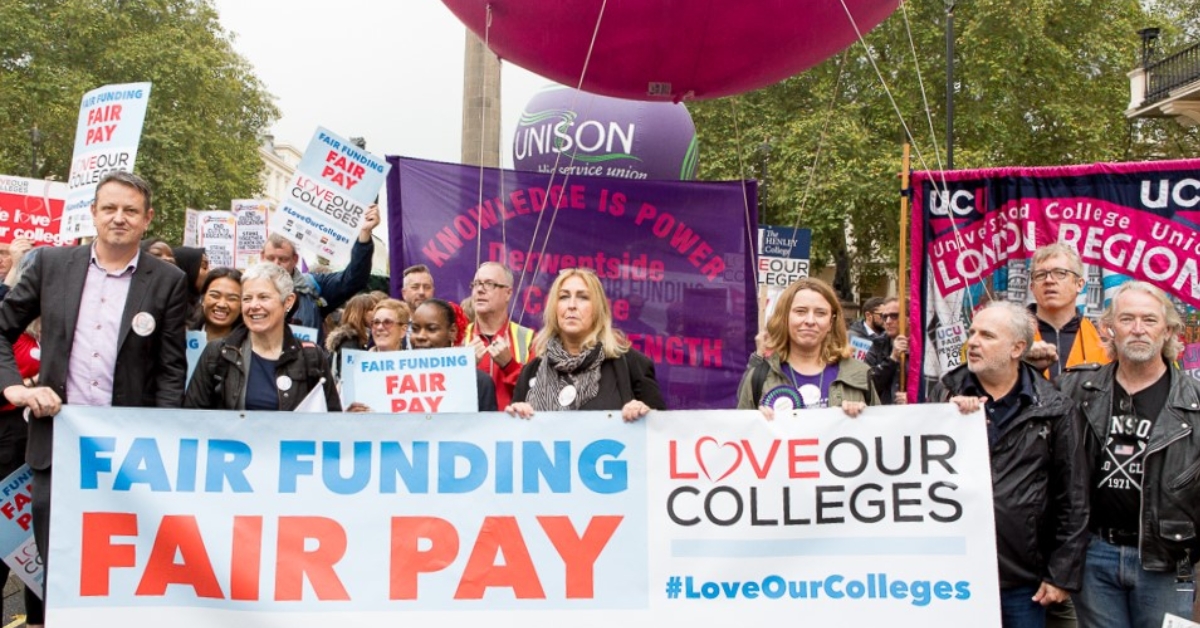 Staff vote to strike over pay in 15 further education colleges
15 July 2021

Members of UCU in 15 further education colleges in England have voted for strike action. Colleges were balloted in a row over pay. Staff at three colleges that are part of Capital City College Group, London, have also voted to strike over working conditions and compulsory redundancies alongside pay.
An overwhelming 89% of members who voted backed strike action, on an average turnout of over 62% (62.6%). UCU said the turnout and vote for action reflected the anger staff feel over having their pay held down for so long.
The pay ballots covered Carshalton College, City College Plymouth, City of Bristol College, City of Liverpool College, Croydon College, Kingston College, Lambeth College, Merton College, New College Swindon, Sheffield College, Wandsworth & Tooting College and Weymouth College.
The working conditions, compulsory redundancies and pay ballot covered City & Islington College, Westminster Kingsway College and the College of North East London.
Staff are angry that employer body, the Association of Colleges (Aoc) recommended a pay offer of just 1% in December 2020, a decision that was criticised by UCU, Unite the Union, Unison, GMB and the National Education Union (NEU).
After years of UCU's joint campaigning with employers, further education won £400m of increased government funding, £224m of which arrived in August 2020 and should have been used for staff pay, with the AoC indicating it would make a more significant pay recommendation as a result.
The pay gap between college and school teachers currently stands at £9,000 as staff working in further education have suffered real terms pay cuts of over 30% in the past decade.
UCU is demanding a pay increase of greater than 5% in an effort to close the school-college pay gap, and after more than a decade of below inflation FE pay increases.
UCU said employers have until September to meet its demands or they will face strike action.
UCU general secretary Jo Grady said: 'This ballot result is an emphatic message from college staff to principals that they will not sit back while their pay is held down. Thanks to UCU's campaigning, colleges received an injection of government funding, but they have failed to work with us to prioritise pay. Instead, employers have recommended a derisory 1% pay rise, which is a real term pay cut. College leaders urgently need to come to the negotiating table or they will face severe disruption in the autumn.
'Colleges need to understand that delivering top class education is reliant on looking after your staff and ensuring they are paid fairly. The employers who engage with us on pay and conditions will receive a positive hearing, but those who refuse should not be surprised at the determination of staff to take action. Pay in further education is a problem, and it is time for colleges and the AoC to get serious and do something about it.'
Last updated: 15 July 2021