•
•
•

The Friday email: 23 July 2021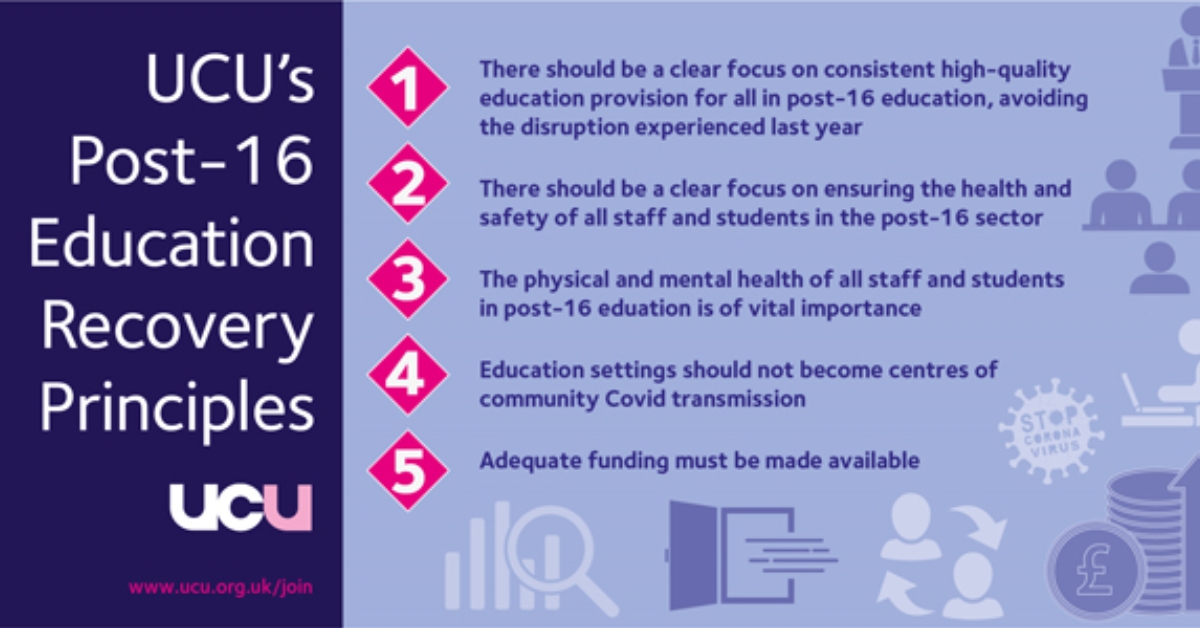 The Friday email: 23 July 2021
23 July 2021

Reckless removal of restrictions are a recipe for disaster
Today we published our post-16 education recovery principles and warned governments across the UK that colleges and universities are set to be plunged into further chaos unless students are vaccinated and strict health and safety measures put in place. As reported in today's The Guardian the union has written to the governments of the UK, Scotland and the Northern Ireland Executive setting out five core principles which will frame our demands of both government and employers. UCU general secretary, Jo Grady said: 'Students and staff endured totally avoidable chaos in the last academic year, and rightly want to put that behind them, but at present there is a real danger that the disruption could return as cases surge and restrictions are eased across the UK.'
More in our press release here.
Defend the arts: cuts will halve funding for creative subjects
UCU has condemned the funding reforms announced by the Office for Students as the biggest attack on the arts in living memory. Huge government cuts to subsidies will halve the money available for arts and humanities courses at universities in England after the Office for Students confirmed changes to the distribution of higher education funding for 2021/22.
Sign this petition backed by UCU, Equity UK, BECTU, Writers Guild of Great Britain, Musicians' Union, Unison and Unite.
Prison education: new guidance on relaxation of restrictions
You can read our new guidance for prison education staff here following the UK government's relaxation of Covid-19 restrictions in England.
UCU members fighting back
UCU branches across the UK are fighting to defend jobs and conditions and you can click here to read our roundup of local disputes including a successful campaign to resist redundancies at New City College, the latest from Goldsmiths and the fight to save archaeology at University of Sheffield.
Anti-casualisation online 'teach out', 4 August
If you work in a university on a casualised contract please register for our online 'teach-out' to discuss the current campaigns on pay, equality, pensions and job security. Register here for the event which takes place Wednesday 4 August 6.00-7.30pm.
University of Chester: rally against redundancies, Saturday 24 July
University of Chester UCU are holding a rally against job cuts tomorrow outside the town hall at 12 noon, where our general secretary Jo Grady will join other speakers including local MP Chris Matheson.
Please note this will be the last Friday update for a while resuming at the start of September. I hope you manage to have a break and stay safe over the summer.
Last updated: 23 July 2021