•
•
•

The Friday email: 10 September 2021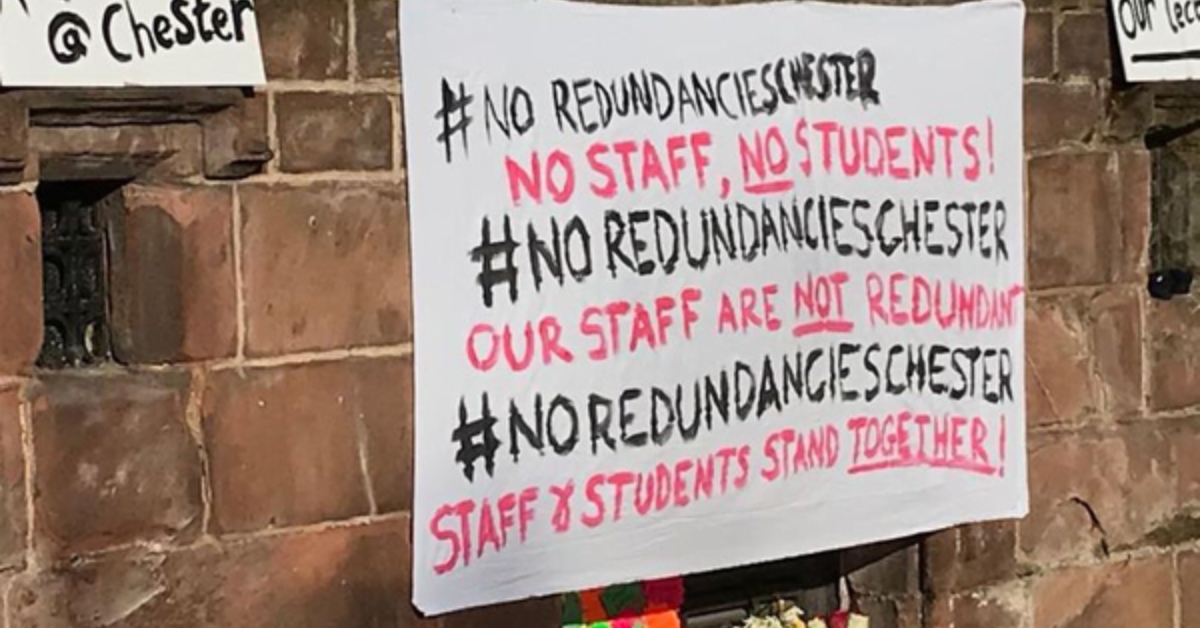 The Friday email: 10 September 2021
10 September 2021

Win at University of Chester with zero compulsory redundancies
Congratulations to members at Chester UCU who have successfully won a campaign against job cuts, confirmed in an email from the vice-chancellor yesterday announcing there will now not be a single compulsory redundancy. UCU members have fought hard against the original plan to sack 86 staff and have in the process built membership and branch organisation. Well done to everyone at Chester UCU and the North West regional team.
Higher education disputes next steps
An amazing 1,000 UCU members joined our online higher education briefing last week for an update on the union's strategy for the year ahead. Thanks to everyone that tuned in and took part with questions on crucial issues for the HE sector including Covid-19 safety, USS pensions and the 'Four Fights' campaign. Here's the video of the event in case you missed it. Delegates representing university branches met yesterday for a special sector conference and voted on motions to decide the steps the UCU will take this year. The results of voting and next steps will be published next week.
UCU members fighting back
UCU branches across the UK are fighting to defend jobs and conditions and you can click here to read our roundup of local disputes including the latest from Capital City College.
After Covid: rebuilding the arts and cultures sector
Culture sector unions have joined forces for a meeting hosted by Artists' Union England (AUE) on Tuesday 14 September from 6.45pm to 8.00pm. Confirmed speakers are Paul Fleming (Equity general secretary), Naomi Pohl (Musicians' Union deputy general secretary), Philippa Childs (head of BECTU within Prospect), Sonali Bhattacharyya (Writers Guild of Great Britain), Gareth Spencer (PCS culture group president), Mike Wayne (UCU member and co-author 'Making Culture Ours') and Dave O'Brien, (academic specialising in the cultural sector). The meeting launches 'Making Culture Ours', a discussion document suggesting a starting point for building a fairer, more transparent funding structure for the arts, post-pandemic. The document is available via the registration link here. All welcome.
UCU Scotland conference: what next for Scottish higher education?
UCU Scotland are organising a policy conference looking at the future of higher education in Scotland called 'Beyond Covid: What next for Scottish higher education?' It's on the afternoons of Wednesday 15 and Friday 17 September both starting at 1.30pm. Workshops on equalities, decolonisation, fair work and casualisation, and sustainability. Speakers include Scottish higher education minister Jamie Hepburn MSP, UCU general secretary Jo Grady, Scotland's fair access commissioner Peter Scott, Larissa Kennedy NUS UK president on the Free Black University, and NUS Scotland president, Matt Crilly. Registration is free to UCU members. Register here or for more information see here.
UCU LGBT+ research conference - call for papers
UCU LGBT+ research conference will be held online over 3 days during the first week of November 2021. The call for papers closes on Monday 20 September, 10pm. Please use this link for more information and to submit your proposal.
UCU NEC casual vacancy election 2021 - ballot open
An election for a casual vacancy on the national executive committee for a UK-elected member from the further education sector is now taking place and members are encouraged to vote. All UCU members in the further education sector (other than student members) are entitled to vote in this election. Further information about the election, including candidates' election addresses is here.
Last updated: 10 September 2021