•
•
•

The Friday email: 17 September 2021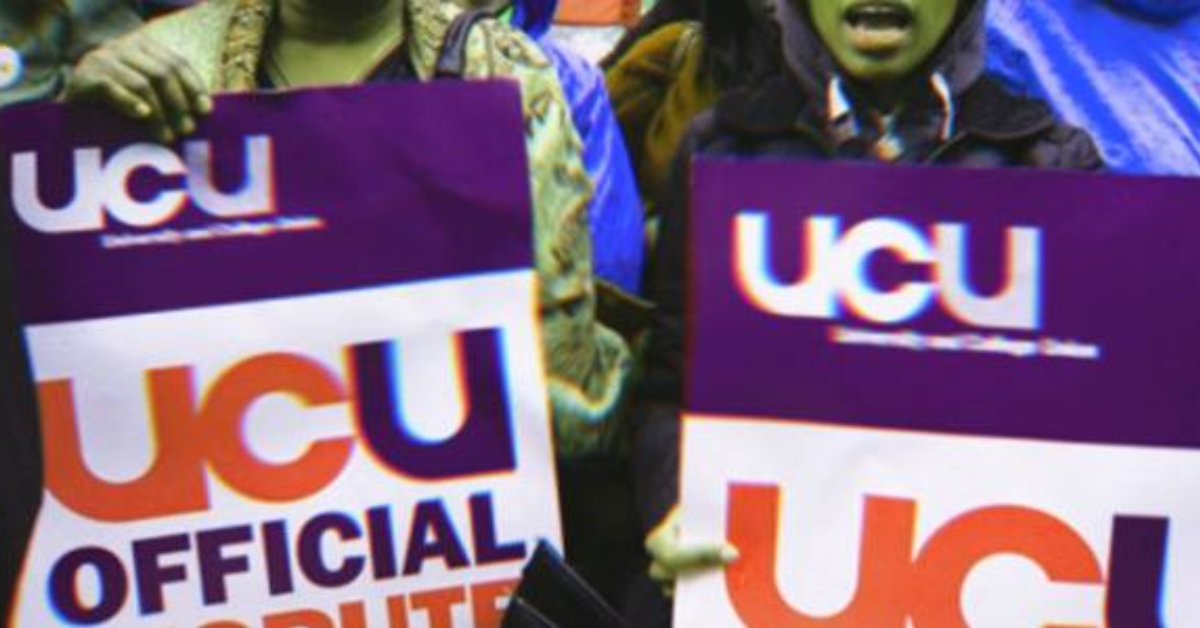 The Friday email: 17 September 2021
17 September 2021

Strike dates set for 13 colleges as FE fights back
Staff at thirteen colleges are set to strike from Tuesday 28 September for up to 10 days if employers continue to refuse to make an improved pay offer and to address the pay gap with school teachers. UCU general secretary Jo Grady said: 'College staff are angry at having had their pay held down whilst workloads increase. They have now had their pay cut by over 30 per cent in real terms over the past decade and this derisory 1% pay offer is another real term cut. It is completely unacceptable and is especially insulting after staff have worked so hard throughout the Covid pandemic. College leaders urgently need to come to the negotiating table if they want to avoid facing sustained strike action and severe disruption over the next few months.' More information, strike dates and a list of the colleges affected here.
Higher education disputes: special conference votes on next steps
Last week delegates representing university branches met for a special conference to decide the next steps on UCU's 'Four Fights' campaign and the dispute over USS pensions. You can read the report on voting here and further plans will be announced following the higher education committee's (HEC) meeting this coming Monday 20 September.
Building the union: new UCU branch at British and Irish Institute of Modern Music
UCU's newest branch, the British and Irish Institute of Modern Music (BIMM) had its first meeting this week with over forty members attending and a full set of UCU local officers now elected. The meeting discussed how to get organised, bargaining with the employer, securing trade union recognition, eliminating precarious work and pay transparency. Regional official, Michael Moran said: 'The enthusiasm and commitment was palpable and this was a great start.'
City College Plymouth win new deal staff
After 2 months of hard negotiation and excellent member engagement, newly-elected branch officers at City College Plymouth beat the anti-trade union law turnout threshold to win local deals for members. Members have voted to settle for a pay deal which includes backdated rises of 2.5% for the lowest paid and 1.5% for others. The deal also includes more leave, agreements on workload, flexible working, increased lecturer autonomy and moves to tackle inequalities. Congratulations are due to all involved especially our members at City College Plymouth and their excellent new branch committee.

Click here to read our roundup of local disputes and wins for members.
TUC backs our call for a three day weekend
TUC has backed our call for an historic extension of the weekend, after passing a motion by UCU to launch a public campaign for a reduction in overall hours so workers can enjoy a three day weekend with no loss of pay. You can watch this special short video supporting our campaign and read Jo Grady's article here on why there's never been a better time for reclaiming our lives from the domination of employers.
Protect student choice: save BTEC
Please sign the petition to reverse plans to withdraw funding for most applied general qualifications such as BTECs and guarantee they will continue to play a major role in the qualifications landscape. Students should not be forced to choose between studying A levels or T levels from the age of 16.
Visa applications for Afghan researchers
UCU has written to the Foreign Secretary urging the UK government to urgently process visas for Afghan scholars who are at-risk as a result of working on UK funded research programmes. UCU's letter to the UK government is available here and individual members can also contact their MP to ask them to put additional pressure on Ministers to act more decisively on these issues.
LGBT+ research conference call for papers
UCU LGBT+ research conference will be held online over 3 days during the first week of November 2021. The call for papers closes on Monday 20th September, 10pm. Please use this link for more information and to submit your proposal.
UCU NEC casual vacancy election 2021 - ballot open
An election for a casual vacancy on the national executive committee for a UK-elected member from the further education sector is now taking place and members are encouraged to vote. All UCU members in the further education sector (other than student members) are entitled to vote in this election. Further information about the election, including candidates' election addresses, can be found here.
Equality groups conference 2021
This conference is an opportunity to discuss and agree strategies to progress equality issues at work. This year's joint plenary session will explore some of the shared challenges facing marginalised members and how we can organise for more inclusive workplaces. The conference will be held virtually and you can find more information here.
#DefendAbortion march
On Saturday 2 October, Abortion Rights is organising a #DefendAbortion march in solidarity with the people of Texas facing regressive law changes. Assemble 12pm at Trafalgar Square: full details here.
Last updated: 17 September 2021