•
•
•
•

Vice chancellors misled over pension cuts by own employer body, new data shows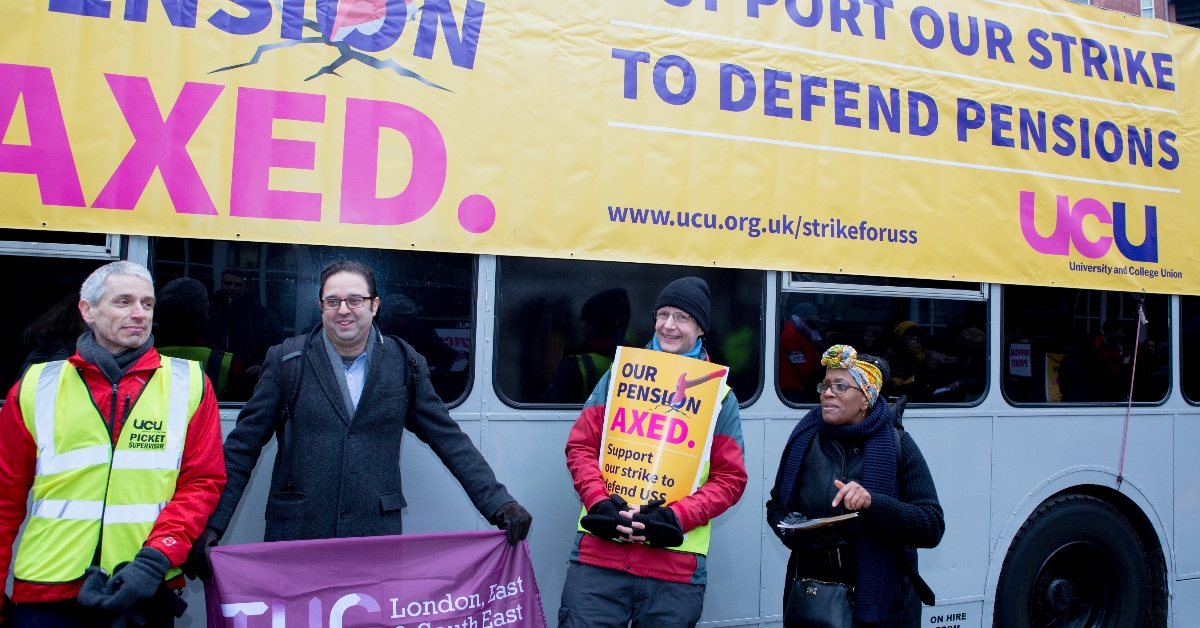 Vice chancellors misled over pension cuts by own employer body, new data shows
29 November 2021

UCU has accused employer body Universities UK (UUK) of 'seriously misleading' vice chancellors over pension cuts which UUK had claimed would amount to between 10% and 18%. It comes as staff at 37 universities in the UK are about to begin three consecutive days of strike action on Wednesday 1 December over employer cuts to retirement benefits.
A modeller recently released by the Universities Superannuation Scheme (USS) indicates that cuts to guaranteed, defined benefit pensions built up in the future would amount to 41% for a USS member earning around £39k, a typical lecturer salary. Overall, once the non-guaranteed, defined contribution element of the scheme is taken into account, the same member would lose 31% of their annual pension when they retire, which would worsen to 36% after 20 years in retirement.
UUK's severely inaccurate claim that the cuts would amount to 10-18% has been repeated by vice chancellors in communications to staff across the UK.
In May, UCU released its own modeller, developed by First Actuarial, which showed a typical lecturer on a wage of £39k would face a cut to defined, guaranteed benefits built up in the future of 35%. UUK repeatedly criticised UCU's 35% figure as 'misleading'. USS's modeller now shows that the cut to future defined benefits would be 41%.
Now, in a letter to UUK chief executive Alistair Jarvis, UCU has said a clarification must be issued to vice chancellors at every institution it represents.
In the letter, the union says UUK must consult vice chancellors and employees again, to ask if they still support the cuts now the full scale of them is clear, or are willing to pause them and re-enter negotiations.
'Vice chancellors misled'
Today, the union can also reveal how UUK misrepresented the scale of their detrimental changes to USS pensions in communications to vice chancellors, and how this information was repeated by vice chancellors in an attempt to deter staff from taking industrial action.
One startling example came from UUK's head of pensions Stuart McLean, who in an email to vice chancellors, principals and chief executives on 22 September, said: 'It's not true, as UCU claims, that staff in the scheme are facing a cut in their pension of 35%, nor even 23% cuts if the Defined Contribution (DC) pot (USS Investment Builder fund) is taken in to account.'
Mr McLean goes on to say: 'We [UUK] continue to urge UCU to act responsibly in describing the effect of the pension changes decided on by the JNC.'[NOTE 3]
University of Birmingham vice principal Tim Jones in an email to staff on 8 October said: "You may have heard claims that the proposals will reduce pension benefits by up to a third. Such claims are entirely untrue and USS will shortly release a modeller to show you how you will be affected."
Some vice chancellors and senior managers in universities continued to use the obsolete, inaccurate figures even after USS's modeller had been launched on Monday 1 November.
Heriot Watt University Global Director of HR Richard Claughton in an email to staff on 5 Novembersaid: "Taking the Investment Builder pot and the remaining defined benefit pension into account, they would see final benefits reduce by between 10 and 18 percent, significantly less than the headline number being shared by UCU."
In a press conference with national media held on 8 November, Oxford Brookes vice chancellor Alistair Fitt, on behalf of UUK, said: "Figures published by the USS trustee for a range of example members show that the proposed changes could reduce the amount of pension that members receive at retirement by about 10 to 18 per cent."
The 'USSemployers' Twitter account, which is operated by Universities UK, also tweeted on 21 October calling UCU's 35% figure 'misleading' and said the cuts would amount to '10 - 18%'. This was retweeted by the official Russell Group of Universities Twitter account.
UCU members across the UK have reported receiving similar communications to those above.
UUK forced its pension cuts through in August this year at a meeting of the USS Joint Negotiating Committee, comprising of employer representatives (UUK) and staff representatives (UCU).
UCU general secretary Jo Grady, said: 'Not only have UUK been wrongly criticising UCU's own projections of the scale of their pension cuts, but they have also adopted wild underestimates of their own, which have been repeated by vice chancellors at universities up and down the UK in communications to their staff.
'It is beyond a disgrace that senior managers in our universities have been attempting to persuade staff from acting to stop cuts to their retirement with information that is wrong and which emanated right from the top of UUK.
'A cut to retirement benefits of 10 - 18% would be bad enough, but the information revealed by USS's own modeller shows that some members will face cuts to their guaranteed retirement income as high as 41%. This will be a devastating blow to them and thousands of others planning for a decent retirement.
'Campuses across the UK are about to be hit with three consecutive days of strike action next week, but this can be avoided if university bosses immediately commit to reversing their pension cuts.'
Last updated: 29 November 2021