•
•
•
•

Upgrade face masks, guarantee sick pay & protect vulnerable staff on university & college campuses in Omicron fight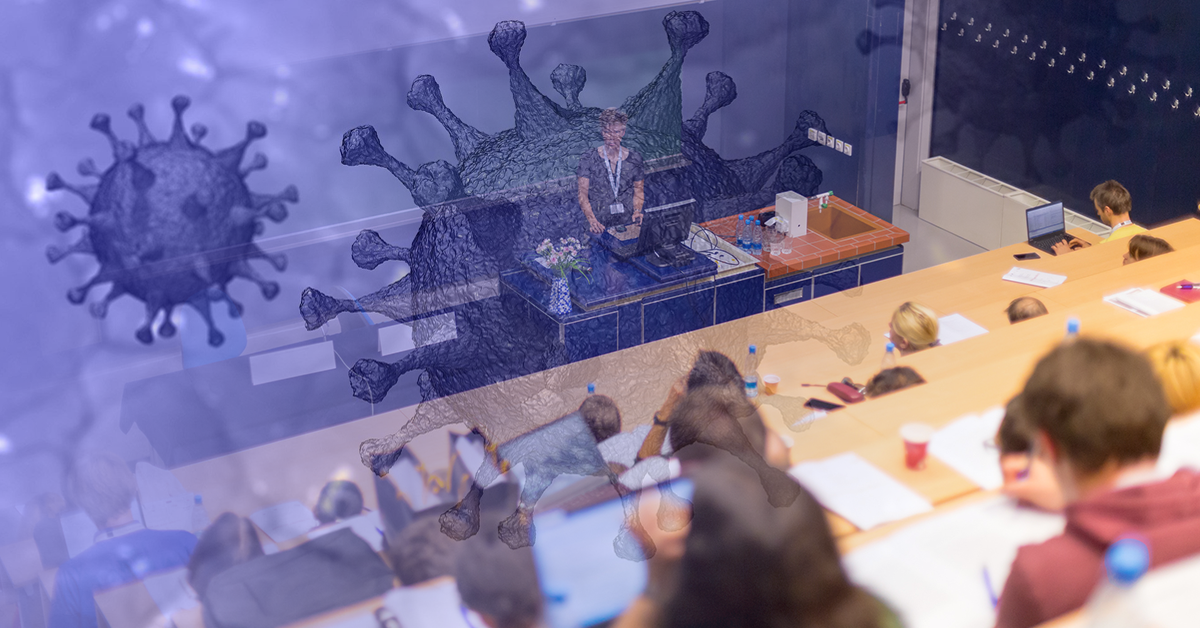 Upgrade face masks, guarantee sick pay & protect vulnerable staff on university & college campuses in Omicron fight
12 January 2022

UCU has called on university and college employers across the UK to 'raise their game' in the fight against Omicron by allowing vulnerable staff to work remotely and ensure higher quality face masks are freely available for all staff working in-person on campus.
The call is part of updated guidance that aims to keep staff and students safe, and minimise disruption to learning as Omicron cases continue to rise.
The union has also said that all indoor spaces on campus must be monitored to ensure effective ventilation, and that where necessary air filtration units should be used to maintain clean air.
With more than one million people testing positive for Covid across the UK over the past week, UCU is also demanding that university and college bosses commit to proper sick pay measures so that staff with Covid, those identified as close contacts, as well as those who have symptoms but are yet to receive a test result do not feel pressured to be on site. UCU estimates that thousands of college and university staff on insecure and zero hours contracts, do not have access to adequate sick pay, compelling them to work when it is not safe to do so.
The guidance, which has been sent to employer bodies the Universities and Colleges Employers Association and the Association of Colleges, also makes clear that employers need to do all they can to mitigate the impact of high staff absences on already overworked staff. Last month tens of thousands of staff took strike action over unmanageable workloads. A survey of university and college staff by UCU in 2021 saw 57.5% of staff reporting that their workload had increased by 'a lot' during the pandemic, whilst 63% were unhappy with the level of support provided by their employer.
Whilst transmission rates of Omicron remain high, the union is encouraging local branches to negotiate with employers a reduction in the numbers of staff required on site. All further education and higher education settings are also being told they must support those who are clinically vulnerable and who have caring responsibilities to work remotely. Other staff members, including those who cannot or do not wish to work remotely, must be able to access safer working spaces.
UCU says that whilst there are variations in official guidance provided by devolved administrations, its updated guidance is relevant and should be applied in further and higher education sectors across the UK.
Measures employers need to take include:
Ensuring all workers undertaking in-person work have access to high quality, well-fitting FFP2 or FFP3 face masks
Reducing the number of people required on site while transmission rates remain high and implementing measures to reduce mixing indoors.
Ensuring any workers at increased risk from Covid are not required to undertake in person work at this time and that alternatives are offered to reduce exposure risks.
Ensuring safe staffing levels and a safe working environment for those working in-person and at home which considers the potential risks to staff physical and mental health.
Ensuring effective ventilation measures are in place to reduce airborne transmission risks.
Ensuring access to regular free testing (PCR and LFD tests) and support to those who are asked to self-isolate.
Ensuring all staff have access to vaccinations and boosters in work time without loss of pay.
Ensuring proper sick pay measures are in place, including for staff who are required to self-isolate or have caring responsibilities for those who are isolating. All must be offered appropriate levels of support and must not suffer detriment to their pay or conditions.
UCU general secretary Jo Grady said: 'College and university campuses are reopening this month whilst Omicron is surging throughout the UK and it is clear employers need to raise their game to ensure staff and students are kept safe and education is not disrupted. The measures put forward by UCU are designed to reduce the risk of mass Covid outbreaks, protect those who are vulnerable and ensure staff are able to continue delivering a high-quality education for students.
'Employers need to make sure that high quality face masks, which are scientifically proven to reduce transmission, are freely available for staff and students who are required on campus and ensure all indoor spaces have good levels of ventilation. They must also take long overdue steps to extend sick pay to the thousands of staff employed on non-typical and insecure contracts, allowing people to stay at home and reduce Covid transmission when necessary.
'Employers should also negotiate with their local UCU branches to reduce the numbers of staff required on site. Those who are clinically vulnerable or have caring responsibilities must be supported to work remotely. Other staff, including those who cannot or do not wish to work remotely, must be given access to safe working spaces.
'The levels of disruption experienced by staff and students during the earlier parts of the pandemic can be avoided, but only if employers demonstrate high levels of vigilance and commit to going beyond government guidance.'
Last updated: 12 January 2022