•
•
•
•

Goldsmiths hit with international boycott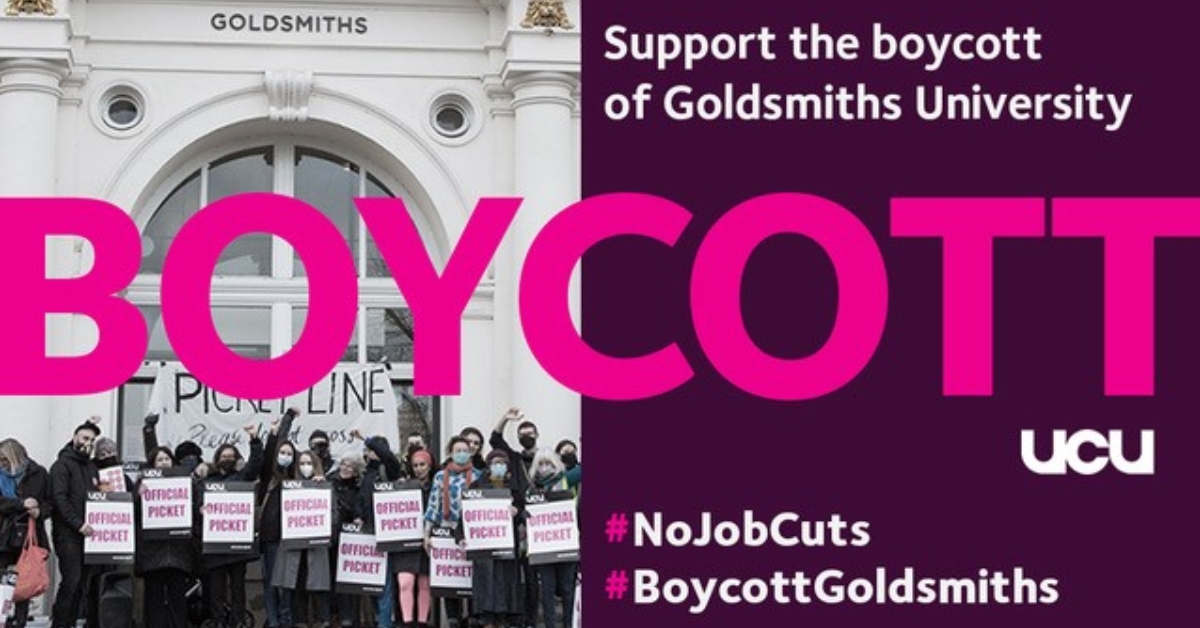 Goldsmiths hit with international boycott
13 January 2022

UCU has censured Goldsmiths with the ultimate sanction of a global academic boycott over the university's sacking of up to 46 staff.
Goldsmiths wants to make the cuts as part of a 'recovery plan' after years of financial mismanagement have left the university with a £12.7m deficit. Goldsmiths UCU says the 'recovery plan' is a deal struck with Lloyds and Natwest banks to use redundancies to improve the university's finances.
The latest escalation comes after university management doubled down on the job cuts and confirmed it would be using 'rank and yank' tactics to decide who keeps their job and who goes. The tactic, which was widely condemned by academics during the dispute at the University of Liverpool last year, will see academics ranked against each other according to their skills, experience and achievements. The staff it ranks bottom will be sacked. Staff have so far taken three weeks of strike action over the planned job cuts, which only ended last month.
The global boycott means the union is asking its members, other trade unions, labour movement organisations and the international academic community to support its members at Goldsmiths in any way possible, including by:
refusing to speak at or organise academic or other conferences and events (with Goldsmiths or involving Goldsmiths) which do not directly contribute to core teaching duties on accredited programme
refusing to participate in new non-research based partnership enterprises with Goldsmiths
refusing to write for any academic journal which is edited at or produced by Goldsmiths
refusing to accept new contracts as external examiners for taught courses
relocating events due to take place at Goldsmiths to other venues.
UCU is also urging all external speakers invited to participate in events at Goldsmiths to refuse to collaborate with the institution in solidarity with staff fighting to save jobs and defend the future of the university.
Goldsmiths brands itself as a university that supports and promotes the wellbeing of staff in a "respectful environment", and claims it is concerned about "inclusion and social justice" with a "rich heritage of challenging inequality". Staff working on ground breaking courses in Queer history, Black British history, and Black British literature are in the pool of staff facing the sack. UCU said any claims about social justice and supporting staff wellbeing lack all credibility whilst the university is intent on ranking and sacking staff and destroying their livelihoods.
Goldsmiths is threatening to sack up to 46 staff, including up to seven academics in the English and creative writing department, up to seven history academics and up to 32 professional services and support staff.
From Tuesday 23 November to Monday 13 December staff walked out for an unprecedented 15 consecutive days after an overwhelming 85.8% of UCU members voted in favour of taking strike action in a turnout of over 70%.
Goldsmiths Students' Union says it stands in full solidarity with staff members and has urged management to halt the cuts.
UCU general secretary Jo Grady said: 'The leadership at Goldsmiths have not only disastrously mismanaged the university but are now using disgraceful rank and yank tactics to get rid of staff. It is little wonder staff and students at Goldsmiths are all united in opposing these shameful cuts.
'UCU will not stand by whilst management threaten the academic integrity of the institution and try to make students and staff pay the price for catastrophic failures of governance. It is very simple for university managers to end this dispute, they need to work with us to save jobs, protect academic standards and build a university to be proud of once again.
'It is rare for UCU to call for a global academic boycott, and doing so reflects the seriousness of the situation. We are calling on academics throughout the world to join us in boycotting the university until management cancel the compulsory redundancies.'

Both Goldsmiths Centre for Contemporary Art and the Student Union are exempt from this boycott, we encourage you to continue to patronise them and enjoy their events.
Last updated: 24 January 2022