•
•
•
•

Victory for staff as deal reached at West London College over pay & workloads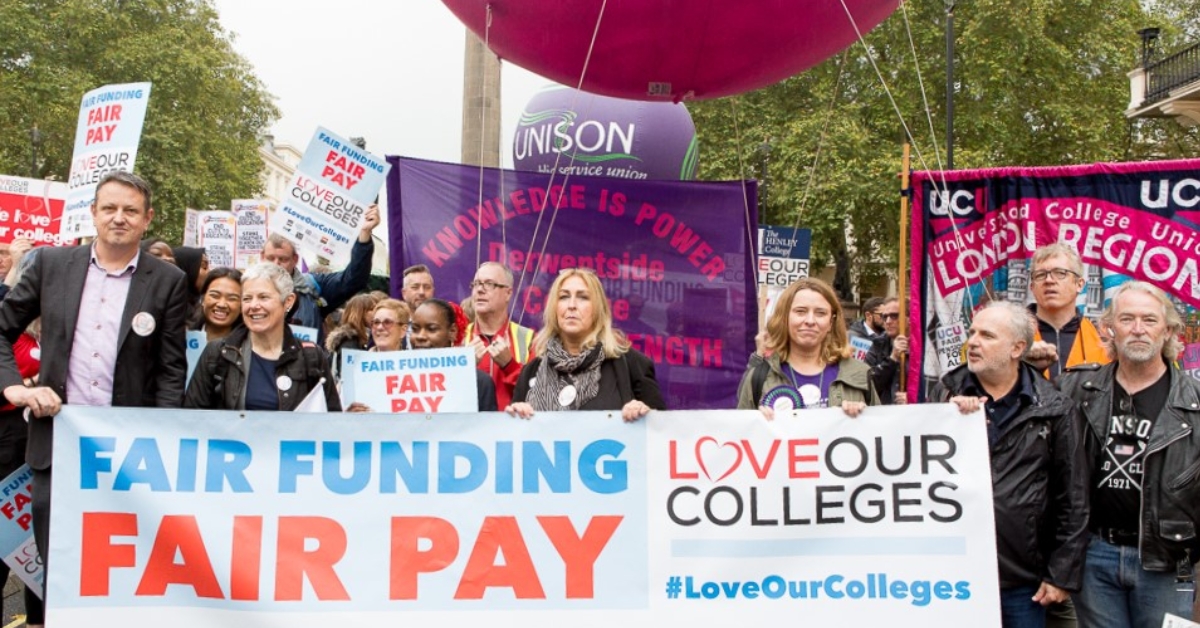 Victory for staff as deal reached at West London College over pay & workloads
21 January 2022

Staff at West London College have won improved pay and conditions after successful negotiations between management and UCU and Unison.
The deal includes a commitment by the college to becoming a London Living Wage employer, a pay rise, shorter working week, additional holiday, hybrid working and a commitment to deal with excessive workloads and work related stress.
UCU has welcomed the deal and said it looked forward to meeting with management again in April to agree a further pay rise for 2022/23.
The new deal paves the way for:
a 2% pay award, backdated to 1st August 2021 for all staff members whose full time equivalent salary is up to £45,000
a commitment to meet with UCU by April 2022, to discuss pay and the options available for real-terms consolidated pay awards for 2022/23 and beyond
to accredit as a London Living Wage employer and adjust the salaries of any staff member currently below this limit
to set up a joint working party with UCU and Unison to agree ways to reduce workloads, and to agree a college policy on mental health and wellbeing
to move all 135 support staff on 37-hour week contracts to a 36-hour week.
formal introduction of hybrid working for teaching staff for their non-contact time
a commitment to review differences in historic contracts and consider moving staff onto a harmonised contract
additional one day holiday for all staff for volunteering and social action in the community.
For those staff that benefit from the pay increase, the reduction in hours and the additional days holiday this amounts to an increased package of 3%.
UCU London regional official Adam Lincoln said: 'This welcome agreement with West London College will lead to better pay and working conditions for teaching and support staff. We thank the college leadership team for their serious engagement with the recognised trades unions. Other employers who have not reached an agreement with UCU for 2021/22 should look to West London College and work with staff on improving pay and workloads, rather than forcing them to contemplate strike action.
'We look forward to meeting with management in April to agree a pay offer for the coming year that reflects the steep rises to the cost of living our members are currently facing.'
Last updated: 24 January 2022