•
•
•
•

UCU submits new pension proposals to avert UK wide strike action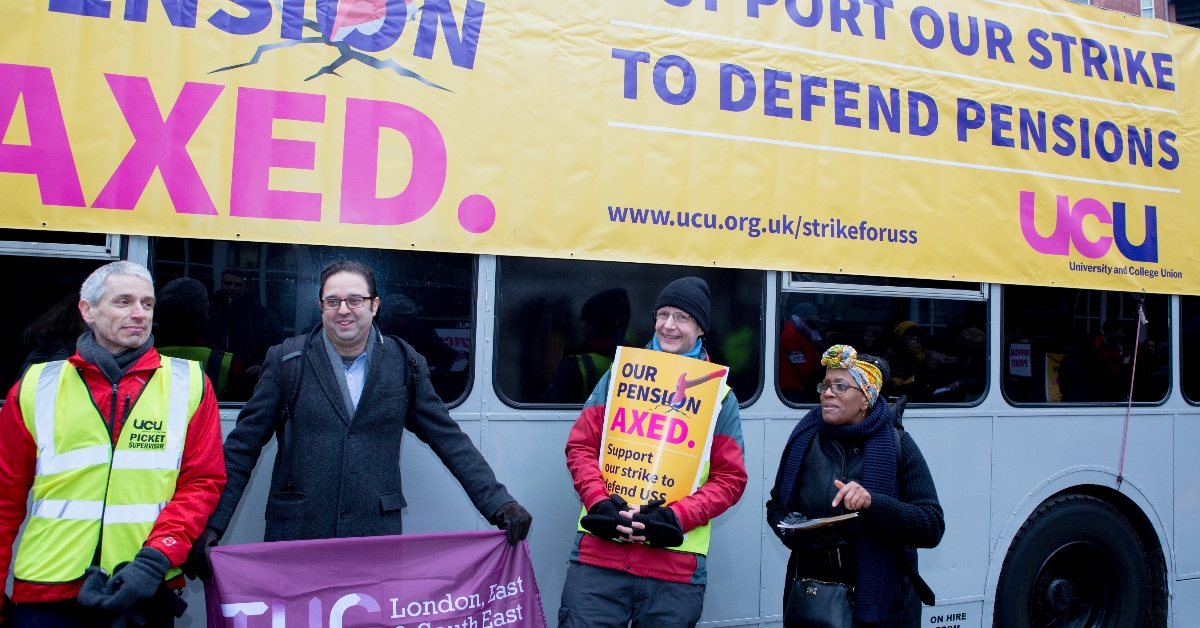 UCU submits new pension proposals to avert UK wide strike action
26 January 2022

UCU has issued a set of new USS pension proposals aimed at averting widespread industrial action across UK campuses in February and beyond.
In a letter to the chair of the USS Joint Negotiating Committee (JNC), the body which decides how the USS pension scheme is managed, UCU general secretary Jo Grady calls for the new proposals put forward by UCU to be formally tabled and put to a vote of employer and staff representatives when the committee sits next month.
UCU is due to announce the dates of strike action over cuts to USS pensions drawn up by university employers, represented by Universities UK (UUK). 44 out of 68 USS pension branches have a mandate for action, and UK campuses last saw strike action in December over pension cuts.
The new proposals, which the union says offer a "way out" of disruptive industrial action in February, would see retirement benefits protected in return for a small increase in contributions for both members and employers ahead of a new "evidence-based valuation" of the scheme.
A USS consultation of scheme members concluded on 17 January. UCU understands a significant majority voted in favour of increasing contributions of members and employers in order to protect benefits. UCU has separately written to USS chief executive Bill Galvin calling for the full results of the consultation to be made public as a matter of urgency.
Under UUK's proposals, which reduce the rate at which benefits accrue and cap protection against inflation at 2.5%, a typical member faces a cut of 35% to their guaranteed retirement income.
Employers say the cuts are needed because of a valuation of the pension scheme conducted as markets crashed in March 2020 due to the pandemic. However, USS confirmed on Thursday 20 January that its assets have now jumped to over £92bn, more than £25bn higher than the previous valuation. UCU says, the '"employers' justification for the cuts has now evaporated".
In the letter to Judith Fish, chair of the JNC, which was also sent to UUK chief executive Alistair Jarvis, Jo Grady says the UCU proposals must be formally tabled at a meeting of the JNC "as soon as possible" and "at any rate" considered alongside the "extremely detrimental changes put forward by UUK".
Last year, UCU tabled proposals that would have protected benefits and averted December's strike action but UUK refused to provide the same level of covenant support, in other words agreeing to underwrite UCU's proposals to the same extent as their own.
UCU's proposals, which the union say should now be considered formally by the JNC, are as follows:
that UUK call on USS to issue a moderately prudent, evidence-based valuation of the financial health of the scheme as at 31 March 2022, to be issued for consultation in June (at the latest)
that employers agree to provide the same level of covenant support as for their own proposals to facilitate a cost-sharing of current benefits throughout the 2022/23 scheme year, starting 1 April 2022 at 11% member/23.7% employer until 1 October 2022, and 11.8%/25.2% thereafter
that employers agree to pay a maximum 25.2% and members a maximum of 9.8% from 1 April 2023 so as to secure current benefits or, if not possible, the best achievable as a result of the call on USS to issue a moderately prudent, evidence-based valuation.
UCU general secretary Jo Grady said:
'These are serious proposals that would see both employers and employees pay slightly more to protect retirement benefits and allow for a new evidence-based valuation of the pension scheme to be conducted. Employers can stop this dispute at any time and have been offered a route out which protects pensions and averts widespread disruption on university campuses.
'Employers have maintained they need to make a 35% cut to the guaranteed retirement income of scheme members, but that is based on a flawed valuation conducted in March 2020 whilst markets were crashing. The pension scheme's assets have since jumped by more than £25bn to over £92bn, an unprecedented level meaning employers' justification for the cuts has now evaporated.
'If employers are serious about stopping UK wide strike action in February, they need to agree to seriously consider UCU's proposals at the next meeting of negotiators. The university sector continues to show strong growth and university bosses can afford to meet our proposals. If they refuse to do so, they are choosing to force staff to walk out.'
Last updated: 26 January 2022